Disclosure of Material Connection: Some of the links in this post may be "affiliate links." This means if you click on the link and purchase an item, I will receive an affiliate commission. Disclosure in accordance with the Federal Trade Commission's 16 CFR, Part 255. This site is a participant in the Amazon Services LLC Associates Program, an affiliate advertising program designed to provide a means for sites to earn advertising fees by advertising and linking to Amazon.
Flying can sometimes be scary for kids, so a fantastic way to ease their fear is a FREE printable plane scavenger hunt! This easy scavenger hunt is a wonderful way to help keep their minds busy instead of focusing on being afraid. Even if your child isn't scared of flying, they may quickly get bored on a long flight. Save your sanity and your neighbor's sanity to avoid the dreaded "are we there yet?" question! It's so EASY to print this scavenger hunt too!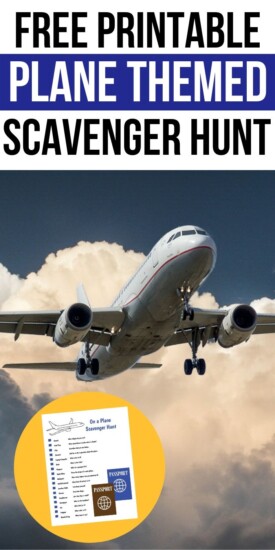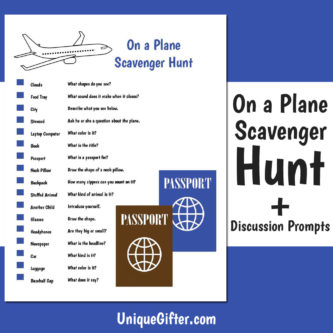 How To Download Your FREE Printable
It's super easy to get your free printable plane scavenger hunt. The only thing you need to do is add your email address in the form below. Then we will send it right to your email address; then you can open it and download. Print it off, and give it to the kids so they can hunt the flight away!
Indoor Scavenger Hunt
While your children are flying on a plane, they have to stay put indoors until the flight is over. But, the best part is that there are tons of things they can see right from their seat on the plane. This scavenger hunt is so much fun, and they are going to love it even though they can't run around and play. If you have more than one child on the flight, you can print multiple copies of the scavenger hunt too. Scavenger hunts are a great activity to help build teamwork. Plus, the hunt will exercise their minds too. You can't go wrong!
If you are looking for more ideas for other scavenger hunts, you should see this website Riddle Me. They have lots of indoor scavenger hunts, as well as outdoor scavenger hunts.
Plane Scavenger Hunt Prizes
Prizes aren't a necessary part of the scavenger hunts, but I think they are always fun to give out. Look at these ideas, and you can't help but love them. Here are my favorite prize ideas for kids:
Throwing Foam Plane – If you're taking a flight, then your children will probably become fascinated with airplanes.
Boredom Buster – Having lots of fun activities to keep your kiddos entertained on a plane is helpful to all of you.
Airplane Gliders – These adorable gliders come in a pack of 72! You can use them for other activities too.
More FREE Printable Scavenger Hunts
Here are even more printables for you to download. Take a peek:
Enter your email address below to get your scavenger hunt!