Disclosure of Material Connection: Some of the links in this post may be "affiliate links." This means if you click on the link and purchase an item, I will receive an affiliate commission. Disclosure in accordance with the Federal Trade Commission's 16 CFR, Part 255. This site is a participant in the Amazon Services LLC Associates Program, an affiliate advertising program designed to provide a means for sites to earn advertising fees by advertising and linking to Amazon.
Is your partner a Capricorn? Does she love checking her horoscope, or just read it for fun?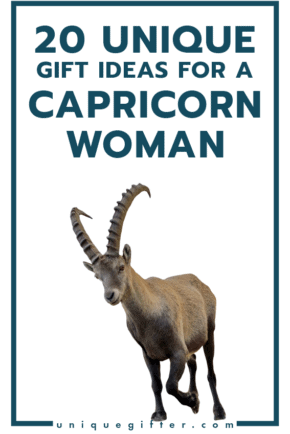 Here is a list of anything and everything to do with Capricorns that's good for gift ideas for a Capricorn woman. We also have a list here if you're looking for gift ideas for a Capricorn man.
Whether or not the women in your life enjoy astrology, everyone knows their horoscope and can appreciate a nice gift that fits their personality.
On With The Show!
We mean gifts.
A Cool Capricorn Shirt
What better way for them to represent their star sign but with a shirt like this! All the attention will definitely be on them for their birthday with this one.
A Customized Capricorn Cutting Board
I told you anything and everything! If you're person is really obsessed with their star sign and cooking, this is the gift for them.
Capricorn Constellation Necklace
These necklaces are super cool and a unique item for everyone. Your Capricorn will definitely turn heads with this.
Capricorn Mug
Drinking coffee is definitely the best time to connect with your star sign.
Capricorn Healing Stones
Who even knew this was a thing, but apparently it is!
A Custom Astrology Chart
You can map out where the stars were the exact moment you were born. Nothing says cool gift more than this one.
Zodiac Sign Bracelet
Is your Capricorn a jewelry junkie? If so, this will pair perfectly with #3!
Capricorn Predictions for 2017
With the help of Tarot cards, you can figure out exactly was 2017 has in store for you!
Capricorn Facts Mug
A cute gift for that person that is so much like their star sign qualities that it's scary.
A Capricorn Wine Glass
Most woman love wine so this gift is a go to. But if they don't love wine, it's still a great glass to use for whatever they want.
Capricorn Socks
Capricorns are born in the colder months of the year, so what is more perfect than a pair of socks to keep them cozy and warm!
A Capricorn Winne The Pooh Doll
Now, if you're Capricorn really loves Winnie The Pooh, this is the present for them. This shows that clearly, most anything can exist.
A Capricorn Guitar Pick
For that musician in your life who's really into their star sign.
Capricorn Soap
If your Capricorn is really proud of their sign, let me wash up with it too!
A Capricorn VooDoo Doll
Buy Now
Some things exist for certain people.
For The Savage Capricorn In Your Life
For the Capricorn that just doesn't stop and you're constantly shocked by the things they say.
A Capricorn Dictionary Page
This gift is great to decorate a home or room with! It's a little artsy and lets them show their Capricorn pride!
A Cool Capricorn Pillow
What better way to decorate than with these pillows! These are great because you can get one for each member of the family.
A Capricorn Key Chain
This way, everyone will know what keys are theirs. (Assuming they are the only Capricorn that is.)
A Capricorn Phone Case
Show off your Capricorn pride with this phone case! It's simple, cute and classy!