Here are some thoughtful sympathy gifts for a pet's death to show you care. The death of a beloved pet can be an incredibly hard experience for anyone. For many people, a pet is a part of their family. Although nothing will ever replace them, a thoughtful sympathy gift can go a long way to help anyone through the grieving process. Find something to help them heal with these sympathy gifts for a pet's death.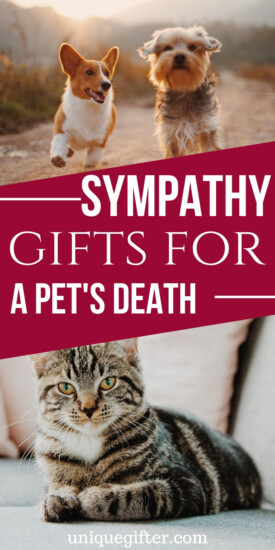 Meaningful Sympathy Gifts For A Pet's Death
Our pets mean so much, so losing one is positively heartbreaking. Here are some presents to help cheer up your friend or family member. 
Plant a Memory
While flowers are common sympathy gifts to give, planting this special blend of annual and perennial wildflower seeds can provide a lasting bit of color in your pet's memory.
Rainbow Bridge Dog Paw Print Watercolor Painting
For something a little more subtle, a watercolor paw print is another, more indirect way to remember a lost pet through art.
A Dog Named Lucky: A Children's Story About Pet Loss

Buy Now
This story about a boy and the death of his old dog will help children aged 3-10 cope with the loss of their own pet.
Goodbye, Friend: Healing Wisdom for Anyone Who Has Ever Lost a Pet

Buy Now
Losing a pet isn't just hard for children, though. This book can provide practical guidance and resources for anyone grieving the loss of a pet.
Pet Loss Journal: Memory Book and 90 Day Journal for Loss of a Pet

Buy Now
A Pet Loss Journal is a great keepsake to capture your favourite memories of your pet. This journal also provides space to express your grief in the weeks following your loss.
Light and Love Pawprints Left by You Memorial Lantern

Buy Now
Light a candle (or use the included flickering LED candle) in your lost pet's memory with this artfully crafted lantern that can sit or be hung anywhere that a little reminder is needed.
Angel of Friendship Figurine

Buy Now
For some people, having pictures of their pet around the house or office might be too difficult – especially at first. A personalized, handcrafted figurine can serve as a special reminder for anyone who has lost their 4-legged companion.
Pet Loss Memorial Necklace
This beautiful rainbow-bridge inspired necklace will keep the memory of any pet alive and close to your heart. It can be personalized to include your pets name, as well.
Loss of Pet Best Friend Love Heart Bracelet

Buy Now
Show you care by gifting this leather banded bracelet to anyone who has lost their furry best friend. It's a perfect way for anyone to keep a little piece of their pet with them.
Customize Pet Memorial Keychain
Express your sentiment with a silver metal keychain, engraved with your pet's name and featuring the charm of your choice. It too is a great everyday reminder of a beloved pet.
Rainbow Bridge Paw Ornament
This paw print beaded ornament can be personalized to include your pet's name and year of death, or left just as it is. It can be used as a tree ornament, to hang in your car, as part of a memorial wind chime or added to a picture frame.
Personalized Pet Memorial Box
Pet owners might have a hard time getting rid of their lost pet's favorite toy or collar. A personalized keepsake box is a perfect way to hold on to these treasured items forever.
It can be difficult to know what to do or say to a friend or family member that is grieving the loss of their beloved pet. A sympathy gift shows them that you care.