Disclosure of Material Connection: Some of the links in this post may be "affiliate links." This means if you click on the link and purchase an item, I will receive an affiliate commission. Disclosure in accordance with the Federal Trade Commission's 16 CFR, Part 255. This site is a participant in the Amazon Services LLC Associates Program, an affiliate advertising program designed to provide a means for sites to earn advertising fees by advertising and linking to Amazon.
These gifts will be sew appreciated by the quilter in your life. We've carefully pieced together gift ideas that are perfect for a quilter. Now you'll have some good material for your shopping list.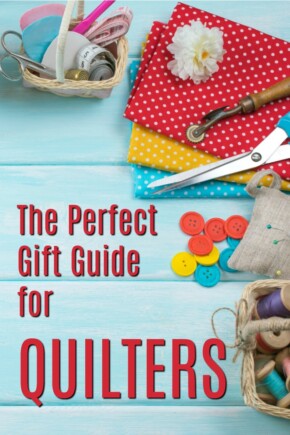 Gift Ideas for a Quilter
Fabric
It's a scientific fact that quilters can never have too much fabric. Help them with their addiction, I mean hobby, and buy a little bit more.
Quilting Cutter
This handy freestanding cutter slices the thread between chained segments. So much easier than scissors!
Quilter's Travel Case
If your sewer likes to quilt on the go this is a perfect gift. No more digging around a bag for all the little supplies or forgetting something. Everything is ready to go for their next road trip to vacation.
Rotary Cutter Set
Most likely an experienced quilter will already have this sort of set. It's also likely that it's well loved and falling apart. Sometimes it's nice to have new things.
Wonder Clips
These amazing clips come in handy for so many sewing projects. They hold fabric together similar to pins – only better. No falling out, no pricking yourself, and no damage to fabrics.
Quilting Is My Therapy T-Shirt
There must be something therapeutic about quilting because this is a commonly used phrase by passionate quilters.
Mini Iron
Quilting involves a lot of ironing tiny pieces together. Instead of firing up the regular sized iron, this little guy will do the trick. Plus with a 15 second heat up time it's perfect for the back and forth ironing you do while sewing.
Sew Much Fabric Sign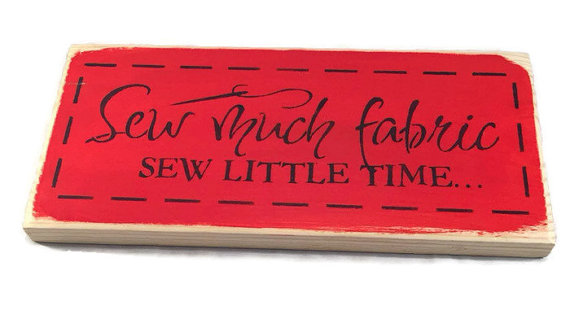 Everyone loves a good pun. This little sign tackles a sad reality amongst quilters: Sew much fabric, sew little time...
Patchwork Template
Patchwork quilts are timeless and beautiful. Make it a little easier on them with this patchwork template kit.
Fabricaholic Bag
The perfect reusable bag for talking to the fabric store. It says "I'm a fabricaholic on the road to recover. Just Kidding. I'm on the road to the fabric store." We all know someone who needs this.
Quilting Pins
Quilting pins are different from regular pins – they have to be longer and straight. These ones have large buttons on the end for easily visibility. Always a safe gift because pins have a way of getting lost.
She Who Dies With The Most Fabric Wins Sign
Yes, it really is a competition. They can justify their fabric horde with this cute sign.
Antique Quilts Book
This book has instructions for reproducing antique patchwork quilts. A great way to preseve the historical quilting styles from the 1800s through 1930.
Mini Tape Measure
Perfect for those emergency measurements – this retractable tape measure is perfectly suited to being left in a purse, bag, or car.
When Life Gives You Scraps Mug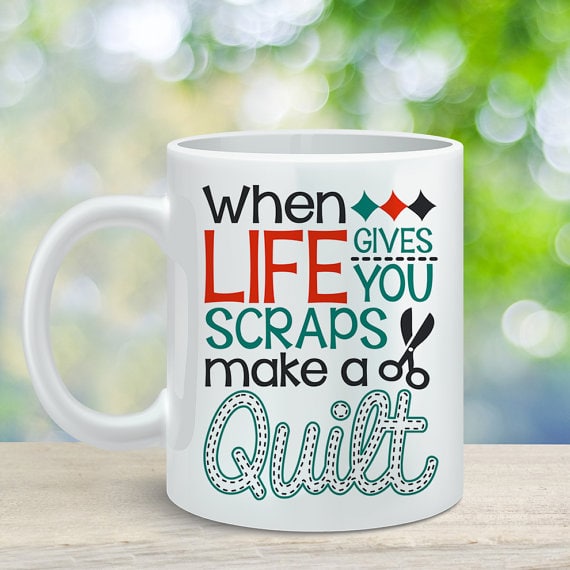 This cute mug will remind them to stay positive with their morning cup of coffee. (Or late night cup of emergency quilting coffee.)
Quilter's Calculator
No more trying to guess how much yardage is needed for a quilt. Not only will it calculate how much total fabric is needed including binding, batting, backing, etc, but also has a reverse feature to see how many squares you can get from scrap fabric.
Quilting Magazine Subscription
Subscription gifts are great because they keep giving all year long. Now each month wonderful quilt inspiration will arrive in the mail!
Quilter's Brain Mug
Remind them you know exactly what's on their mind with mug. Fabric seems to be on the brain.
Born To Quilt T-Shirt
Every month with those bills and needing to buy groceries and stuff. Life would be much better if you didn't have to work and could quilt all day instead…
Personalized Quilting Room Sign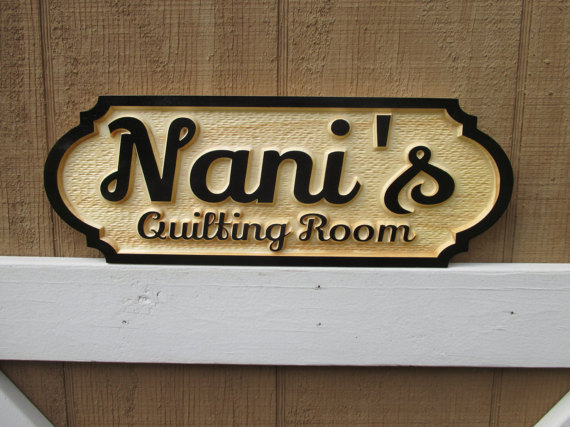 This sign is the ultimate gift for the quilter who has everything!
Sure, you may not be able to top getting a handmade quilt, but these gifts are sure to please quilters all the same. After all, they really do love to sew!