Disclosure of Material Connection: Some of the links in this post may be "affiliate links." This means if you click on the link and purchase an item, I will receive an affiliate commission. Disclosure in accordance with the Federal Trade Commission's 16 CFR, Part 255. This site is a participant in the Amazon Services LLC Associates Program, an affiliate advertising program designed to provide a means for sites to earn advertising fees by advertising and linking to Amazon.
Swedish Chef Gift Ideas
Bork bork bork! Here are some great gift ideas for the person in your life who loves the Swedish Chef from The Muppets. Jim Henson truly had a knack for creating quirky but lovable characters, and Swedish Chef is no exception. Here are some gifts just as odd but adorable as the character himself!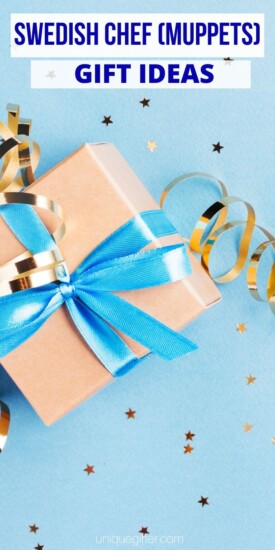 Swedish Chef Slow Cooker Sticker
Add a little fun to your slow cooker! Handmade and comes in many colors.
Swedish Chef Apron
Perfect for the husband who needs a little inspiration to cook. Hopefully, he won't be as messy as his muse!
Swedish Chef Socks
The perfect addition to any outfit. A gift you may dread as a child is a perfect gift now!
Swedish Chef Decal
A great way to spruce up the containers in your kitchen. Can also be put on laptops, water bottles, you name it!
Swedish Chef Coffee Mug
A whole mood when someone tries to talk to you before you've had your coffee. Great for coffee and tea addicts alike!
Swedish Chef Happy Birthday Card
What says Happy Birthday better than a note from their favorite Muppets character? Give it along with a frame for a great memento.
Swedish Chef Hand Puppet
For a kid in your life or the little kid in all of us. Perfect for making your own cooking videos.
Swedish Chef Cookie Cutter
Makes something as sweet as making cookies even sweeter. Every Swedish Chef fan should have one in their kitchen.
Swedish Chef Handmade Earrings
A piece of statement jewelry everyone will be asking about. The details make it a great gift for the girl who needs a unique piece to add to her collection.
Swedish Chef Phone Case
Never lose your phone again! Well, no promises, but it will be hard to miss with this case.
Swedish Chef Cufflinks
Who says cufflinks have to be boring? A good gift for the funny guy in your life.
Swedish Chef Plush Toy
This vintage plush is too adorable to pass up. A cute toy for anyone- young or old.
Swedish Chef Figurine
He may be little but he is still a big character! Perfect addition to the boring office desk or kitchen table.
Swedish Chef Kitchen Towel
Show your love for this character in a low key way. And though no Mom wants to admit it, they can always use more kitchen towels.
Swedish Chef Iron Door Magnet
Great for the fridge or anywhere else you can think of! Can be personalized as well.
"Vert de ferk?" Can't believe there are this many great Swedish chef gifts? Well believe it! For that special someone in your life who can get enough of this odd character, we've got you covered.