Disclosure of Material Connection: Some of the links in this post may be "affiliate links." This means if you click on the link and purchase an item, I will receive an affiliate commission. Disclosure in accordance with the Federal Trade Commission's 16 CFR, Part 255. This site is a participant in the Amazon Services LLC Associates Program, an affiliate advertising program designed to provide a means for sites to earn advertising fees by advertising and linking to Amazon.
Old people have most items already, and they need gifts that will not clutter their homes. Maybe you can go for things that will help them remember important moments from the past. Or you could just pick thoughtful things that they could easily replace with their old ones. Here, you will find some useful gift ideas.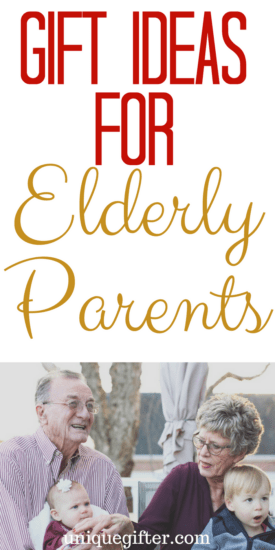 Clever Gift Ideas for Elderly Parents
Digital key finder
Out of all the items, they have bought, chances are they never thought of getting a key finder. Maybe because it is small or they underrate its usefulness. Surprise them with one and help them trace their keys with this key finder that can locate keys for up to 300 feet.
Radio with remote control
This gift is meant to make their life easier because it comes with a remote control. They do not have to switch the knob when they want to regulate the volume. They can schedule the alarm and program up to six favorite stations.
Fridge magnet picture frame
If they live in the countryside, they deserve this picture collage to keep all family photos organized. They can use it to organize a variety of family photos that will provide great memories on a daily basis.
Preloaded Kindle Fire
The world is going tech, and older folks are joining the bandwagon. A simple tablet should meet most of their tech needs. The kindle fire is a great gift because it is easy to adjust and it is light enough to carry around. Just load it with their favorite books and make the gift worthy.
LED flameless candles
Candles are perfect for creating a warm ambiance, but lighting them may not be an easy task for older folks. This LED candles should make their work easier. They are made using real wax so give off the glow, without the flame. They are simple to operate because they come with a remote control and can be used to add that extra sparkle with an on and off button.
IRobot Roomba 650 Robotic Vacuum Cleaner
This is the kind of multipurpose vacuum cleaner that can be used for most floor types. It makes a wonderful gift for the elderly parents because it is simple to use and is self-charging. They will only need to preset it if they want their cleaning done. It has the right height and can conveniently fit into small spaces.
Booklight
This book-shaped lamp does not need to be plugged in. It simply turns on when you open the book and turns off then the book is closed. It can be used as a desk lamp or outdoor light. It is a beautiful and creative gift that makes a unique decoration. Its battery can support it for 8 hours, and it only needs to be charged with a USB.
Heart Photo Frame Charm Necklace
Cut their picture to the perfect size and insert it in the heart pendant. This is a sentimental gift that will express your love and will act as a good luck charm.
Hand Stamped Personalized Keychain Couples Keychain
This is a unique gift that is hand stamped as per your instructions. It will remind them of their journey as a couple and will bring back old memories.
Unisex gloves
A pair of gloves is a good idea, especially if they live in colder regions. The gloves are lightweight and packable. They also have reflective elements during low-light visibility to ensure maximum safety. They will serve their purpose during cold weather.
A hand painted handbag
The Anuschka handbag is beautiful and is perfect for celebrating the old woman. It is hand painted and is durable. It is unlikely for an older parent to purchase such a bag, probably because of its luxurious look. So, make it your task to buy it and present it as a gift.
Power Rechargeable Electric Toothbrush
Oral hygiene is a requirement for physical health, especially when people start aging. And if you want to maintain oral health, you'd better get these parents a dynamic toothbrush that can remove 100% more stains compared to manual toothbrushes. Give them a chance to have vibrant smiles and healthier gums with a gift that will keep all germs at bay.
Wall calendar for the year
This calendar has twelve different art prints and is easily made to be displayed on the wall. The animal and plant illustrations add to its beauty, and it is also eco-friendly. Elderly parents are likely to forget purchasing this kind of item, and it would be thoughtful if you can bring them one.
Coffee brewing system
Old folks need a cup of coffee once in a while, and this brewing system should help them brew their coffee. They do not have to panic when a visitor comes in because this appliance is easy to use.
Ayer, MA9 o Tablet
Apple has caught the attention of the world, and everyone wants a piece of them, including older people. Get them this iPad Air and let them enjoy its speed and superior features. It is user-friendly, light, and has a reliable interface.
A warm pillow massager
Due to their old age, older adults tend to experience various body aches. However, this pillow massager can change that because it has nodes that help them relax by relieving muscle tightness. Its ergonomic design allows it to be used in various parts of the body, including the neck, back and thigh areas.
Body Buddy Non-Absorbent Lotion Applicator
There are some hard to reach areas on everyone's body, and applying lotion to these regions can be tricky or almost impossible. But with the help of this lotion applicator, those seniors will be able to access those hard to reach areas.