Disclosure of Material Connection: Some of the links in this post may be "affiliate links." This means if you click on the link and purchase an item, I will receive an affiliate commission. Disclosure in accordance with the Federal Trade Commission's 16 CFR, Part 255. This site is a participant in the Amazon Services LLC Associates Program, an affiliate advertising program designed to provide a means for sites to earn advertising fees by advertising and linking to Amazon.
Welders probably have the biggest badassery level in the world today and gift ideas for welders need to be just as cool. Their job essentially involves fusing steel together, whilst throwing around a tool that shoots fire. You can't get much cooler than this.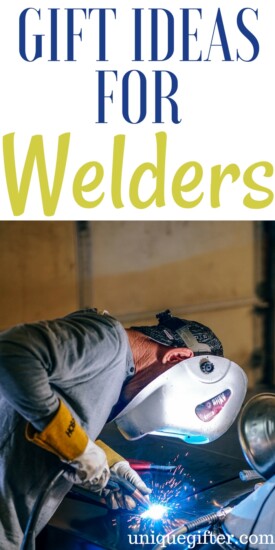 Gift Ideas for Welders
If you know someone who's part of this elite circle, we're going to introduce you to some epic gift ideas for welders. Be sure to wrap these cool gifts in the most awesome wrapping paper you can find, you know, like with flames on it. We also have gift ideas for the mechanic in you life!
Tig Welder Flag Window Decal
Flags for various important jobs are becoming more and more popular these days, and one for the welder in your life in the form of a window decal will give him a way to express themself while they're driving around in their car.
Texas Flexit Welder Hat
This Texas flexit welder hat will give them a way to keep the sun out of their eyes in welder style!
Welding Tool and Flag Shirt
Another welder flag, but this time on a shirt. You guessed right, this will quickly become their favorite shirt ever!
"Daddy's little welder helper" Infant Bodysuit
For the little welder's helper in both of your lives!
"Big or small pipeliners, lay 'em all" Coffee Mug
Your favorite welder deals with all kinds of pipes and takes care of them all. Help them fuel up with coffee on early days.
"Welding, it's like sewing with fire" Shirt
Sewing with fire sounds both dangerous and awesome at the same time!
Welding Torch Patent Poster
A gift that no one else will think to get them is a welding torch patent poster to hang up on their wall at home.
Fire Dragon Pendant
Since they weld with fire, this fire dragon pendant is an excellent and fitting gift. They can put it on a necklace, keychain, or use it as a zipper pull!
The Samurai Welder Bracelet
Every welder certainly needs a welder bracelet! It's both fun and stylish!
Superman Blue Flame Vertical Design iPhone Case
Your favorite welder is your superman. Let him know and help him keep his phone safe with this awesome iPhone case.
"Will weld for beer" Shirt
The welder in your life might weld because they love it, but beer never hurts either.
"Keep calm and flame on" Coffee Mug
Just the words they need as they drink their morning coffee and prepare for the day: keep calm and flame on.
Navy Blue Welders Cap
Something to catch the sweat and keep their head secure is a welders cap. So, maybe this one is a bit more functional than fun, but it still makes a great gift for your favorite welder.
Personalized Fire Flame Bottle Opener
Personalize this flame bottle opener with their name and they will love opening their beer and other bottles with ease.
Personalized Old Fashioned Whiskey Glass
Or, if their favorite drink is whiskey, rum, or the like, they would probably much rather have this personalized old fashioned whiskey glass instead.
"I make sparks fly" Shirt
They make sparks fly every single day!
Personalized Welder Wallet
Your favorite welder needs a sturdy wallet, and what better one is there than one with a welder on it that also has their initials?
"I love the smell of solder and propane in the morning" Coffee Mug
The smells of solder and propane are a part of their job, and those are the smells that get them fired up and inspired.
Leather Apple Watch Band
If your favorite welder is an Apple watch user, then this leather Apple watch band will come in handy and is also sturdy, which is always necessary.
Wood Beard Comb
Even though they have a welder's mask on almost everyday, they still need to keep their beard in check and groomed.
Avoid Injury Welder Hoodie
This is both practical and funny. We're not sure whether the quote on the front is a warning, a piece of advice, or a joke. We'll let you make the decision on that one.
Bernzomatic Trigger Torch
Do you know what this is?
This is the thing that throws fire. This is one of the best things to throw fire with. Watch your favorite welder's eyes light up when they unwrap this.
Aven Desoldering Wick
It may not be sexy, but this is actually one of the most useful items a welder can have. Ask any welder and you'll discover that they're already running out of this stuff.
Solder Tip Cleaning Wire and Holder
It's never fun to clean up after yourself. Make the process that much easier with this cleaning wire and holder. It will make packing away at the end of the day infinitely quicker.
Leather Welding Apron
What we love about this apron is it does the job. But what we REALLY love about this apron is the fact you can pretend to be Leatherface from Texas Chainsaw Massacre when you wear it.
Hobart Goggles
You don't truly feel like a welder until you've got the goggles to go with it. Now you can look like the mad scientist you always make yourself out to be.
6-in-1 Electronic Soldering Kit
For those jobs where you don't need to burn everything to a crisp, this convenient soldering kit will enable you to get the job done.

Mini Jet Pencil Flame
Although this is for those little jobs, we love the fact that you can whip this out and feel like 'Q' from James Bond.

Weather Resistant Cover
If you work outside, you know how much of a pain the elements can be. This weather resistant cover will protect your tools and let you get to work without any problems.

Multi-Function Welding Pliers
Cut down on the number of tools you have to have in your box. These multifunctional welding pliers will help you get the job done.

Running Gear
Just perfect for those moments where you can't be bothered walking across the room to pick up that next tool.

Soldering Iron Hot Tip
Yes, they look like bullets, we know.
But they're actually an essential tool of the trade. Don't fret over them. Trust us, just get them. Your welder will appreciate them.

Propane Fuel Cylinder
This is what keeps the whole show on the road. Get as many of these as possible. Buy a truckload of them…it still won't be enough.

Propane Cylinder Dolly
And don't forget to bring the holder. There's nothing worse than having to lumber lots of propane cylinders across the room through nothing but the strength in your back.

It's Like Sewing with Fire Shirt
This novelty t-shirt will tell it out it is. Let your welder tell everyone else how it is. It's much better than having to explain what you do all the time.

I Run on Coffee Mug
If you need to tell people exactly how you finish those long hours, this is the mug to do it with. Bound to put some smiles on faces.

Welder Retro Ornament
Need something to hang on the Christmas tree this year? This retro ornament will help you do it. It even comes with a cute red ribbon to hang it with!

Future Welder T-Shirt
You don't always have to buy something they'll use. Buy something they can put on the kids with this adorably pink Future Welder t-shirt. You best start training them right now.

Flash Me I'm a Welder Bumper Sticker
Be proud of where you come from with this bumper sticker. To this day, nobody has ever actually flashed us, but we live in hope.

Dirty Hands Clean Money Beer
Sometimes all people want is a six-pack of beer. Fulfill their wishes the next time you have to buy them a gift with this novelty beer.