Disclosure of Material Connection: Some of the links in this post may be "affiliate links." This means if you click on the link and purchase an item, I will receive an affiliate commission. Disclosure in accordance with the Federal Trade Commission's 16 CFR, Part 255. This site is a participant in the Amazon Services LLC Associates Program, an affiliate advertising program designed to provide a means for sites to earn advertising fees by advertising and linking to Amazon.
Revving engines, beating hearts, the roar of the crowd! Formula 1 fans are an exciting and unique bunch, and their gifts should be too! Race through this list of awesome Formula 1 themed gifts for that certain someone on your gift list!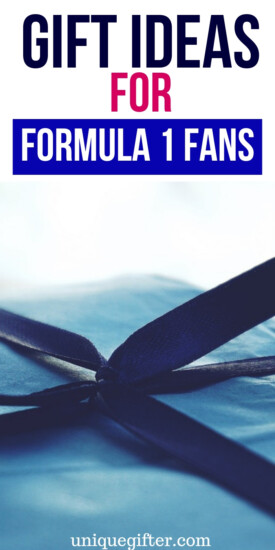 20 Exciting Gift Ideas For Formula 1 Fans
Formula 1 racing is an exhilarating thing to watch! If you know someone who is a huge fan, then you have come to the right spot. There are so many fantastic gifts out there, and they will love them.
Ferrari F2002 Postage Stamp
This genuine framed stamp features the famous Ferrari F2002 and is genuinely one of a kind! Formula 1 fans are huge collectors, add this to their gift list this year!
Watkins Glen Clock
This unique wall clock is like no other! Get your favorite Formula 1 racing fan's heart beating with this laser cut Watkins Glen replica track wooden clock. It features the name of some of the most famous stretches, such as Back Straight and the Chute.
Formula 1 Paperweight
This paperweight is made from an aluminum Formula 1 racing component, with a carbon fiber lining. It serves as both a paperweight and catch-all, ideal for your favorite racing fan's desk or bedside table!
Formula 1 Engraved Box
This handmade oak wooden box features a pewter racing car and an engravable surface. Perfect for any occasion, this unique handmade box is the ideal gift for the Formula 1 fan on your list!
Formula 1 Designer Tie
This necktie features a tasteful Formula one car print and is handmade by its designer. Something you're unlikely to find anywhere else finds like this is the perfect item for your racing fan!
Formula 1 Party Favors
When you're talking gifts, don't forget the party favors! Like a day at the races, a Formula 1 party should pull out all the stops. This set of Formula 1 party favor bags are perfect for any kid's party.
Honda Racing Shirt
Honda is a well-known brand in the racing world. Get that racing fan of yours something they'll remember with this vintage one of a kind Honda Formula 1 racing T-shirt!
Ayrton Senna Handcrafted Collectible
This handmade box printed with the famous Ayrton Senna's photograph, signature, and quote is one collectible you'll never find anywhere else. Any Formula 1 fan would be over the moon for this unique display piece!
Vintage 84' Grand Prix Hat
Trucker style hats are absolutely timeless. Indulge in your inner time traveler with this racing fan's dream, a Las Vegas Grand Prix hat! Authentic, it makes for the perfect gift for any racing fan out there!
Formula 1 Cookie Cutter
Great for delicious cookies, or fondant this cookie cutter is a really unique take on gifting for racing fans. Ideal for putting together some sweet treats, or even planning a Formula 1 party, this cutter is the real deal!
Fernando Alonso Renault Outfit
This original vintage piece is similar to the one worn by Alonso and dates back to 2005. It's a racing shirt with all of his sponsors for team Renault. A time-honored style recognizable to any Formula 1 fan, this would make an excellent piece for displaying or wearing out to the races!
Conrod Bottle Opener Keychain
Upcycled, repurposed, you name it! We're all about unique pieces that have been refashioned to bring joy to new owners. This keychain bottle opener is fashioned from an automotive part and is the perfect F1 themed gift!
F1 Toro Rosso Pendant
The symbol of the bull made famous by it's Italian racing team, this Toro Rosso pendant is made from yellow, 14K gold and would make a fascinating and unique gift. Not to mention it would turn the heads of many other racing fans!
64' Grand Prix Racing Poster
This poster for the Belgian Grand Prix is a real gem! Hailing from 1964, it has a distinctive retro charm. What else could you wish for when looking for the one gift that Formula 1 fan will never forget?
F1 Coaster
These handmade coasters were designed with the racing fan in mind! Featuring the iconic silhouette of a Formula 1 racer, these coasters will get your heart racing. Pick one up for an easy gift any racing fan will appreciate, their all-around appeal is great for the office, family room, or man cave!
Juan Pablo Montoya Keychain
Sometimes the best gifts are subtle and memorable. Made of chrome and leather, this handmade keychain features the image of Juan Pablo Montoya's F1 racer, perfect for the Formula 1 fan at heart! Keychains make excellent gifts, make sure your favorite racing fan always remembers you while they're speeding down the motorway!
Decorative Ceramic Formula 1 Cars
These vintage-styled Formula 1 race cars make great decorative pieces for a mantle, desk, or bedroom decor! Let your favorite Formula one fan express themself in style with these one of a kind vintage racers!
Oak F1 Circuit Collection
These real wood pieces are handmade models of some of the world's most renowned raceways! Get your engines roaring with these highly collectible and stunning veneer race track design pieces. Any racing fan would be thrilled to have some of these in their collection.
Wooden Formula One Cars
These eye-catching handmade toy race cars are a real blast from the past! They're sure to please some of the younger racing fans out there, not to mention toy collectors! Modeled after the iconic F1 car silhouette, they're a must-have for any die-hard Formula 1 fan!
Personalized F1 Car Cake Topper
This brilliant cake topper features the outline of an F1 car and your favorite race fan's name carved in! Personalized gifts like this really give a unique touch to your gift list and a smile to your favorite F1 fan face!
Thanks so much for checking out our top 20 Gifts for Formula 1 fans! Let us know which gifts really got their engines roaring, and check back next time for some more unique picks!