Disclosure of Material Connection: Some of the links in this post may be "affiliate links." This means if you click on the link and purchase an item, I will receive an affiliate commission. Disclosure in accordance with the Federal Trade Commission's 16 CFR, Part 255. This site is a participant in the Amazon Services LLC Associates Program, an affiliate advertising program designed to provide a means for sites to earn advertising fees by advertising and linking to Amazon.
Since its release in 2009, Avatar has enchanted millions with the lush world of Pandora. With its stunning visuals and intriguing storyline, there's no doubt about why there are so many fans of this film and with the upcoming sequels, it's going to become more popular!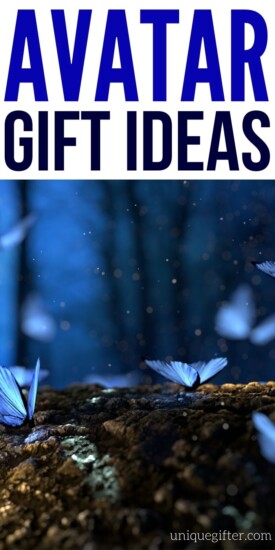 A World Of Perfect Gifts
When you have a film that's beloved by so many people, there's bound to be a plethora of merchandise surrounding it. When you've got a ton of different gifts to choose from, it's going to be a daunting task nailing down that perfect present and that's where I come in! I've looked all over to find the perfect gift for that fan in your life so relax and check out these 20 gifts for Avatar fans.
Avatar (Blu-Ray)
James Cameron created quite a beautiful world when it comes to the vivid and colorful land of Pandora. What better way for your loved one to enjoy it than with the Blu-Ray edition?
Her World, Her Way Puzzle
This 500 piece puzzle showcases the moment where Neytiri teaches Sam about hunting and it even includes a pair of 3D glasses!
Avatar 2 Print Set
What's better than one awesome print from the film? Two in one wonderful gift!
World Of Avatar Figure Playset
The planet of Pandora is home to quite a variety of different creatures. This playset showcases a few of the species and is a must-have for fans of the film.
RDA Combat Grinder Vehicle
Avatar was no stranger to awesome vehicles and mech suits and now the fan in your life can own one of these for themselves!
Flying On A Banshee Candle
What exactly does flying on a Banshee smell like? Pandora likely smells like an absolute wonderland and now the fan in your life can find that out with this candle!
Baby Na'vi Plush
Who wouldn't want a plush of an adorably baby Na'vi in a blanket? I'm pretty this gift is going to make your loved one very happy!
Na'vi Ears Headband
It wouldn't be a trip to Disney without a set of ears, right? Fans of Avatar are going to rejoice when they receive this present!
Pandora Tie Dye T-Shirt
If your loved one is a fan of Avatar, they're like a fan of vivid colors and, if that's the case, they're going to love this shirt.
Banshee Pin
This pin gives a unique look to the Banshees from the film and is a fantastic way to add some Avatar flair to your fan's wardrobe!
Avatar Inspired Choker
Who doesn't think that the Na'vi have some snazzy style? Give the gift of awesome accessories for your fan's next holiday!
World Of Pandora Decal
Perfect for cars or laptops, this decal allows your fan to proudly proclaim their love for the film in a discreet, yet cool way.
Flight Of Passage Pendant
This beautiful pendant is a way to have some Avatar flair to your fan's accessory game and still retain a pretty low-key look!
Na'vi Leggings
Does the fan in your life want to wander around looking like a Na'vi? If so, you've got them covered with these cool leggings.
I Bless The Rains Down In Pandora T-Shirt
We all love the Toto song, right? If you've got a music lover as well as an Avatar lover, I've got the perfect gift for them as well.
RDA Combat Amp Suit
I mean, after watching the film, who didn't want to climb into these awesome mech suits? Now the fan in your life can own their very own!
Na'vi Knife With Sheath
If the fan in your life is a collector of knives and a big fan of the series, there is this perfect present here. This replica is as close as you're getting to the real thing!
Direhorse Plush
How do Direhorses get cuter? When you have them in plush form!
Na'vi Backpack
What better way for an Avatar fan to tote their things around than with a backpack that has Na'vi markings? Very cool!
Avatar: The Board Game
Don't let the fan in your life settle with just fantasizing about living in Pandora, give them away to! This board game is sure to fill lots of time with Avatar related fun!
Well, with all of these outstanding gift ideas, I'm pretty certain that I've helped you find that perfect gift for the fan in your life! These are some of the best of the best and there's something here for everyone. Did you find anything that they absolutely adored? Maybe you're a fan yourself and you found something that you couldn't live without? Let us know on Twitter (@ugifter) or on Instagram (@uniquegifter) and thanks for checking out 20 Gifts For Avatar Fans!