Disclosure of Material Connection: Some of the links in this post may be "affiliate links." This means if you click on the link and purchase an item, I will receive an affiliate commission. Disclosure in accordance with the Federal Trade Commission's 16 CFR, Part 255. This site is a participant in the Amazon Services LLC Associates Program, an affiliate advertising program designed to provide a means for sites to earn advertising fees by advertising and linking to Amazon.
Positive thinking is a great way to chase the blues away and set yourself up for great things! These gifts for positive thinking are great for a positivity whiz or a friend who just needs a bit of positive motivation. You can never have enough motivation!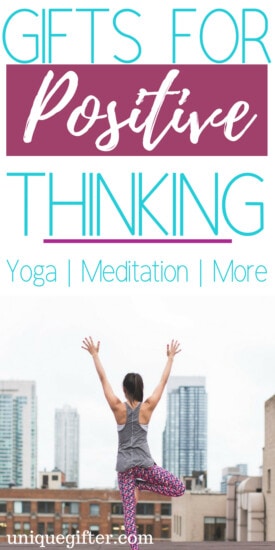 Uplifting And Unique Gifts for Positive Thinking
that aren't just quotes!
Good Vibes Only Cap
This baseball cap will keep the haters away and bring more good vibes into your life
Radiate Positivity Mug
Start the day positively with this colorful coffee mug. If tea is more their jam, we got gift ideas for tea lovers too!
Affirmation Cards
Remind yourself what you truly are with these "I am" positive affirmation cards
Unstoppable Necklace
You're unstoppable, and this necklace will remind you whenever you wear it
I am Enough Spoon
This hand stamped spoon reminds you that you're enough whenever you make a coffee, eat some soup, or stir your tea.
Hug More Print
This handmade print is here to remind you to hug more often
Postive Power Incense
This scrumptious smelling blend of incense is made to order for someone who needs a good smelling boost of positivity
Good Vibes Wall Decal
Spread good vibes with this floral wall decal
Positive Message Cubes
Decorate your desk or counter with these inspiring cubes
Happiness Poster
Deck your walls with this poster reminding you to focus on your happiness
Ocean Jasper Necklace
This minimalist necklace is made to help encourage joy and optimism
Inhale Love Exhale Gratitude Tee
This handmade t-shirt will help you exude positivity!
Quote Cuff
This inspiring writst cuff shares an uplifting message to all who see it
Throw Pillow Cover
Be the sunshine in your life with this handmade throw pillow cover in the size of your choosing
Organite Pyramid
Bring good energy everywhere you go with this handmade gorgeous crystal.
Positive Quotes Pencils
Journal away with these positively happy pencils
Be a Good Human Magnet
Pt this sucker on your fridge and remember to always be a good human
Positive Energy Amulet
This amulet is packed with stones that will boost your positive thinking
Inspirational Quote Sign
This sign is the perfect reminder to stay positive and grateful
Self Love OIl
This handmade oil is meant to help you treat yourself to amazing scents that encourage positive thoughts. If they love essential oils, we have gift ideas for essential oil diffusers too.