Disclosure of Material Connection: Some of the links in this post may be "affiliate links." This means if you click on the link and purchase an item, I will receive an affiliate commission. Disclosure in accordance with the Federal Trade Commission's 16 CFR, Part 255. This site is a participant in the Amazon Services LLC Associates Program, an affiliate advertising program designed to provide a means for sites to earn advertising fees by advertising and linking to Amazon.
Check out these awesome minion gifts for adults! Who says you have to be a kid to be a minion fanatic. All of these presents are fun, entertaining and whoever you give them to will be smiling from ear to ear.
Cool Minion Gifts For Adults
These presents are a blast and impressive! Give these out to all your Minion fan friends!
Minion Travel Mug
Sometimes you just have to take your banana smoothie (or coffee) with you on the go. It says "I NEED COFFEE!" and is insulated to keep it nice and warm.
Minion Plaque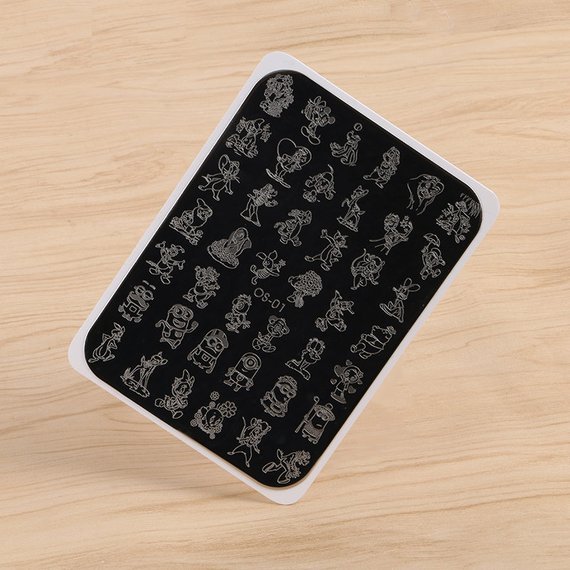 You know those Minion pictures people love to share? Immortalize that sentiment in the home with a custom made Minion plaque.
Minion Adult Apron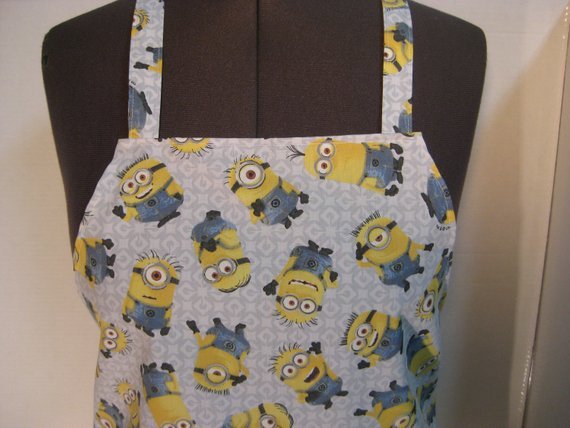 Send that Minion lover into the kitchen to make some Despicable Me snacks by equipping them with a fancy new Minion apron. It's adult size!
Grocery Bag
Grocery stores are getting rid of the bags Minion lovers desperately need to carry their bananas home. This tote bag solves that problem! It also makes for a great, practical gift bag.
Grufather Adult Shirt
Minions don't have to be childish all the time. This cool "Grufather" shirt parodies The Godfather for some grown-up Minion fun.
Minion Wedding Gift
What else do you get a Minion loving couple on their wedding day? Give a customized cutting board with their wedding day on it that they can keep forever.
Minion Tie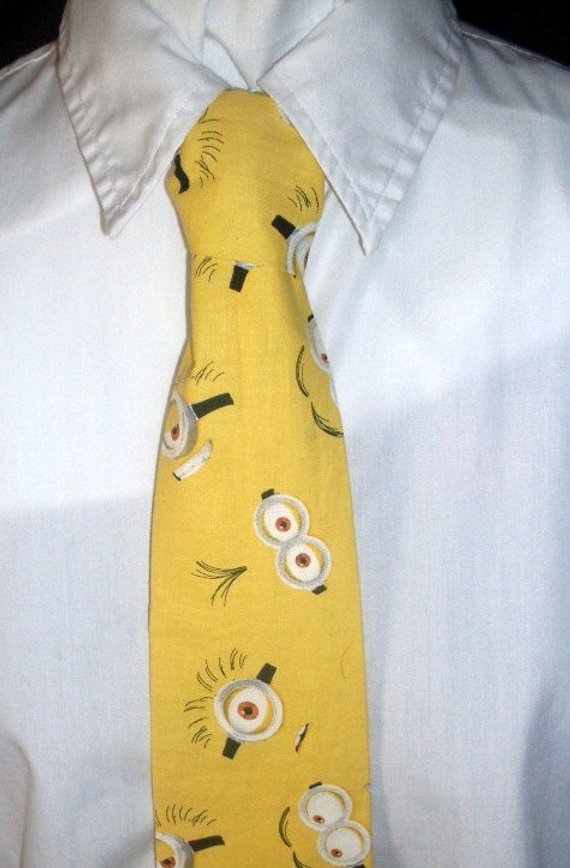 A great or terrible idea depending on where you wear this.
Minion Can Cozy
Is it a can of pop? A beer? The Minion will never tell, but he will keep your hand from getting too cold.
Wooden Spoon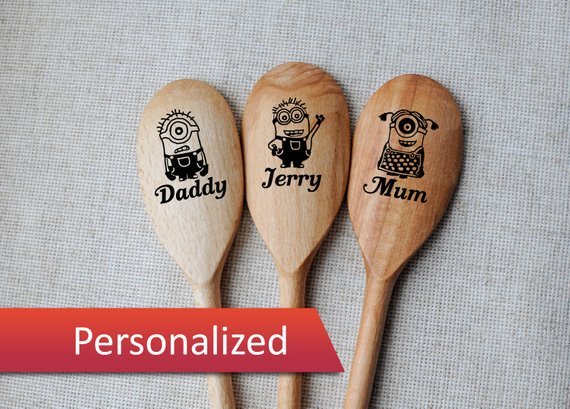 This is truly a unique gift! These wooden spoons are engraved with Minions. This would be a great gift in itself or as part of a bigger basket.
Minion Socks
Having trendy socks is so in right now, even in professional environments. Kick off their collection with these Minion socks.
Create Minions Shirt
Great for parents who love Minions, but also have some of their own. It's a clever way to show off being a parent and your love of Despicable Me.
Glitter Wine Glass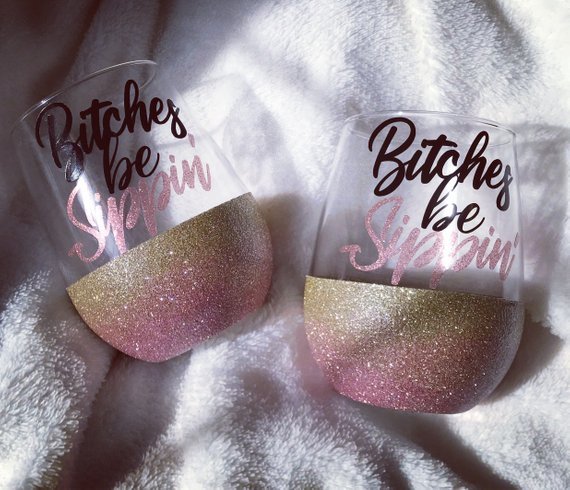 Pair this handmade Minion glitter wine glass with their favorite bottle of wine for a perfect gift for adults. Have a night in and watch Despicable Me!
Car Magnet
Spread happiness wherever you go with this Minion car magnet. There's plenty of designs to choose from so you can give the Minion they'll like best.
Rustic Minion Family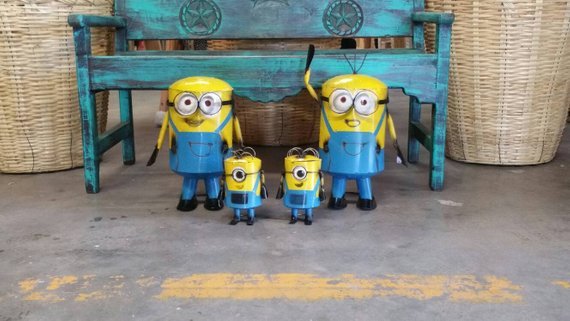 A great gift for someone who likes rustic or recycled decor as well as Minions! They're even weatherproof so you can display them outside.
Minion Drink Cozy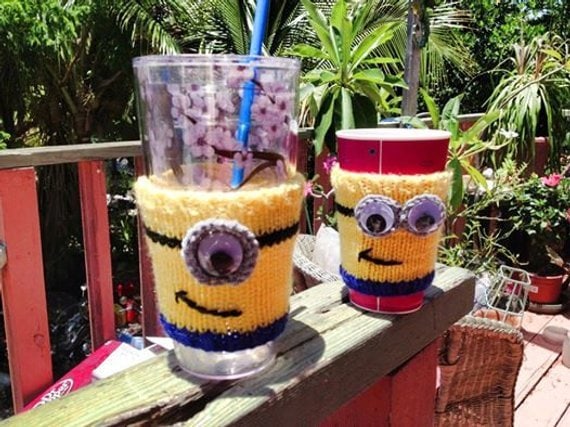 Holding drinks will be much more comfortable with a soft Minion cozy wrapped around. Keeps your hands from being too hot with warm drinks and getting wet when the drink is cold.
Inflatable Costume
Go big or go home with your Minion love. This inflatable costume makes a great gag gift, attire for a costume party, or whatever!
Minion Glasses
Drinks taste better out of Minion glasses and these are a perfect gift for a grown-up who's still a bit of a kid at heart.
Minion Wine Box
Funny meets classy with this Despicable Me Minion wine glass box. The adult you give it to will enjoy whatever you put inside and having a great place to store their wine after.
Cross Stitch Pattern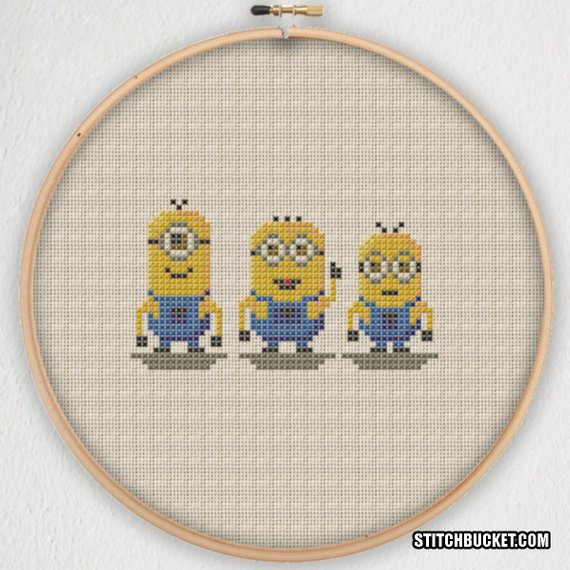 If the gift recipient is crafty then you can pick up this pattern and all their supplies as a fun gift idea. If you're the crafty one make it and frame it nicely as a special handmade gift.
Minion Mugshot
These minion shot glasses are loads of fun and adorable as can be!
Despicable Me Minion Gifts For Adults are all awesome and unique. I hope you have found some perfect gifts in this article.