Disclosure of Material Connection: Some of the links in this post may be "affiliate links." This means if you click on the link and purchase an item, I will receive an affiliate commission. Disclosure in accordance with the Federal Trade Commission's 16 CFR, Part 255. This site is a participant in the Amazon Services LLC Associates Program, an affiliate advertising program designed to provide a means for sites to earn advertising fees by advertising and linking to Amazon.
Steampunk has been a fad for quite a few years, and there's no wonder why – gadgets, gizmos, and cool ass goggles! If you have a steampunk lover in your life you need to get a gift for and have no clue where to even start, worry not! We've scoured the deepest trenches of the internet to help you find the perfect gift for your special someone! Take a peep at this top 40 list curated just for your steampunk fanatic! These gifts for steampunk lovers are a great way to gift to the copper and bronze obsessed people in your life.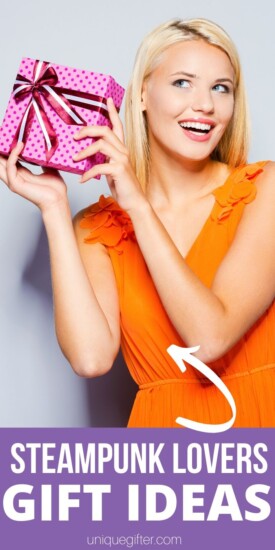 The Greatest Gifts for Steampunk Lovers
Strap on your goggles and start your engines because we're about to dive into some amazing gift ideas that are sure to make any steampunk lover delighted!
Steampunk Table Lamp
This lamp is minimalistic and rustic all in one! Perfect for a bedside table or a workstation!
Watch Gears Ring
Get your steampunk a customized ring! Build it with tiny watch gears and add a gemstone for some color!
Set or 3 Patent Prints
This beautiful wall decor would be a great accent to your steampunk's walls! Download 'em yourself or for a little more they'll mail them to you on antique parchment paper or ivory!
Insect Clockwork Brooch
Bugs can be a bit creepy, but not this little guy! This brooch is a beautifully subtle way for any steampunk lover to add a little pizazz to their wardrobe.
Bathroom/Vanity Light Fixture
Trust us when we say that a steampunk's obsession knows no bounds. This light fixture is beautifully crafted and would look amazing above a bathroom sink or a vanity!
Desk Organizer and Lamp
This little wooden box can hold their things while shedding a little light! Perfect for desks with Post-It notes, or an end table for TV remotes and their phone!
Bookend Lamp
Another two-for-one with this beauty! Give them a gift to hold and illuminate their old timey books they collect!
Pressed Leather Bowtie
Every steampunk fan needs a bowtie or two. This one fits perfect into their lifestyle with three different styles to choose from!
Wide Belt Top Hat Band
Give them perfection with this top hat band that's made to look like a corset cinch and has a beautiful antique key accent! This gift is perfect for any gender! Top hat not included.
Coiled Snake Locket
This little brass guy is coiled around to make a locket to hold whatever your steampunk lover holds dearest close to their heart! You're guaranteed to make the cut with this gift.
Three Metal Roses
Your fan's gonna need some flowers for their new vase up above, and what's better than getting them some awesome roses that never die!
Amethyst Vial Necklace
This necklace is gorgeous and filled with watch parts and amethyst chips! Absolutely stunning!
Skull Organizer
This unique art has been intricately crafted and is a one-of-a-kind piece for your steampunk enthusiast's collection! Perfect to hold paint brushes, pens, or anything else that they fancy using it for!
Antique Silver Bee Cigarette Case/Metal Wallet
This case is perfect in size and able to fit in most pockets! It can hold cigarettes or credit cards and folded bills if they're non-smokers. It's sure to turn heads no matter how it's put to use!
Pocket Watch
Every steampunk aficionado needs a pocket watch! It's an absolute must for any attire. Spruce up your fan's wardrobe with this beautiful and simple watch!
Steampunk Bowler Hat
This hat is sure to make your steampunk fan feel fancy! It has a beautiful neutral color that will match almost any ensemble!
Watch Parts
Is your steampunk lover a little crafty? They'll definitely love this lot of watch parts so they can make their own unique jewelry to stand out from the crowd!
Faux Leather Handbag
Impress the steampunk lady in your life with this unique custom handbag! The best part is it's vegan-friendly faux leather so no adorable animals were harmed in the making.
Bronze Rose Brooch
If your steampunk fan is getting ready for a night out on the town then this brooch is the perfect accent for their new outfit they're just dying to show off! Surprise them with this beautiful handmade piece!
The Steampunk Bible
Every steampunk fan should own this book! You know what's better than owning one of these? Owning two! Go ahead and grab em one even if you're not sure if they have it or not.
Steampunk Style Sunglasses
Every day the sun blinds hundreds of innocent steampunk fans. Protect your fan's eyes in style with these shades.
Steampunk Styled Octopus Figurine
This lil' guy is as dangerous as he looks! But he's perfectly happy hanging out on a shelf and would look great hanging out in your steampunk fan's home!
Steampunk Phantom of the Opera Mask
Every steampunk fan needs a Phantom of the Opera mask! Make their collection complete with this steampunk version!
Steampunk Style Leggings
If your steampunk is a fashionista, and let's be honest here – we know they are, these leggings are a must have! Perfect for those lazy days when they still want to look good!
Steampunk Detective Skull Mug
Steampunk is more than a fashion trend – it's a lifestyle. And there's no better way to show your support than by getting them this beautiful coffee mug!
Lace Bracelet
This beautiful bracelet is the perfect arm accessory for your steampunk! It has the perfect amount of gothic and steampunk mixed to match a variety of outfits!
Steampunk Mechanical Keyboard
If your steampunk lover is also a computer geek, surprise them with this 2 for 1 gift and spruce up their nerd area with this gift they didn't even know they needed!
Clockwork Kitty Art Print
This kitty cat is stylin' in his most trendy steampunk costume! And in true steampunk fashion this little guy has been printed on repurposed book pages to add an extra layer to this beautiful art piece!
Mechanical Spider Resin Statue
You may be freaked out by these eight-legged creepy crawlies – but have no fear! Your steampunk fan will love this spooky metal spider!
The steampunk world is so large – it's difficult to only put 40 items on our gift guide! We hope you found some inspiration here, and if you did, we'd love to hear from you! Give us a shoutout on Twitter (@ugifter) or Instagram (@uniquegifter) and let us know what you loved!