Disclosure of Material Connection: Some of the links in this post may be "affiliate links." This means if you click on the link and purchase an item, I will receive an affiliate commission. Disclosure in accordance with the Federal Trade Commission's 16 CFR, Part 255. This site is a participant in the Amazon Services LLC Associates Program, an affiliate advertising program designed to provide a means for sites to earn advertising fees by advertising and linking to Amazon.
I'm super excited to share these 12 Bee Books for Preschoolers. Little kids love to learn about bugs and animals, so these bee books are going to be a hit. Plus, while bees can sting you if you aren't careful, they are vital for our planet and well-being. This is a great time to start teaching your kids early on the importance of bees and not to be scared of them. You can never have enough books, especially if you don't want to have to read the same ones on repeat. Our friends over at A Dime Saved have a great guide on how to get free books for kids, to keep things interesting, beyond bee books.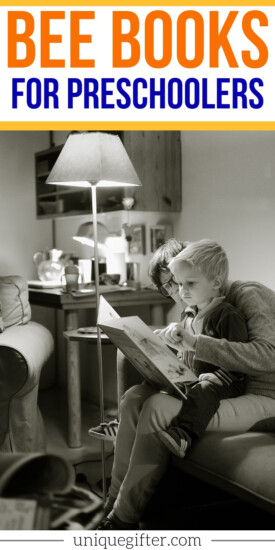 12 Adorable Bee Books for Preschoolers
All of these adorable bee books will make you smile and the kids will be happy to learn. Each one is geared towards preschool-aged children with bright colors and easy to understand wording.

In this fun peek-through book your preschooler will discover the many exciting aspects of a bees life. This is an excellent option for spring when the bees return.

In this lyrical story, your preschooler will follow the adventures of a group of honeybees from one hive. Explore flowers in a spring meadow as they collect nectar and create honey. This book is beautifully illustrated.



In this book, children can explore the crucial role that bees play in our environment. This is a great way to encourage kindness to insects in young readers.

A cute little bee named Benny loves to eat! He collects as much pollen and nectar as he can! When he learns winter is coming, his mom teaches him a secret about his little bee body that helps him collect enough to last all winter long.

This book teaches children about all of the fascinating parts of bees, including how they make honey! This book is a great introduction to the science of bees for eager learners.

In this detailed book, children can learn about bees, their cousin the wasp, and even termite nests. Kids will enjoy the transparent overlays of this book that make learning a layered event that is tons of fun!

Bea loves tending to the flowers in the garden. But, she really wants a pet! When she finds a little bee, she needs to convince her mother to let her keep it as a pet. Can she do it?


In this detailed books young readers will discover how social and hardworking bees are! Discover what it takes to be a queen bee and what the life of a worker bee is like, as well as fun facts about bees.

This little chunky book is perfect for early reading. It has 6 sturdy life the flaps that bring so much fun to the story. With simple sentences and colorful illustrations this is a great book for learning about bees.

This is a book the entire family will enjoy and learn something from. Learn all about the organization of colony and how each bee has a job. Learn how and why bees create honey.

A horsefly and a honey bee take a nap in the same flower, and trouble ensues. When they meet again they must learn how to work together to avoid even more trouble!

This catchy, rhyming book is so much fun to read with preschoolers! With bright illustrations and a funny story about a little bee and his unraveled shirt, your preschoolers will giggle throughout the story.