Disclosure of Material Connection: Some of the links in this post may be "affiliate links." This means if you click on the link and purchase an item, I will receive an affiliate commission. Disclosure in accordance with the Federal Trade Commission's 16 CFR, Part 255. This site is a participant in the Amazon Services LLC Associates Program, an affiliate advertising program designed to provide a means for sites to earn advertising fees by advertising and linking to Amazon.
Giraffes, with their spots and long necks, are unique and fun. Who do you know who loves these magnificent animals? At some point, the mood might strike you to get that special person a gift and there is nothing more special than getting them a giraffe gift! Be sure to check the following gift ideas for giraffe lovers!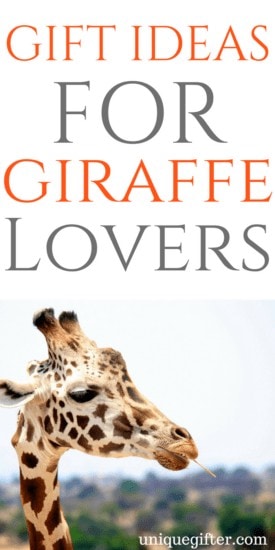 For even more animal lover gift ideas, check out our ultimate guide.
I'm Seeing Spots
Giraffe spots!
Giraffe Mini Succulent Flower Pot
For the giraffe lover with a green thumb, they will enjoy putting this planter on display with some beautiful flowers. It will look super nice in their kitchen window!
Giraffe Ballpoint Pens
Giraffe ballpoint pens will help them write in style!
"I just freaking love giraffes" Shirt
They certainly just freaking love giraffes, and they can now show it off to the whole world with their new shirt!
Puzzled Giraffe Resin Stone Finish Snow Globe
This beautiful giraffe resin stone finish snow globe will look great in their home!
Hand-Painted Ceramic Giraffe Mug
The giraffe lover in your life will appreciate this unique hand-painted ceramic giraffe mug to drink their coffee or tea from each morning.
Magnetic Giraffe Bookmark
Help them keep track of where they are in that book they've been reading for awhile. If they're a real bibliophile, check out our gift list here.
Ceramic Giraffe Coaster
They can keep their furniture in tip-top shape with their brand new ceramic giraffe coaster!
Giraffe Eco Tote Bag
An eco tote with a giraffe on it will help them carry the things they need from point A to point B. Check out this list for more eco friendly gift ideas!
Giraffe Wall Print
Help them decorate their home with this new giraffe wall print and it will look great anywhere they choose to put it!
Sitting Giraffe Salt and Pepper Shaker Holder
Placed in the center of their kitchen table, this sitting giraffe salt and pepper shaker holder will be sure to catch everyone's attention.
Animal Shapes Waffle Maker
These animal shapes waffle maker, complete with a giraffe waffle mold, will brighten up their mornings… and that of their kids'!
Giraffe Windchime
Windchimes are fun and the sound when they chime can be relaxing. If the giraffe lover in your life enjoys them, they will absolutely love this one to set up!
"You aren't even on my level" Giraffe Tank Top
Giraffes are tall. If your loved one thinks they are smarter or wittier than someone else, then this tank top is a perfect fit for their personality.
Melissa & Doug 4" Tall Lifelike Stuffed Giraffe
What would they do with a lifelike stuffed giraffe that is four feet tall? Whether they are a kid or an adult, they will love putting it on display.
Personalized Giraffe Notebook
Place their name or initials on this interesting giraffe notebook, and give them a great place to keep all of their notes, ideas, and more.
"Love Always" Giraffe Wood Sign
Wherever they choose to put this sign, their porch, their living room, or their bedroom, it will look fitting!
Giraffe Slipper Socks
These giraffe slipper socks will help keep your giraffe lover friend from slipping and falling, but also help keep their feet warm and cozy!
"Are you having a giraffe?" Coffee Mug
The "Are you having a giraffe?" coffee mug will make drinking their morning coffee more of an experience each morning.
Sterling Silver Giraffe Cuff Bracelet
Jewelry is the way to a woman's heart, and the woman in your life who loves giraffes will truly appreciate this sterling silver giraffe cuff bracelet.
"You are giraffing me crazy" Shirt
You know they get sick of other people easily, or they have a certain person who annoys them, and they will get a kick out of this shirt.
Make sure to get that special person in your life a thoughtful gift that reflects their passion for the tall, long-necked animal they love.