Disclosure of Material Connection: Some of the links in this post may be "affiliate links." This means if you click on the link and purchase an item, I will receive an affiliate commission. Disclosure in accordance with the Federal Trade Commission's 16 CFR, Part 255. This site is a participant in the Amazon Services LLC Associates Program, an affiliate advertising program designed to provide a means for sites to earn advertising fees by advertising and linking to Amazon.
With eight legs and a head, octopuses are super interesting and fun to think about. They can move throughout the ocean with their eight legs, spray ink at predators, and so much more. To me, they seem a bit intimidating but also intriguing. To someone you might know, they might be their favorite animal. Check out some of these gift ideas for octopus lovers we've put together to help you choose the perfect one for that special person in your life.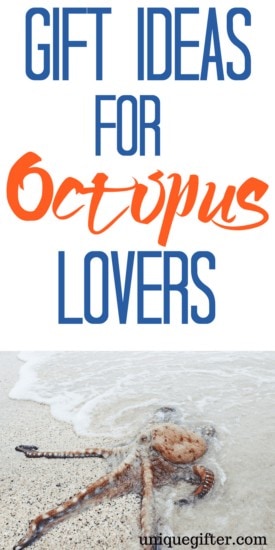 Need a gift for someone who loves animals with fewer than 8 legs? We've got a huge selection of animal gift guides for you.
Pick A Leg
Any leg! They've got eight!
Octopus To-Do List Notepad
This octopus to-do list pad will keep them on task and organized even at their most scatter brained time.
Editor's Choice Gift Ideas for Octopus Lovers
Adorable Artsy Octopus Print
Handmade, this adorable little print is sure to be the perfect touch in an Octopus lover's collection! You can even use it as a unique gift card to go with something else.
Handpainted Octopus Wine Glass
What could be more special than a hand painted octopus wine glass to drink their evening wine from?
Drinking Octopus Wine Bottle Holder
An octopus that will hold their wine bottles for them, and looks as if they are actually drinking it too, will be the talk of the table.
Octopus Shaped Ice Tray Mold
Ice to keep their drinks cold, shaped like octopuses, will make their drinking experience unique and fun!
Octopus Gift Soap
More decorative than anything else, octopus gift soap looks pretty next to the bathroom sink.
Knit Beanie Octopus
This octopus knit beanie is sure to keep their head and ears warm in style!
Octopus Throw Pillow Cover
Whether they use the octopus throw pillow cover for a throw pillow on the couch, a chair, of there bed, it will look great!
Octopus Necklace
They can wear an octopus necklace anywhere they go, to a formal outing, running errands, or whatever else they feel like wearing them to.
Neoprene Octopus Lunch Bag
A lunch bag with their favorite animal on it will make bringing lunch more exciting than buying it!
"Sometimes I wish I was an octopus so I could slap eight people at once" Coffee Mug
For those mornings when everyone is being a pest, sometimes they just feel like slapping everyone at once!
Octopus Backpack
Great for school, work, or just on the go instead of a purse that doesn't hold very much, this octopus backpack will make them smile.
Octopus Socks
Octopus socks will keep their feet warm in style.
Octopus Adult Coloring Book
Adult coloring books with octopus in it will not only keep them busy for many hours, but will allow them to work through their problems and mental blocks at the same time.
Octopus 1" Magnets
Octopus magnets are handy to hang papers and pictures up on the fridge.
Octopus Whiskey Glass
If they're more of a whiskey drinker, they definitely need an octopus whiskey glass to drink it from.
Sterling Silver Octopus Earrings
Whether this goes along with the necklace mentioned above or is on its own as the highlight, these earrings will look so pretty on their ears!
Blue Glass Octopus Wine Bottle Stopper
Blue glass is pretty, and the octopus is beautiful, as well as an awesome way to keep the wine fresh and keep it from spilling. If you have someone in your life that's so not mainstream, check out our gift guide we have just for that purpose.
Octopus Candleholder
This octopus cardholder makes any candle look pretty and decorative for any occasion.
Octopus Wall Clock
The gift of time comes in many shapes and sizes, and one of those is through this octopus wall clock that will look spectacular on their wall.
Colorful Women's Octopus Watch
Not only are wall clocks still in style, but many women and men still wear watches. Imagine their surprise when they see their new watch has an octopus on it!
Octopuses aren't super common as a favorite animal, but if you know someone special that loves them, you now have numerous choices for their gifts!