Disclosure of Material Connection: Some of the links in this post may be "affiliate links." This means if you click on the link and purchase an item, I will receive an affiliate commission. Disclosure in accordance with the Federal Trade Commission's 16 CFR, Part 255. This site is a participant in the Amazon Services LLC Associates Program, an affiliate advertising program designed to provide a means for sites to earn advertising fees by advertising and linking to Amazon.
Bringing home a new dog is always an adventure and an adjustment but it's always been worth the work. We are also huge supporters of adoption if you can of course, and we especially love adopting big older dogs.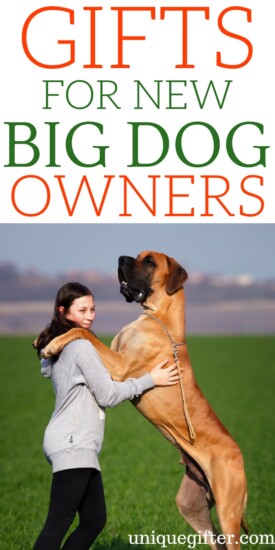 The Perfect Gifts For New Big-Dog Owners
Dog Leash Holder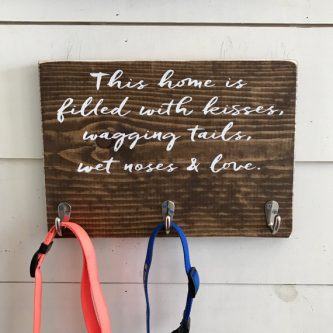 We hate losing track of our leashes, a hanger keeps them safely in one place, and tangle-free.
Elevated Food and Water Bowls
We have one like this for our big dogs, it's so much more comfortable for them to eat from than having to bend their necks all the way to the floor.
Machine Washable Placemat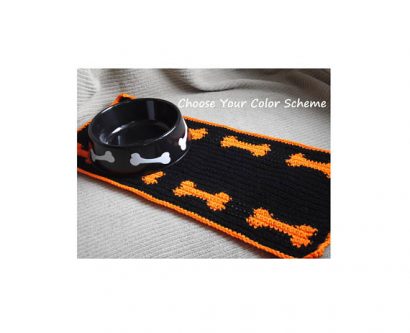 This might seem a bit silly until you see what happens to your floor when a large dog excitedly gulps down a bowl of food or water. Machine washable is key.
Orthopedic Dog Bed
Large dogs truly appreciate the support and comfort of an orthopedic bed – it's good for their joints.
Multi-functional Hands Free Leash
We started using one of these to train our senior dog who had never been leash trained and thought he was a sled dog. It was essential for training but also perfect for those high hand-pain days.
Collar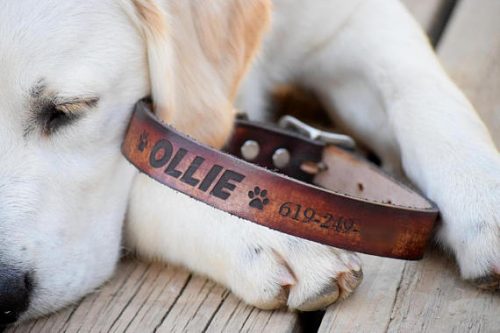 It's always safest to keep some kind of identification on our dogs, in case they get out accidentally. Our dogs look naked without their special collars so we make sure to snap them back on after a bath.
Prong Collar
All my big dogs who pulled were incredibly responsive to these collars. They stopped pulling almost immediately because they could feel the pressure and stop, which immediately released the pressure, whereas they didn't feel the pressure with choke chains that just choked them as they tightened, or they'd pull even harder if we used a harness.
Dog Blanket
Our nights get COLD, so every night, I hold up our dog's big blanket, he walks under it and coils it around himself like a wingless dragon. He sleeps in comfort all night long.
Collapsible Bowls
I keep one of these clipped to our bags at all times when we're out with our big guy.
Wound & Skin Care
Big dogs play hard and scrape themselves up fairly frequently. We keep wound wash on hand at all times.
Inflatable E-collar
Our guy will never tolerate the plastic e-collars from the vet, so we hunted this version down. For minor injuries and discouraging them from licking hotspots, this does a great job.
Vetrap
Add some gauze, this vetrap bandage is perfect for quickly bandaging up scraped paws. It sticks to itself.
Thundershirt
Some dogs are completely terrified by thunderstorms or fireworks. If your pup is, the Thundershirt could be your lifesaver.
Nail Dremel
While our big dogs are good with doggy maintenance, they much prefer nail filing over nail clipping. Less chance of getting nicked!
Ear Cleaning Solution
This is essential for swimming dogs, and dogs with chronic ear infections. Keep their ears clean and dry and comfortable, and you'll have a happy dog for years to come.
Photo Magnet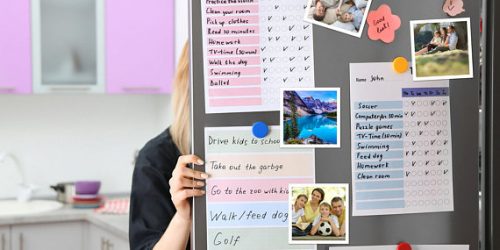 We commemorate adoption days and big trips as a family with photo magnets.
Photo Frame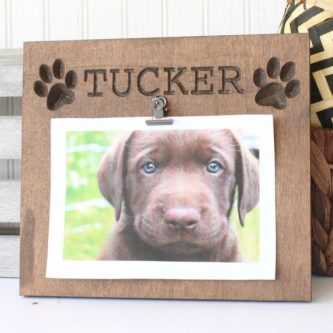 Every new member of the family gets their picture on the wall – that includes new dog family!
Squeaky Toy
Every dog needs their own squeaky toy to cuddle or destroy. We buy them in sets of 3 in case they opt for the latter.
Booties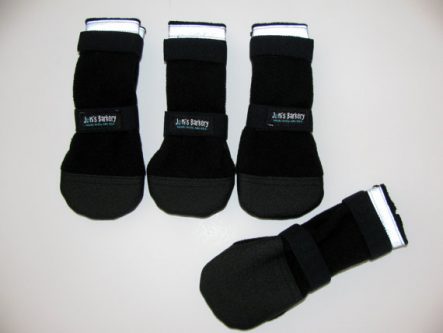 Active big dogs may need paw protection for arduous hikes. They don't love wearing the boots but they sure do appreciate not cutting up their paws.
Bow Ties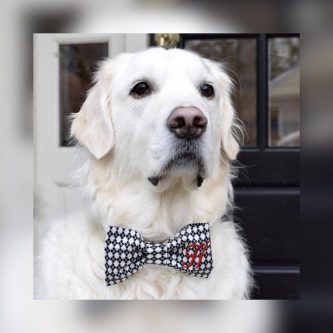 I love putting our big guys in bow ties. It attaches to their collars and they look so dapper! Especially good when they're wedding guests.
Enjoy your new faithful companion!