Disclosure of Material Connection: Some of the links in this post may be "affiliate links." This means if you click on the link and purchase an item, I will receive an affiliate commission. Disclosure in accordance with the Federal Trade Commission's 16 CFR, Part 255. This site is a participant in the Amazon Services LLC Associates Program, an affiliate advertising program designed to provide a means for sites to earn advertising fees by advertising and linking to Amazon.
Here are some fantastic gift ideas for kpop lovers! Are they looking for the perfect something for that Korean pop music fan in your life? Look no further! We've got some of the hottest kpop gift ideas out there, featuring some of their favorite bands and Korean pop culture favorites! These picks are positively daebak!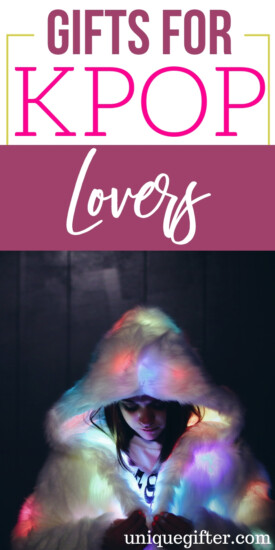 Incredible Gift Ideas For Kpop Lovers
Unique and fun presents you must see!
Kpop Pin
This collectible button says it all! Pin it to your favorite bag or concert wear and let everyone know you're the kpop expert!
TWICE Mini Photocard Set
This 56 piece collectible card set features photosets from all of your favorite TWICE members including a bonus postcard! Celebrating shots from all of their albums, this set is the perfect gift for just about any kpop lover on your list!
Korean Snack Box
Could you think of a better snack to munch on while jamming out to your favorite groups? This snack box features a variety of South Korean snacks to really bring out their love of kpop music!
BlackPink Cosmetic Bag
This aegyo cosmetic bag will have your #1 kpop fan jumping for joy! YG fans will instantly recognize the BlackPink group print making it a huge hit! Makes for a great holiday stocking stuffer!
'Finger Heart' Pullover Hoodie
Available in three colors this charming cropped pullover is a stylish set of threads for anyone in the kpop fandom! The iconic 'finger heart' is a well-known symbol in Korean pop culture, a popular expression of love and appreciation!
Handmade Red Velvet Mini Art Prints
Perfect as a decor gift, add some unique kpop flair to any room or office with this set of Red Velvet member illustrations. These prints are a great housewarming gift, celebrating a chart-topping kpop group!
BTS Logo Mug
This coffee mug features the world-famous Bangtan Boys logo! A no-brainer for any A.R.M.Y fan group members, this is a great pick. Help them show off their love for kpop groups at home or the office!
Personalized Korean Name Necklace
This stunning handmade necklace features your favorite kpop fan's name personalized in the Korean language alphabet, Hangul. Available in gold or silver, it's a dignified and elegant way of celebrating their love for Korean pop music and culture!
TWICE Official Lightstick
Lightsticks are any kpop fan's most prized collectible! Displayed by fans at kpop concerts they also make for great decor pieces. This particular lightstick is specific to the famous girl group TWICE.
Kpop Group Lanyard
Just about any fan loves a lanyard to show off their passion on the street. These Kpop lanyards come in a selection of groups including TWICE, EXO, and BTS! An easy pick for a kpop fan gift exchange present.
Kpop Dictionary
This essential Kpop fan gift includes 500 essential Korean slang words often used in some of the most popular music videos and fan circles. A must-have for any kpop fan out there, it would make an excellent gift idea!
Kpop Earrings
This TWICE inspired lip balm comes in an eye-catching peach-pink, one of the group's official colors! (Yes, they have those). You'll be One in a Million in this brilliant lip gloss containing all-natural ingredients!
Kpop Birthday Banner
This party set features a set of party banners in a variety of styles to correlate with your favorite Kpop lover's favorite girl or guy group! Pick up a set to throw the ultimate kpop party!
BigBang Cartoon Member Socks
Featuring the 5 members of BigBang, these adorable women's socks come in a variety of sizes and are great for any gifting occasion! Pick up this pack for your favorite kpop lover!
Round Circle Frame Glasses
These non-prescription glasses are an iconic South Korean fashion statement! Pick up a pair to complete your favorite kpop fan's wardrobe. A stylish accessory, it's sure to have them shouting Omo!
Hangul Practice Notebook
This adorable practice notebook featuring a panda print is ideal for any kpop fan exploring Korean language learning! It includes pages of grid paper for practicing writing in Hangul, the Korean alphabet. Regular notebook paper just won't do the trick, let your favorite Korean culture obsessed friend know you're thinking of them!
Taeyeon My Voice CD Album
Physical copies of CD's and vinyl are hugely popular in the kpop music fandom. Sold as deluxe and special editions, they usually include collectible photo books, cards, and limited edition items! This one, in particular, is a solo album by the artist Taeyeon, formerly of the group Girl's Generation!
Kpop Drink Tumbler
This portable plastic drink tumbler is a perfect gift for the kpop fan on the go! Save the environment while jamming out to your favorite groups; this reusable tumbler is just the right gift for any kpop fan!
Kpop Phone Case
This padded sleeping mask is a hilarious gift for just about any kpop fan. Featuring Park Jimin from BTS, this mask will have your favorite kpop fan howling with laughter! Help them get a restful night's sleep in style with this truly unique piece of merch!
Kpop Party Favors
Perfect for throwing your very own kpop party, these cotton candy party favors are sure to hit the spot. Available in a wide variety of group logos, these packs can match your favorite kpop lover's most cherished groups!
Hopefully, you have found the best gifts for KPOP lovers that you have come across. Each one is fun and unique!