Disclosure of Material Connection: Some of the links in this post may be "affiliate links." This means if you click on the link and purchase an item, I will receive an affiliate commission. Disclosure in accordance with the Federal Trade Commission's 16 CFR, Part 255. This site is a participant in the Amazon Services LLC Associates Program, an affiliate advertising program designed to provide a means for sites to earn advertising fees by advertising and linking to Amazon.
Gifts For Transformers Fans
Transformers have been a staple of many childhood memories for decades and the franchise is still up and running to this very day. There are thousands of people in the world that can't think of Transformers without getting intense feelings of nostalgia and when you're dealing with someone's childhood, you'd better be bringing the right gift.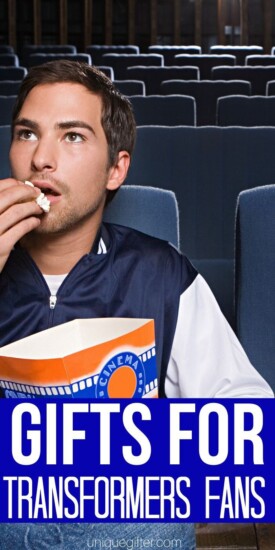 Awesome Gifts, Roll Out
Sure, there's a lot of merchandise out there when it comes to robots, but we all know that Transformers truly has the robot game locked down. When you're talking about a franchise that has built a legacy over the decades, there is undoubtedly a ton of goodies associated with the brand, so choosing that perfect present is going to be a serious dilemma. Rest easy and check out these 40 gifts for Transformers fans!
Transformer Patent Prints
What could be cooler than a patent print for Transformers? A set of 4 hanging on your fan's wall!
Optimus Prime Retro T-Shirt
Let's not forget that the Transformers were originally unleashed on the world in the '80s. The fan in your life is sure to love flaunting this retro tee around.
Optimus Prime 3D Lamp
Whether it's for a legitimate night light or just a decorative piece, your loved one is going to be proud to own this awesome collectible.
Minimalist Card Holder
If you're into minimalist stuff like me, simple designs are the best and this wallet definitely brings Transformers style in a subtle fashion.
Autobot Baseball Cap
We've all got that friend that either wears hats all the time or has a nifty collection of them. This stylish cap is sure to make that certain someone pretty happy.
Autobots Automotive Bundle
Maybe you have someone in your life that is absolutely bonkers about Transformers? Help them transform their vehicle into a walking billboard for their favorite franchise!
Transformers Coloring Book
There are adults out there that love to color. There are also adults that prefer the jumbo style coloring books because all of that intricate detail can get frustrating. Don't judge me.
Transformers Socks
Socks! Everyone needs them! Why should your fan be left with unfashionable footwear?
Talking Bumblebee Mask
Not only can your loved one parade around their house looking like Bumblebee, but they can sound like them also!
Autobot and Decepticon Earrings
Whether your fan collects them or wears them is up to them. Either way, it's a great gift and an even greater fashion statement.
Optimus Prime Phone Dock
Who better to protect your loved one's phone than OPTIMUS PRIME?!
Optimus Prime Blueprint T-Shirt
Personally, I'm a fan of the blueprint type of art. Fans of a franchise that involve transforming are undoubtedly fans of it as well and are going to really dig this cool t-shirt!
Transformers Plush Blanket
Sometimes you don't want to roll out. Sometimes you just want to be a lazy bum on the couch and cuddle up with a super cozy blanket.
Bumblebee Watercolor Print
I'm sure there's no shortage of fans out there that will truly appreciate a different perspective on Bumblebee and this print is sure to delight many a fan.
Bumblebee Alarm Clock
What fan wouldn't like to wake up to one of the most popular Transformers of the franchise? The alarm clock even has that awesome retro look and feel to it!
Transformers Vinyl Wall Clock
This wall clock is made from reclaimed vinyl records and definitely sports a unique look. Featuring Optimus Prime himself, it's sure to please the gift recipient a ton.
Autobot Bottle Opener With Cap Catcher
If you've got that fan that loves their bottled drinks, they're sure to love this one. It even includes a cap catcher!
Autobots Cookie Cutter
Transformers: Cookies in disguise!
Transformers Collection Box
This handmade wooden box is certainly a unique gift for fans of the franchise. Made to hold cards from any Trading Card Game that your fan is into!
Transformers Tire Valve Stem Caps
Valve stem caps? That's right! This would pair excellently with the automotive setup that was featured earlier in the list!
Decepticon and Autobot Shot Glass
We've all got shot glasses sitting around, right? Make sure that the set your loved one has laying around reflects their beloved interests!
Transformers Apron
Even the kitchen isn't free from these rad robots. When you've got a fan that loves being in the kitchen as much as they love Transformers, you've got the perfect gift for them.
Autobots Leather Wallet
If you've got someone in your life that isn't quite minimalist enough for the wallet that was featured earlier or maybe they prefer a classic leather wallet, there's this subtle yet awesome wallet for them.
Autobots License Plate
More car stuff? What do you expect when you're dealing with a series about robots that transform into vehicles?!
Trading Card Game Life Counter
Any Trading Card Game player can tell you that using dice or paper to keep up with a life total can be a real pain. What better way of keeping track of it for a fan than with this awesome counter?
Autobots Decal
Any fan worth their salt is gonna want to smack this decal on most things they own. Cars, laptops, random stuff around the house. The sky is the limit!
Optimus Prime Cufflinks
Optimus Prime cufflinks: For when you want to look classy but you're feeling nerdy also.
Decepticons LED Sign
When it comes to lighting based off of retro series, it doesn't get much cooler than this bad boy here. Handmade and available with a switch or without, this one is an absolute winner.
Starscream Mug
Starscream is one of those cool transformers that doesn't get a lot of attention these days. I know it and I'm sure your fan knows it, which is why they'll be overjoyed to receive this mug!
Autobots Soap
You would think that a bar of Transformers soap would smell like machine oil and hydraulic fluid but it actually smells pretty dang great.
Autobots Lapel Pin
Does your loved one want to sport some Transformers fashion in a low-key way? You can't exactly wear a Transformers t-shirt every day but for the people that want to? This pin exists.
Optimus Prime Pint Glass
Pint glasses are a staple of any kitchen. At least make sure that your fan is sipping in style with this sweet glasses.
Monopoly: Transformers Edition
Monopoly: The true test of friendship and family strength. If you're going to be raging at each other over a board game, it might as well be an awesome Transformers version, right?
Transformers Playing Cards
I've heard in the past that you should always have a deck of cards on you. Make sure that the fan in your life is sporting a deck that accurately reflects their interest!
Optimus Prime Funko Pop
When he's not busy being the leader of the Autobots, Optimus is getting Funko makeovers and looking like the cutest Transformer in existence.
If your loved one has a job where they where a badge, make sure they've got the niftiest looking badge reel that money can buy and snag this one for them!
I may not be a Transformer but I think it's safe to say that I've saved the day with this one. We've come to the end of the list and with all of these outstanding suggestions, I don't have a doubt in my mind that you've found the perfect gift for that certain someone. Maybe you stumbled across something that you couldn't resist for yourself? Let us know on Twitter (@ugifter) or Instagram (@uniquegifter) and thanks for checking out 40 Gifts For Transformer Fans!