Disclosure of Material Connection: Some of the links in this post may be "affiliate links." This means if you click on the link and purchase an item, I will receive an affiliate commission. Disclosure in accordance with the Federal Trade Commission's 16 CFR, Part 255. This site is a participant in the Amazon Services LLC Associates Program, an affiliate advertising program designed to provide a means for sites to earn advertising fees by advertising and linking to Amazon.
Gifts for a massage therapist is the best way to show them how much their work has helped you. Massage therapists spend their days massaging out knots and tough spots. This work is highly rewarding, but it can also be hard on their bodies too. Sometimes a nice gift for them goes a long way. Check out some of these awesome gift ideas!\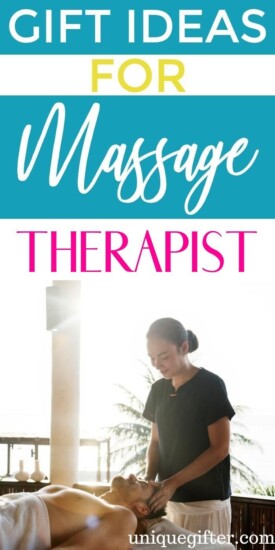 Creative Gifts For A Massage Therapist
Show your massage therapist that you appreciate their hard work with any of these awesome gift ideas.
"I make knotty people cry" Mug
When giving massages, there just maybe some tears of relief!
"Muscle whisperer" Shirt
They are the muscle whisperer, working out the kinks and knots in other people's muscles.
Organic Circulate Cypress Lotion
Help them give better massages, improving circulation, with this organic, circulate cypress lotion.
Muscle System Watercolor Prints
They can hang these muscle system watercolor prints up on their office wall, or at home. They are pretty with all the colors too!
Healing Hands Spiral Earrings
They have healing hands, which is why they need the beautiful earrings to represent those hands.
Microwave Flax & Rice Heating Pad
Sometimes they need to use some heat to work out their own kinks after hours spent massaging other people.
"I get paid to hurt people" Shirt
Sometimes massages hurt until they make things better. Therefore, your favorite massage therapist just might be getting paid to hurt people!
Personalized Healing Hands Wooden Wall Clock
They will never lose track of time again, with their own personalized healing hands wooden wall clock on the wall of their office.
Human Spine Anatomical Gold Foil Art Print
This stunning human spine anatomical gold foil art print is great to hang up on the wall of their office. While they don't deal directly with spines, they have to work around them, and their work also helps the spine.
"Certified Foot Whisperer" Mug
For the massage therapist who specializes with feet, they are a certified foot whisperer.
"Life is better with massage" Shirt
Life is always better with massage, for the one receiving as well as the one giving it.
Hand and Initial Keychain
Their whole life's work is their hands, and you can even put their initial on this keychain to personalize it!
Anatomical Spine Pendant Necklace
The spine is an important part for them to treat well while they are massaging!
Yoga Eye Pillow Cover
Help them get the relaxation they need when they are at home, with yoga or merely lying on the couch with this yoga eye pillow cover on their eye pillow.
"I work on mostly naked people & get paid" Mug
They get paid for working on mostly naked people, which is funny if you think about it like that.
"It's nice to be kneaded" Shirt
It's always nice to be kneaded, to get rid of those knots and sore muscles.
"No Mud, No Lotus" Personalized Keychain
Their job is to help people live at ease, without pain and tightness, but they may not remember to do that themselves as often.
"The spine whisperer" Pin
They are the spine whisperer, helping strengthen it by massaging the muscles around it.
"Up for a massage… forget about it" Pillowcases
Their massages may not be limited to their office!
"Keep Calm, I got your Back" Mug
Your favorite massage therapist will enjoy whatever gift you get them because they won't be expecting anything at all. Order as many of these gift ideas for a massage therapist that you want!