Disclosure of Material Connection: Some of the links in this post may be "affiliate links." This means if you click on the link and purchase an item, I will receive an affiliate commission. Disclosure in accordance with the Federal Trade Commission's 16 CFR, Part 255. This site is a participant in the Amazon Services LLC Associates Program, an affiliate advertising program designed to provide a means for sites to earn advertising fees by advertising and linking to Amazon.
Whether you love cracking' them open on a warm summer day, or pulling them out of the water this gift guide is sure to get your claws tapping! Check out our unique selection of handpicked lobster-themed gifts that are great for any occasion! Lobsters are tasty but they also are a great design element for clothing, home decor and more. Here are some awesome items that any lobster lover will swoon over.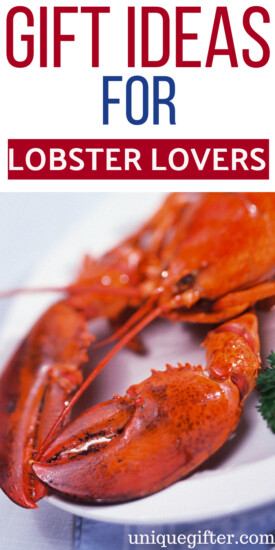 Special and Fun Gift Ideas for Lobster Lovers
Lobster Dress
This cute dress features a lobster print and is available in a variety of styles! Surprise your lobster loving friend with this excellent garment!
Lobster Socks
Nothing quite says unique like a pair of socks with lobsters on them. Gift these eye-catching socks to make anyone stand out at the office!
Lobster Tea Towel
This vintage tea towel is a true collectible. With a gorgeous bay scene featuring the lovely lobster, it makes a perfect gift for any lobster fanatic on your list!
Enamel Lobster Pin
Pins are an all-time favorite for collectors, hobbyists, and fans of just about anything! Grab one or two of these adorable rock lobster pins for your lobster-loving friend!
Lobster Mug
Accompanied by a cheeky Friends reference, this cute lobster mug has it all! Order one for an easy office gift, or for your favorite lobster loving friend's cupboard!
Lobster Bottle Stopper
This wine bottle stopper is both practical and adorable! With a little lobster on top, you'll be sure your wine will stay fresh!
Lobster Hat
This felt hat is both quirky and unique! If you really want to stand out and show your lobster love doing it, this hat is for you! Grab one as a gift your lobster lover will never forget!
Lobster Cocktail Napkins
Planning a lobster-themed party or get together? These stylish cocktail napkins are the perfect fit! Adorned with rock lobster, they'll be sure to spice up the party!
Lobster Pillow Cover
This linen pillow cover has the iconic rock lobster printed on it! It would make a splendid gift for the lobster fans in your life!
Stuffed Lobster
How could you possibly resist the cuteness of Lobbie Lobster?! This unbelievably cute stuffed lobster is the perfect gift for just about anyone!
Lobster Bottle Opener
How else would a fisherman crack open a cold one? This lobster bottle opener is the one piece of bar tool that nobody can go without! Grab one for any occasion!
Lobster Claw Oven Mitt
This oven mitt features the recognizable design of a lobster shell claw! Perfect for any lobster-loving dads out there on the grill this summer!
Lobster Greeting Card
This handmade lobster greeting card is the perfect addition to any of our featured lobster themed gifts! With a cute lobster pal on the cover, it's sure to please any lobster fans!
Vintage Lobster Earrings
This stunning pair of earrings is evocative of 70's era accessories! Grab a pair for any lobster loving fan out there!
Lobster Print Dog Scarf
Don't forget about the pets! This cute lobster print scarf will give your canine a truly unique look! Brighten up your lobster lover's life with this one of a kind dog scarf!
Lobster Picture
This piece of wall art features a variety of crustaceans in a timeless illustration style! Cute decor pieces like this make for excellent gifts! Pick one up today for your favorite lobster loving friend or loved one!
Vintage 50's Lobster Salt and Pepper
These salt and pepper shakers are the epitome of a unique gifting! Vintage items are great for their one of a kind feel that you can't find anywhere else! Pick up this pair of salt and pepper shakers for a gift that lobster fanatic in your life will never forget!
Lobster Boxers
Yes, that's right they're boxers with a lobster print. Need I say more? Grab a pair for that lobster fan you know and love!
Lobster Watercolor
Art always makes for great gifts! Lobster fans are at a loss for good decor, so help them spruce up the place with this gorgeous lobster art piece in watercolor style!
We hope you've had a blast checking out our lobster themed selection! Let us know what your favorite picks were, happy gifting!