Disclosure of Material Connection: Some of the links in this post may be "affiliate links." This means if you click on the link and purchase an item, I will receive an affiliate commission. Disclosure in accordance with the Federal Trade Commission's 16 CFR, Part 255. This site is a participant in the Amazon Services LLC Associates Program, an affiliate advertising program designed to provide a means for sites to earn advertising fees by advertising and linking to Amazon.
Looking for gifts for an avid alligator fan? These gifts are for you! Whether your crocodile crazed friend is young or old, this list has the best alligator gifts, from functional to quirky.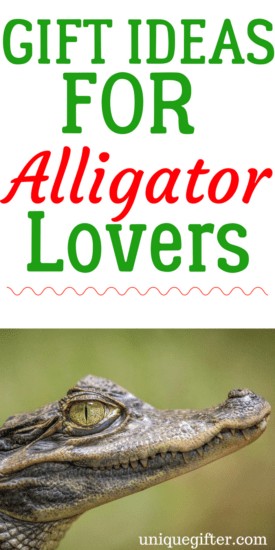 We can take you all the way from Alligator Lovers to Zebra Lovers with our huge selection of animal lover gift guides.
Gifts for Alligator Lovers
Alligator Socks
These fun socks make it look like your feet are getting chomped on by lil gators. Don't put your foot in your mouth, get these for the alligator lover obsessed with staying cozy.
Gator Float
For the pool, or just for fun, this floatie is one tough cookie. This gator is sure to keep you afloat and makes the perfect gift for a gator loving swimmer.
Upside Down Alligator Mug
This crazy cute crocodile is happy to hold your coffee or tea. Flip the mug upside down and keep him on your desk and he pulls double duty as office decor!
Crodile Gummies
Your friend with a sweet tooth needs this 1.5 lb batch of crocodile candies. These gummies are the perfect addition to any candy bowl, so prepare to gobble these up and order more.
Alligator Oven Mitt
Let this friendly gator help with the cooking. An alligator oven mitt is a cute and practical gift for your croc obsessed bud.
Giant Plush Alligator
This croc is almost 6 feet long and ready to cuddle with whoever has the privilege of receiving it as a gift.
Oh Snap Alligator Shirt
Make your friend say "Oh Snap!" with this punny shirt. Puns are clever and so are you, so be sure to wrap this up and gift away!
Crocodile Onesie
Halloween costume or pajamas? You decide. Anyone would be lucky to lounge around in this green get up!
Crocodile Bookmark
For the brainy crocodile lover, this stylish and functional bookmark is great for gator guys and gals!
Crocodile Toaster Tongs
These crocodile cherry wood tongs are perfect for foodies. Let this adorable alligator assist you with toast, bagels, and more.
White Crocodile Pattern Water Bottle
For a subtle crocodile feel, this water bottle is sturdy and insulated. You'll definitely want to show off this elegant water bottle wherever you go.
Crocodile Succulent Planter
This mini croc happily homes a succulent or other small plant. A great addition to any home or office, the cute croc should definitely be on your wishlist.
3D Crocodile Craft
This puzzle comes together to form a cute crocodile craft. Any child or child at heart can enjoy this fun crafty gift!
Lyle, Lyle, Crocodile Collection
What's better than a Lyle Crocodile book? 4 of them in one! This 4 book collection is perfect for the croc crazed youth in your life.
Alligator Cookie Cutter
Make a sweet treat with this alligator cookie cutter. Pair with some cookie dough mix and this gift is sure to wow!
Mini Crocodile Scissors
These mini scissors look like a tiny yellow croc, and are a cute addition to any office setting.
Crocodile Shower Curtain
Keep it clean with this shower curtain covered in crazy crocodiles. A functional gift is always in style!
Rockin' Crocodile Pen Pouch
This rockin' crocodile pouch can be used as a pencil or makeup case. This green pencil pouch will bring a smile to the face of any gator lover.
Crocodile Phone Case
This cute crocodile is happy to protect your phone. A funny phone case is a great gift for the techie in your life.
Groovy Gator Lunch Tote
Keep your food warm or cold in this alligator themed lunch tote. A great gift for kids…or kids at heart who adore alligators.