Disclosure of Material Connection: Some of the links in this post may be "affiliate links." This means if you click on the link and purchase an item, I will receive an affiliate commission. Disclosure in accordance with the Federal Trade Commission's 16 CFR, Part 255. This site is a participant in the Amazon Services LLC Associates Program, an affiliate advertising program designed to provide a means for sites to earn advertising fees by advertising and linking to Amazon.
Personalized Fishing Gifts
One of the great things about friends who have a passion for fishing is that they are pretty easy to shop for! While there are all sorts of fishing gifts out there, you don't want just any ol' fishing gift. No, sir (or ma'am)! What you really want is something a little more personable. Well, here are 32 different gift ideas that can be personalized to fit your needs.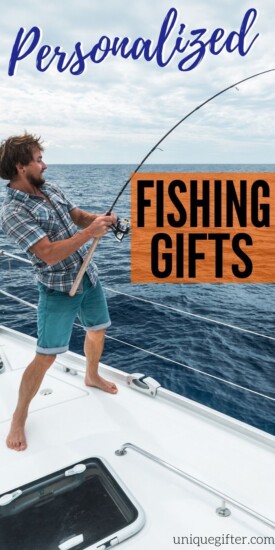 Fisherman Key Hanger
This adorable plaque is a lovely place to hang keys, lanyards, leashes, and possibly even hats. No more hunting around for keys before heading out for a fishing excursion.
Leather Wallet
When it's time for a new wallet, take a look at this leather wallet. It comes engraved with two fish hooks on front, and even has the option for additional engraved messages or dates.
Hook Keychain
Have this nice hook keychain and plate engraved with you and your honey's initials and anniversary date. Perhaps it will even help so that your anniversary date is never forgotten!
Fishing Name Art
What a fun way to display a name! Each letter of the name is created with a different fishing related item, such as a boat, lures and hooks.
Fishing Buddies Wind Chime
This fishing buddies wind chime is completely customizable! Whether it's a gift for dad, grandpa, uncle, or even mom, anyone who has fishing buddies will gladly be hanging this charming piece up, for all to see.
Customized Knife
Everyone should have their very own knife to keep handy. Take a look at this custom etched knife, complete with your choice of name.
Cooler Chair
Not every fishing adventure involves a boat. That's when this nifty cooler chair is going to come in handy. It's collapsible, lightweight, and the perfect size for lugging around.
Yeti Tumbler
A Yeti tumbler is the perfect gift idea for those fishermen who depart early in the morning, and out late into the evening! It is sure to keep his beverage just the right temperature, all day long!
Fish Tags Keychain
This is the ideal keychain for anyone who has little ones in their life. You can have the plate personalized, as well as a fish for each kiddo.
Wooden Cutting Board
A personalized cutting board is a perfect place for the fisherman (or fisherwoman) to prepare the day's catch.
Grandpa's Fishing Shirt
Any grandpa who adores his grandkids as much as he loves to fish is going to love wearing this t-shirt. His little fishing buddies are going to love it, too!
Quilted Stocking
This quilted, customizable stocking would make a nice gift in itself, but it can also be used as a fun gift bag for smaller items!
Fishing Lure Caddy
Sometimes a tacklebox is just too bulky. However, this canvas fishing lure caddy is just the right size for any fishing trip. Get it engraved with your favorite fisherman's initials.
Father of the Bride
Check out this sweet gift for the father of the bride. This fishing hook is sure to be his most treasured.
Fishing Club Room Sign
Here's another fun, personalized sign for the mancave, kitchen, garage, bathroom, or entryway. Honestly, it will look great anywhere in your favorite fishing lover's home.
Wooden Ornament
A laser engraved baltic birchwood round is just the right size for a Christmas tree, but to be honest, you could really hang this ornament just about anywhere.
Fishing Cake Topper
How amazing is this cake topper, complete with a fisherman, and his name?! This awesome cake topper is sure to be the talk of the party, and can be used as decor afterward.
Personalized Trout Sign
Is the man cave or garage in need of a little decor? Check out this awesome trout sign that is made to order, and waiting for personalization.
Gone Fishing Coasters
Everyone needs a nice set of coasters to protect their furniture. Here is a set of four that can be customized as you wish.
Live Bait Sign
Though this live bait sign doesn't have flashing neon lights, it still looks pretty sweet. Especially when you have it personalized with that special someone's name.
Big Catch Fishing Lure
A fishing lure as sweet as this one is going to be hard to cast. It will, however, be a sweet reminder of loved ones waiting for your fisherman at home.
Whiskey Glass Set
The lines on this whiskey glass set are a favorite among many. Most fishing enthusiasts will love a pair of new glasses to drink from.
Gone Fishing Flag
When a fishing fanatic isn't anywhere to be found it's no secret that they are probably out on the lake. A gone fishing flag is just what they need to post outside the camper or front yard.
Personalized Fishing Journal
Some fishermen jot down notes, such as coordinates, or measurements of the fish they catch. This journal is perfect for doing so, or even jotting down other notes while they are waiting for bites.
Bass Money Clip
If you don't want to gift a new wallet, why not gift a money clip? This clip, in particular, comes with a bass engraved on the front, as well as your own personalization.
Fly Fishing Box
How about a custom engraved box for all of those favorite fly fishing lures?
Best Grandpa Mug
Grandpa loves his grandbabies just as much as he loves fishing. He's going to adore drinking from this special mug, as well!
Reel Cool Dad Towel
This towel comes with an attached hook, to make keeping it handy nice and easy. Whether it's for dad, grandpa, or anyone else, the names can all be changed to whatever suits your needs.
Fly Fishing Ring
Do you have a fly fisherman in your life? If so check out this tungsten ring. Not only is there a fly fisherman on the ring, but the inside can also be engraved!
Father and Son Keepsake Box
Need a gift for a father and son fishing duo? A keepsake box is a great place to help them hold their memories close.