Disclosure of Material Connection: Some of the links in this post may be "affiliate links." This means if you click on the link and purchase an item, I will receive an affiliate commission. Disclosure in accordance with the Federal Trade Commission's 16 CFR, Part 255. This site is a participant in the Amazon Services LLC Associates Program, an affiliate advertising program designed to provide a means for sites to earn advertising fees by advertising and linking to Amazon.
,travel mug,Almost anyone can agree that penguins are cute, but what do you get for that penguin lover that they don't already have or haven't already seen all over the place? There are some unique, and not so unique, gift ideas here for the special penguin lover in your life. You have a good chance of finding one that they will truly enjoy!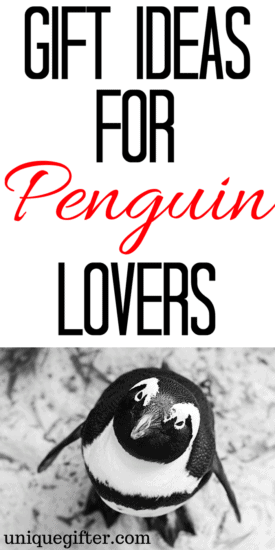 Need a birthday present for a water buffalo lover? How about someone who digs manatees? From Alligators to Zebras, we've got an animal gift guide for everyone!
Gift Ideas for Penguin Lovers
Penguin LED Lamp
Light up their life, and house, with a penguin LED lamp! Not only is it functional, using it for a party or simple decoration, but it's also cute to look at.
Inhale, Exhale Penguin Travel Mug
For the penguin lover who is also a meditation enthusiast, this travel mug will be a great way for them to drink water or coffee on the go.
"I'm just here to pet all the penguins" Shirt
Similar to the I'm just here to pet all the dogs, except the perfect fit for someone who wants to pet all the penguins!
Penguin Taking a Shower Bathroom Curtain and Rug
Watch out, the penguin's taking a shower! This cute penguin taking a shower, shower curtain and rug, will get a laugh from anyone who looks at it!
Penguin Stud Earrings
Jewelry is fun, so why not get the penguin lover in your life a nice pair of penguin stud earrings to show off their passion for penguins?
Penguin Water Dispenser
This water dispenser may not hold a lot of water, but is perfect for a small office or home space, and has an adorable penguin on it to brighten up the decor.
Pebble and the Penguin Movie
This movie is an oldie, but a goodie. Even an adult will enjoy watching this movie and learning about how important pebbles are to penguins.
"Chill Out" Penguin Window Decal
Give them the gift of car decoration with this "chill out" penguin window decal. They might especially love it if they are a driver that wants everyone else to chill out.
"All you need is love and a penguin" Shirt
It's true, all you need is love and a penguin by your side!
"Keep calm and love penguins" Samsung Galaxy S8+ Phone Case
Your favorite penguin lover will be sure to stay calm and love penguins with this phone case!
TY Beanie Boos Waddles Penguin 16"
Children and adults alike will absolutely adore this 16" Waddles Penguin beanie boo!
J World New York Art Hard Shell Carryon Luggage with Colorful Penguins
For the sophisticated penguin lover who likes to travel, or simply has to travel a lot, they will love this colorful hardshell carryon luggage to help them take all their necessities along for the ride.
Penguin Playing a Guitar Knee High Socks
Give their feet some flair with these socks that combine to make a picture of a penguin playing a guitar.
Penguin Keychain Bottle Opener
A keychain and a bottle opener, all in one and better yet, in the shape of a penguin! They will find this handy for opening beer bottles after a long day at work.
Penguin Princess Wine Glass
Is the penguin lover in your life a princess? Do they need a nice penguin princess wine glass to sip their wine from? This one is a great choice!
Happy Feet, Happy Feet 2, and March of the Penguins Triple Feature DVD
Triple feature of penguin movies! Their Friday night is taken care of! Happy Feet was such a cute movie and March of the Penguins is certainly educational. They will be entertained for hours with these three penguin movies.
Penguin Laundry Basket
Not just for the baby's nursery, this penguin laundry basket would make a nice gift for them to throw their clothes in.
Personalized Penguin with a Camera Coffee Mug
If your favorite penguin lover is also a fan of photography, they will love drinking their coffee from this personalized coffee mug.
Cartoon Penguin Wrist Wallet
They need a place to keep track of their money, cards, and more, and this penguin wrist wallet is a great place to do so!
"Warning: I'm a penguin trapped in a human body" Sign
Such a humorous sign, and one that will catch everyone's attention no matter where your favorite penguin lover decides to put it.
There you have it, unique and fun penguin gifts for that penguin lover in your life. You can't go wrong with one of these choices!