Disclosure of Material Connection: Some of the links in this post may be "affiliate links." This means if you click on the link and purchase an item, I will receive an affiliate commission. Disclosure in accordance with the Federal Trade Commission's 16 CFR, Part 255. This site is a participant in the Amazon Services LLC Associates Program, an affiliate advertising program designed to provide a means for sites to earn advertising fees by advertising and linking to Amazon.
Snails aren't the most adorable creatures in the world. In fact, most people don't like them at all. They can be destructive in your garden and leave trails of slime everywhere. However, they are certainly interesting, living in their shells and going about their lives as some of the smallest creatures with those shells. If you know someone who likes snails, there are so many ideas of what to get them for whatever special occasion pops up.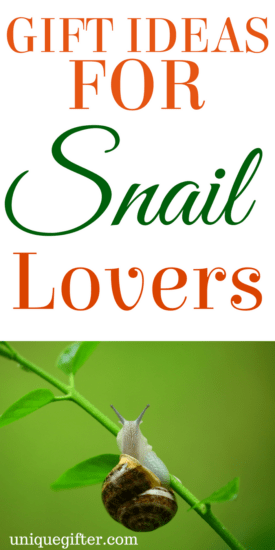 Visit our ultimate guide for gift ideas for animal lovers of every kind.
Gift Ideas for Snail Lovers
Snail Cake Fork
While this says "cake" fork, the snail lover in your life can use it for any kind of food. No matter what they're eating, it is sure to be more fun than using just any old fork!
Snail Stationery
Help them spice up their letters to friends and family with snail stationery.
Fairy Garden Mini Glow-in-the-Dark Snail Figurines
These fairy garden mini glow-in-the-dark snail figurines will make their garden more attractive and fun to spend time in.
"It's going to be a slow morning" Snail Coffee Mug
So many of us have slow mornings, and that couldn't be any more true for the snail lover. They will adore this mug for that very reason!
Snail Necklace
Jewelry is the way to a woman's heart, or is it? If the snail lover in your life enjoys wearing special jewelry, she will love wearing this snail necklace.
Snail Ceramic Planter
Give them the gift of flowers or herbs in a planter, or give them the planter with some seeds on the side so they can plant their own.
Turbo Movie
A movie that is entertaining for all ages will be a hit with the person in your life who absolutely loves snails.
Snail Writing Pens, 8 Pack
These would go perfectly with their snail stationery listed above, or even on its own. Make writing more fun with them by giving them the gift of snail pens!
Cute Snail Patch
This cute snail patch would look great sewed onto a jacket, shirt, or just pinned up somewhere in their room.
"Snail Bar" Drink Coaster
They drink at the snail bar, and what a perfect way to show that than this "Snail Bar" drink coaster?
"I brake for snails" License Plate Frame
A bit of a twist on the "I love ____," is an "I brake for ____," and in the case of your loved one who loves snails, they will just adore being able to put this on their license plate. It will certainly catch many eyes!
Snail Shaped Pill Organizer
In this snail's pace pill case, they could put pills, charms, safety pins, or whatever else their heart desires. It's easy to throw into their purse when on the go, or store in their dresser without anyone else knowing.
"Snailed it" Shirt
Does the person who loves snails love to say "nailed it?" Then they will love this twist on words to wear as a shirt!
Snail Headband
To keep their hair out of their face, or to spruce up their wardrobe, this snail headband will make their day.
Personalized Snail Keychain
Having something that is personalized, whether it has our name or our initial on it, always make us feel special. The same goes for your snail loving friend who will appreciate the sentiment and thoughtfulness as they receive this personalized snail keychain from you.
"Snail running club" Shirt
Is your snail loving friend a runner? Do they pride themselves on being a slow runner? Then they will love this "Snail running club" shirt.
Cute Snail Tote Bag
Just what they need when they are on the go, a place to throw all their belongings, or their own and their kids' things when they have to go to appointments or on the road.
Snail Silicone Tea Bag Holders
These snail silicone tea bag holders will make making and drinking their tea much more enjoyable.
Snail and Lavender Flowers Umbrella
Help them stay dryer in the rain, in style, with this snail and lavender flowers umbrella!
Snail Socks
Snail socks will keep their toes warm in the winter, and give their shoes some cushioning, while being fun and enjoyable to wear.
Snails might not exactly be popular, but they are well-liked among some. Even Spongebob has a pet snail named Gary. Who else can you think of on TV or in movies that has a snail as a friend or pet? If you have a friend who loves these creatures, they will enjoy having a gift given to them that you put a lot of thought and consideration into.