Disclosure of Material Connection: Some of the links in this post may be "affiliate links." This means if you click on the link and purchase an item, I will receive an affiliate commission. Disclosure in accordance with the Federal Trade Commission's 16 CFR, Part 255. This site is a participant in the Amazon Services LLC Associates Program, an affiliate advertising program designed to provide a means for sites to earn advertising fees by advertising and linking to Amazon.
If you were a kid around the 90s, Nicktoons were likely pretty prominent when it came to your television viewing and I'm willing to bet that you know more than one fan when it comes to the retro cartoons. With how massive these cartoons were at one point, there's absolutely no denying that there is a treasure trove of gifts for fans out there!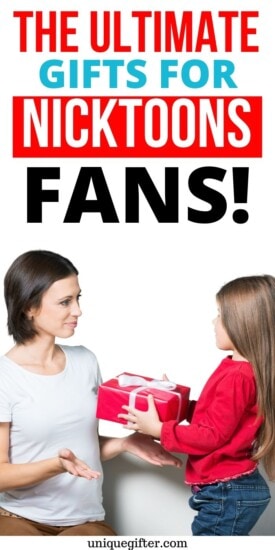 Tune In For Great Gifts
With all of the merchandise surrounding these franchises, it's bound to be a retail journey when it comes to finding that perfect gift and that's where I come in! I've looked all over the internet and compiled this fantastic list, packed to the brim with fitting gifts for anyone that considers themselves a fan of Nickelodeon Cartoons, so don't stress about finding an awesome gift because I've got you covered with these gifts for Nicktoons fans!
Nicktoons Coloring Book
What better way to commemorate such vibrant and colorful cartoons than with this awesome coloring book. It even includes coloring pencils!
Nicktoons T-Shirt
Why choose a certain series when you can have them all jammed into one t-shirt? They've even managed to squeeze Reptar in!
CatDog Plush
Anyone who watched Nick in the 90s knows about this guy here! Now the fan in your life can own their very own CatDog!
The Wild Thornberrys: Complete Series (DVD)
When it comes down to gifts, who wouldn't want to own the complete series of the Thornberry family? Smashing!
Rocket Power Sweatshirt
This sweatshirt not only commemorates a retro cartoon, but the actual fashion of the sweatshirt is retro also!
Ahh! Real Monsters Decal
Ahh! Real Monsters definitely had their fair share of viewers and fans and there's a big chance that you know one! Ickis, Oblina, and Krumm are back together and as horrific as ever!
Henry and June Buttons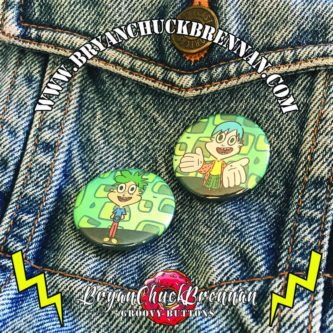 Henry and June are back! This time around, instead of introducing skits, they're introducing some Nicktoon flair into fans' wardrobes!
Krabby Patty Gummy Candy
Even if you aren't a fan of the series, there's a strong chance that you've already tried these delicious things! Now, imagine how thrilled the fan in your life is going to be when you surprise them with a box of these bad boys.
Chuckie Finster T-Shirt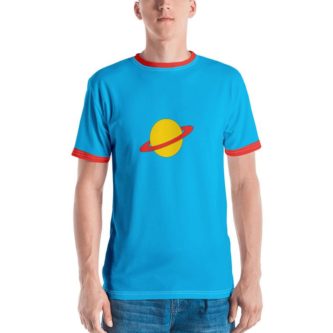 Who doesn't love the anxiety-ridden redhead from the hit show Rugrats? Surprise your loved one with this awesome recreation of Chuckie's iconic shirt!
Ren And Stimpy Complete Collection (DVD)
The original kings of crass return with this awesome DVD collection. Fans everywhere will rejoice when they open this amazing boxset and harness the opportunity to enjoy this show whenever they want!
Doug Funnie Earrings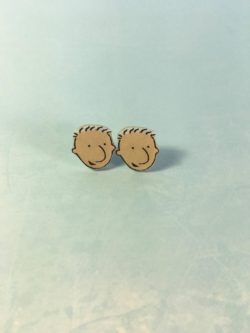 Doug Funnie earring?! It's a reality! Anyone who watched cartoons in the 90s definitely tuned into Doug and are going to love these. The wonderful thing about them? Unlike most of Mr. Dink's purchases, they are not very expensive!
Arnold Funko Pop
I'd be willing to be that if that friend of yours is a fan of Nicktoons that they are also a fan of Funko Pops. Why not combine the two and give them the awesome gift of Arnold himself?
Angry Beavers Necklace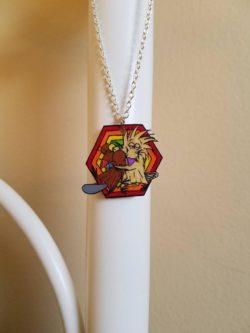 Daggett and Norbert are here to add a splash of Nicktoon goodness to your friend or loved one's wardrobe! This sweet necklace is handmade and is near as rad as the TV show itself.
Rocko's Modern Life Lunchbox With Puzzle
Rocko's Modern Life was personally one of my favorite Nicktoons and still has a huge fanbase to this day. This lunchbox features the squad from the show and even includes a puzzle with the same animation!
Cosmo and Wanda Wall Decal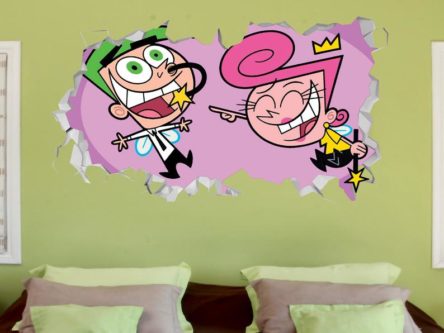 What Nicktoon fan wouldn't love their very own personal Fairy Godparents? Cosmo and Wanda are bound to make a big splash on your friend's wall and they're sure to be thrilled when they open this gift!
Gir Hoodie
Anyone who's ever watched an episode of Invader Zim loves Gir, right? It stands to reason that any Nicktoons fan is going to love this hoodie then!
Nicktoons Oven Mitt and Potholder
Even commonplace adult items aren't safe from the Nicktoons touch! These spectacular kitchen accessories are sure to be a hit for any fan that loves being in the kitchen and wants that cartoonish feel in every room.
Nicktoons Tumbler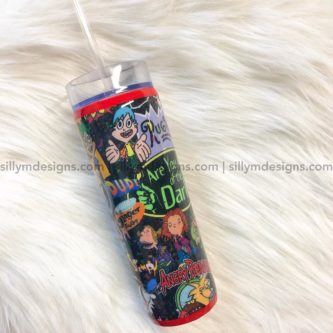 From "Are You Afraid Of The Dark" to "Rugrats", this tumbler covers nearly every show that your fan loves. Made from high-quality acrylic with a screw-on lid, it's sure to keep beverages as cool as the design itself.
Catdog House Pin
Part fish and part bone, this is Catdog's wonderful home! This snazzy pin is sure to add some welcome and silly flair to your fan's wardrobe.
Splashing Shower Curtain
Bound to elicit a chuckle from any Wild Thornberrys fan, this shower curtain is definitely an awesome find. Parodying Nigel Thornberry's iconic "Smashing", this gift is sure to be a fan favorite!
Vintage Rocket Power Backpack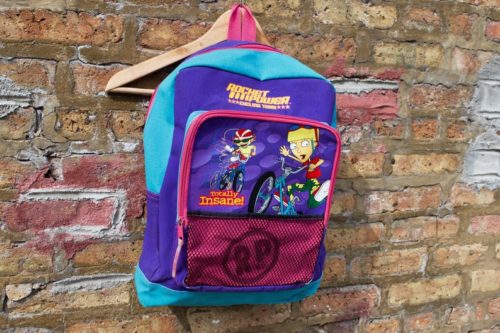 How better to celebrate a 90's cartoon than with a vintage 90's backpack? This Rocket Power backpack is bound to be your fan's favorite backpack, whether it's used as a bag or just to put on display as a collectible!
Ickis Sculpture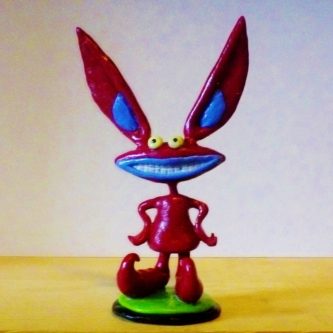 What Nicktoons fan shelf would be complete without a neat sculpture? Why not make it one of the coolest sculptures with this sweet Ickis?
Spongebob iPhone Charger
When you've got a family member or friend that's absolutely bonkers about their Nicktoons, chances are they want everything involved with it, including their phone charger. This one even comes with a wire protector!
Reptar Plush
Every Rugrats fan's favorite dinosaur! This Reptar plush is guaranteed to put a smile on your loved one's face and look wonderful on their shelf of collectibles or just lazing around on their bed or couch.
The Beets T-Shirt
When you're a fan of the series Doug, there is no doubt that you've gotten some of the catchy songs from the series stuck in your head for days. This shirt gives your fan the joy of representing one of the greatest bands that never existed!
Hey Arnold! Necktie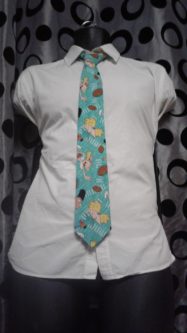 Personally, I'm not sure that I'd be able to pull off a cartoon-themed necktie. If you have friends or family that love the series and are able to pull this one off? Kudos to them and you should definitely make it a reality!
The Angry Beavers Hoodie
The Angry Beavers was one of those shows that was weird on first watch but really stuck once you got into it. The fans of this show are likely as rabid as the beavers themselves and I'm pretty sure they'd sport this hoodie with pride and joy!
Rocko's Modern Life Hat
When you find a hat that has a style as unique as this awesome show, you've gotta pick it up! Any fan worth their salt is going to adore this bad boy.
Fairly Oddparents Deluxe Collector Toy Pack
You'd be hard-pressed to find an Oddparents fan that wouldn't kill for a set of these. You get all of the favorite characters in one awesome six pack!
Invader Zim Playing Cards
Everyone loves playing card games. Everyone loves Invader Zim (Assuming they've seen it). Why wouldn't you mix these two awesome things, pitiful human?
The Splat: Coloring The 90s
As an adult, I can safely say that I still enjoy coloring to this day. Nicktoons are known for having unique and colorful animation and most fans are going to love the chance to immerse themselves in that cartoon world!
Nicktoons 2020 Calender
Turn every month into a celebration of some of the finest animated programming that's ever existed for the fan in your life. This calender features all of the favorites in all of their vivid glory!
Nicktoons Poster
When you just can't choose a series to buy for, this poster has you covered! The gift recipient is sure to love this poster as it includes nearly every famous Nicktoons character in one awesome package.
The Best Of The Nicktoons (Vinyl)
There are fans that love their retro series and then there are fans that are just plain retro. This amazing limited edition vinyl pressing features a majority of the Nicktoons theme songs and a ton of the catchy ditties that are featured in the shows themselves.
Nicktoons Socks
Even Nicktoons fans have to keep their feet warm and cozy, right? Not only does this gift serve a purpose, it looks really snazzy while doing it!
Nicktoons Seat Covers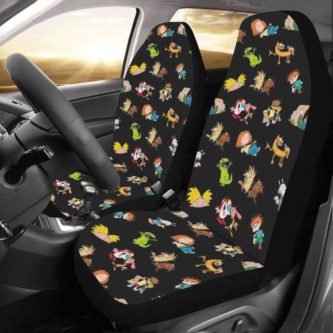 Definitely one of the more unique items on the list, these seat covers are absolutely awesome! These are sure to please the Nicktoons fan that seems to have everything for their collection and want to expand from their home to their vehicle!
Wow, what a list, right? We've all of these outstanding options that I've presented here, there's no way that you're not going to nail this gift for that loved one of yours. Did you find something here that you think they're going to adore? Maybe you found something that you can't live without. Feel free to give us a shout and let us know on Twitter (@ugifter) or Instagram (@uniquegifter) and thanks for checking out Gifts For Nicktoons Fans!