Disclosure of Material Connection: Some of the links in this post may be "affiliate links." This means if you click on the link and purchase an item, I will receive an affiliate commission. Disclosure in accordance with the Federal Trade Commission's 16 CFR, Part 255. This site is a participant in the Amazon Services LLC Associates Program, an affiliate advertising program designed to provide a means for sites to earn advertising fees by advertising and linking to Amazon.
Your friends and family who deal with chronic health issues can feel alone and misunderstood. One way to help show them that you care, that they aren't alone, and to help make their lives more enjoyable, is to get them a gift that they will really find useful! Their main focus is on feeling better and more comfortable, supported, encouraged, and that life is a tad bit easier. Life is hard with a chronic health issue, and many people have more than one. It is a struggle at times. So, show that special person in your life that you are there for them with one of these gifts: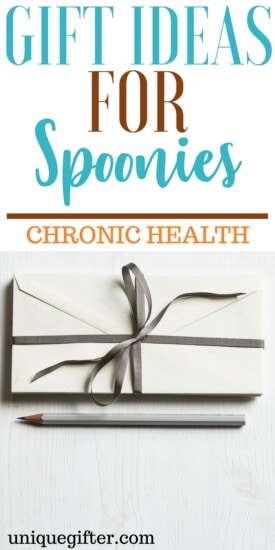 Gift Ideas for Spoonies
Hot/Cold Therapy Pack Neck Warmer
Often, hot and cold therapy can help ease pain, soreness, and discomfort. This one is specifically for necks, but could probably help with shoulder pain and the like as well.
"Emergency Spoon" Pin
Give them an emergency spoon pin to help them on the days they use too many spoons and need more!
"Keep going, be brave, stay strong" Encouragement Bracelet
Remind them that you are cheering them on with this "Keep going, be brave, stay strong" encouragement bracelet. When they wear it, they will feel encouraged and supported, and the best part is that they can take it anywhere with them on their wrist.
"Be gentle with yourself" Car Mirror Accessory
This car mirror accessory is perfect to help remind your loved one that they should be gentle with themselves, as well as forgive themselves for things that don't go according to plan.
"I'm sorry for what I said when my blood sugar was low" Keychain
Not only do diabetics experience low blood sugar crankiness, but a lot of other people with other chronic illnesses do as well.
"Today I survived and that is enough" Print
Sometimes simply surviving is all someone with a chronic health issue can expect of themselves. Print up this wall print, put it in a frame, and give it to your loved one! It might even help them remember to give themselves grace on those tough days.
Chronic Illness Self Care Adult Coloring Book
Coloring is a great way to practice self-care, and this adult coloring book is made especially for those who deal with chronic illnesses.
"I didn't make it this far to only make it this far" Coffee Mug
Give them the encouragement to keep going, when the going gets tough, with this coffee mug quote!
Invisible Illness Backpack
So many people don't understand that someone can look completely normal (and healthy), even when they are suffering from a chronic illness, so this shirt is something all spoonies need!
"Ran out of spoons early today" Forks Journal
When you run out of spoons, what can you use? Well, for a spoonie, they can experience grumpiness and extreme fatigue, so they may feel like using "forks." This journal could also be the place they turn to, to vent or work through things, when they are having a tough day.
Brain Fog Reminder Notebook
Suffering from brain fog while dealing with a chronic illness is common, so they definitely need this brain fog reminder notebook to keep them on top of things.
"I can't adult today" Necklace
Often when dealing with a chronic health issue, they feel as if they can't "adult." It makes it even harder to be an adult, dealing with the responsibilities that we know we have but have no energy for!
"Not today" Stickers
For those days that they just can't, they need these "not today" stickers!
"90% Warrior 10% Princess" Coffee Mug
Your spoonie loved one is 90% warrior, 10% princess!
"There is more to my story" Chronic Illness Shirt
There is always more than meets the eye, this shirt reminds others that this person standing in front of them has more to their story.
Citrus Sleep Mask
Citrus sleep mask for more rejuvenating rest!
"F;GHTER" Semicolon Necklace
Your friend is a fighter. Beyond that, this necklace is also a great way to advocate for those who need that extra support with the semicolon in the place of the 'I.'
"Living on a prayer" Bracelet
For the spoonie in your life, sometimes it feels each day is lived on a prayer. This bracelet might just remind them to keep praying and that others are also praying for them too.
"Breathe, you're doing just fine" Pocket Mirror
Help them remember that they are doing just fine, they are doing their best, with this pocket mirror.
Sloth Neck Pillow
A neck pillow to help them rest their head and neck can always be necessary, especially if they deal with head or neck aches on a regular basis.
The spoonie in your life will appreciate a thoughtful gift that is a good fit for them, check out these ideas and see if one seems like a great gift for your loved one.