Disclosure of Material Connection: Some of the links in this post may be "affiliate links." This means if you click on the link and purchase an item, I will receive an affiliate commission. Disclosure in accordance with the Federal Trade Commission's 16 CFR, Part 255. This site is a participant in the Amazon Services LLC Associates Program, an affiliate advertising program designed to provide a means for sites to earn advertising fees by advertising and linking to Amazon.
It is the season of the Aquarians and that means birthdays are coming left and right for any Aquarians in your life! You know what else that means? Gifts for Aquarius men!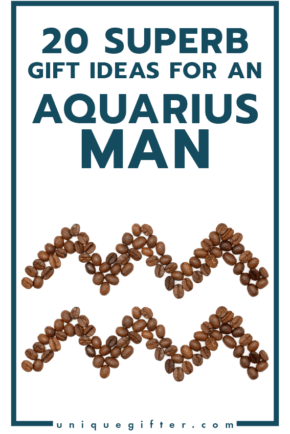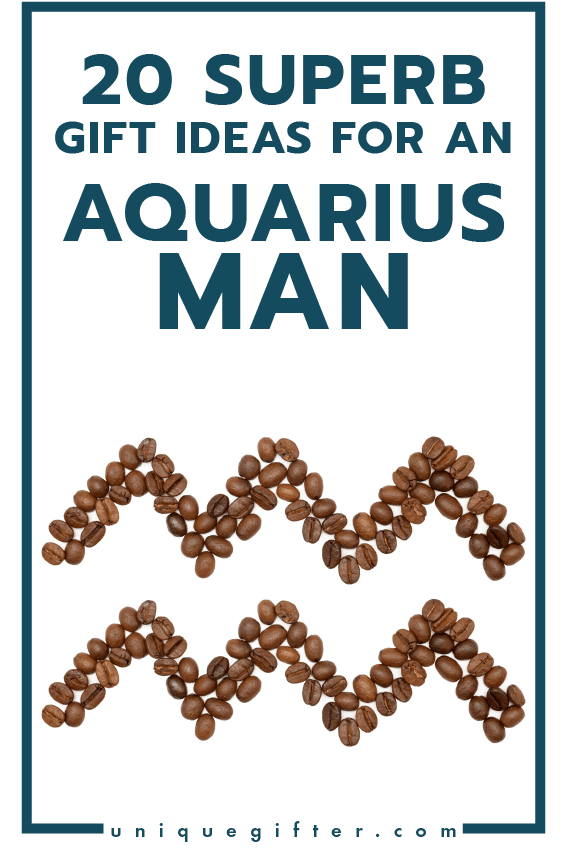 Do y'all have the song Age of Aquarius stuck in your heads now? Excellent.
These zodiac sign gifts will be perfect for your boyfriend's birthday (or Christmas!). Whether or not the men in your life enjoy astrology, everyone knows their horoscope and can appreciate a nice gift that fits their personality.
Gifts for Aquarius Men
Because you can't show up empty-handed.
I am a Day Dreamer Tee
If this isn't an Aquarius man to a T, I don't know what is!
Leather bound Journal
This journal will definitely speak to the dreamy Aquarian man in your life. If you need more gifts for the writer in your life, we have you covered here.
What You Should Know About Politics book
This book is great for the humanitarian soul that many Aquarians have. Your Aquarian man will adore learning more about the government and what he can do to prosper change.
Grooming Kit
This is a great concise shaving kit for any guy in your life.
Growler Bag
If your Aquarian guy loves his IPA this is for him, it's eco friendly and practical!
Artsy Print
Aquarians tend to be a bit air headed, if only because they are dreamers and visonaries. So this print is sure to play into that for your Aquarian guy!
Philosophy 101
Once again playing into the intellectual side of the Aquarian this book is a total must have!
"Feel the Bern" sweater
Although the elections are over, chances are being the visionary and progressive that Aquarians can be Bernie was his guy.
Letters
Fill this out beforehand if your Aquarian guy is your beau. Aquarians adore creativity and thought, this gift is the perfect combination of both! Perfection! (If you guys aren't to the love stage of your relationship yet, check out our list for gift ideas for new boyfriends.)
Amethyst
If your guy is in tune with his highest self then amethyst is probably the best stone he should have in his collection.
Macbook slip
Aquarians while humanitarian in nature also do tend to enjoy the finer things in life. This is a sweet balance of functional, sleek and affordable.
The 4 Hour Work Week
I know, another book? But honestly, the Aquarians live for intellectual stimulation
Hand Knit Sweater
Speaking about the finer things, this sweater is perfection.
Natural Soap
Let his natural side be spoken to with this non-taxi organic soap set. Trust me, guys are into bath bombs too.
Parka
Aquarians are obviously born during the winter time in North America, and if it's cold during your winter then any Aquarian would adore an update to their outerwear like this parka!
Canon Power Shot
If your guy is into photography or is looking for a new hobby, this easy to learn camera is a must have.
Flask
This flask is a lot of class and sass and a great gift for the aquarian in your life.
Button Down
This button down is slim fit and totally minimal enough for any guy to mix and match in his wardrobe.
Watch Box
This is such a great gift for any Aquarian that happens to be a watch guy too! Sleek, stylish and totally functional.
Aquarius Tee
If all else fails, why not give the this super simple tee wth their sign on it?