Disclosure of Material Connection: Some of the links in this post may be "affiliate links." This means if you click on the link and purchase an item, I will receive an affiliate commission. Disclosure in accordance with the Federal Trade Commission's 16 CFR, Part 255. This site is a participant in the Amazon Services LLC Associates Program, an affiliate advertising program designed to provide a means for sites to earn advertising fees by advertising and linking to Amazon.
The first thing that likely crosses your mind when you think of turkeys, is Thanksgiving and eating turkey. If you know someone who enjoys talking about or watching wild turkeys, you might want to give them a unique gift for their birthday, Christmas, or a momentous occasion in their life. However, where do you even start? Here are a few ideas…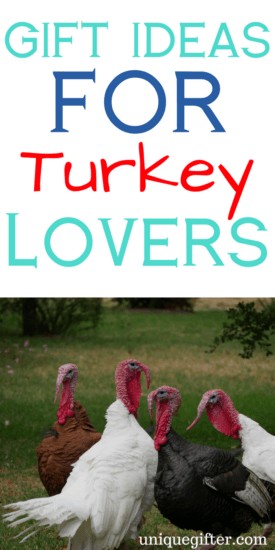 For even more gift ideas for animal lovers of every kind, visit our comprehensive list!
Gift Ideas for Turkey Lovers
Turkey Face Shirt
Cute, but simple, turkey face shirt will be cute for Thanksgiving or whenever they feel like showing off their passion for turkeys.
Turkey Cufflinks
Another piece of apparel that would be great for Thanksgiving or otherwise, are these adorable turkey cufflinks.
Personalized Turkey Plate
If you have a kid in your life who loves turkeys, they will really enjoy having a turkey plate with their name on it!
Turkey Necklace
A necklace with their favorite animal that they can wear anywhere they go, and even to events where they need to dress up.
Wooden Turkey Ornament
Wooden turkey ornaments will make the perfect gift for Christmas and a nice addition to their tree!
"Struttin' ain't nothing if ya ain't got a beard" Wooden Sign
The "struttin' ain't nothing if ya ain't got a beard" wooden sign is rustic and stylish.
Turkey Dr. Street Sign
Street signs are popular lately. They can put it on a wall, or propped up on their fireplace mantle or bookshelf.
"Gobble til you wobble" Shirt
Thanksgiving is the perfect holiday to stuff your face until you're waddling. As a turkey lover, they will enjoy this shirt for more than just the holiday.
Novelty Turkey Hat
Help them keep the sun out of their eyes and show off their love of turkeys with this novelty turkey hat.
Turkey Ceramic Cookie Jar
The best place for them to store their cookies is a turkey ceramic cookie jar. Imagine how amazing it will look on the top of their fridge, or filled with delicious fresh baked cookies!
"No matter what happens this month, at least you're not a turkey" Coffee Mug
For the month of November, they can wear this fantastic and comedic shirt, and get many smiles and laughs from anyone who takes the time to read it.
Creative Turkey Glasses
These fun and creative turkey glasses will be the hit of any party or family get together!
Turkey Earrings
Whether she wears them to Thanksgiving dinner or somewhere else entirely, these turkey earrings will look dashing on her ears.
Turkey Cup Sleeve
Buy Now
Help them keep their coffee hotter for longer with a turkey cup sleeve.
Vinyl Turkey Decal
Give them a way to decorate their car window, laptop, or window, with this vinyl turkey decal.
"Talk turkey to me" Coffee Mug
Turkeys ignite their passion, which means this "Talk turkey to me" coffee mug will be the perfect way to start their mornings.
Customizable Gold Turkey Figure Trophy
They can win first place with their very own customizable gold turkey figure trophy!
Girls' Turkey Headband
Give that little girl who loves turkeys, a way to pin her hair back for the holiday or another special day.
Mud Pie Thanksgiving Tin Turkey Tea Light
An adorable tin tea light in the shape of a turkey will be an excellent piece of Thanksgiving decor, and might even look nice at other times in the year as well.
Hand-Painted Toddler Turkey Shoes
A special gift for the kid who loves turkeys, are these stylish hand-painted toddler turkey shoes. They will be super cute on Thanksgiving or for holiday events too.
Turkeys are not a popular "favorite" animal, but even if you don't know someone who loves them that much, then you will still have plenty of perfect gifts for Thanksgiving too.