Disclosure of Material Connection: Some of the links in this post may be "affiliate links." This means if you click on the link and purchase an item, I will receive an affiliate commission. Disclosure in accordance with the Federal Trade Commission's 16 CFR, Part 255. This site is a participant in the Amazon Services LLC Associates Program, an affiliate advertising program designed to provide a means for sites to earn advertising fees by advertising and linking to Amazon.
Skunks? Who in the world love skunks? There are quite a few people who love skunks, and they are cute, as long as they don't stink you up! If you don't believe me, go find a video of a baby skunk on YouTube anbd then come back and tell me that you don't think they're cute at all! If you, or someone you know, has a passion for these furry black and white creatures that have the power to make someone smell absolutely terrible, you can get them one of these adorable gifts.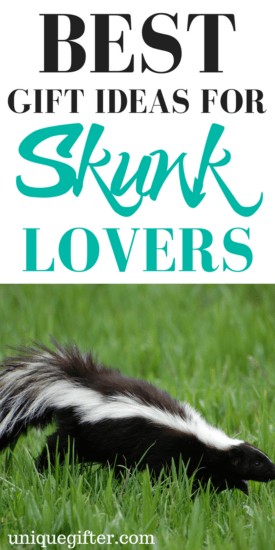 Looking for more than skunks? Here's our epic guide to all things animal gift related!
Gift Ideas for Skunk Lovers
"Simply Irresistible" Pepe Le Pew Coffee Mug
Pepe Le Pew is certainly a famous skunk and this adorable coffee mug will make drinking their coffee in the morning fun and entertaining. After all, coffee is "simply irresistible!"
"Little Stinker" Skunk Dog Collar
If the skunk lover in your life has a dog, they will adore this "Little Stinker" dog collar!
Handcrafted Wood Skunk Birdhouse and Thermometer
This birdhouse and thermometer shaped like a skunk will go nicely on their porch. They can get a kick out of watching the birds fly into the birdhouse, while also checking the outdoor temperature on their handy thermometer.
Skunk Hand Puppet
To keep the kiddos, or themselves, entertained, this skunk hand puppet will certainly be hilarious to all.
Skunk Desk Clock
Help them keep track of time on their desk with the skunk desk clock. They will actually want to see what time it is with this one.
Skunk Duster
A unique skunk duster to dust their house and keep it spotless will make a nice addition to their cleaning supplies
Skunk Dog Crochet Pattern Download
Download this skunk dog crochet pattern and make their dog a skunk sweater as a gift!
Momma Skunk and her Baby Lightswitch Plate
You don't see lightswitch plates all that often anymore, but this adorable skunk momma with her baby will make their house even more homey!
Skunk Animal Hood
They can dress up like a skunk or simply wear it to keep warm!
"I'm Salt, I'm Pepe" Pepe Le Pew Salt & Pepper Shakers
Cute salt and pepper shakers with the Pepe Le Pew theme! They will be a hit whenever guests come over!
"He who smelt it, dealt it" Skunk Kids Shirt
For that special kid in your life that adores skunks, they will find this shirt funny and love wearing it to get a rise out of people!
Woodland Creatures Finger Puppets
Whether they have kids, or simply take care of them on occasion, these finger puppets with the skunk and other woodland creatures will come in handy for keeping everyone happy and entertained.
Skunk Planner Stickers
If the skunk lover in your life also enjoys using a planner and stickers, these will make them giddy with excitement!
"Keep calm and love skunks" Shirt
Keep calm and… shirts and graphics are popular these days. This will be the perfect gift for any squirrel lover.
Enamel Hand Painted Skunk Necklace
This is such a beautiful and colorful hand painted skunk necklace, and a nice gift as well!
Skunk Wall Print
Give them something to hang on their walls and decorate their house with that shows how much they love skunks
Skunk Fridge Magnet Set
Everyone needs magnets, whether they like them or not, so why not get some with their favorite animals on them
Colorful Skunk Throw Pillow Cover
This beautiful picture of a skunk on this throw pillow will go with almost any color sofa and living room, and catch guest's eyes right off the bat.
Skunk Working on Laptop Coaster
If the skunk lover in your life works from home or from a laptop a lot of the time, then this coaster will be such a nice gift to them to keep their tables and other surfaces dry from their drink's moisture
"Fart Squirrel" Shirt
A skunk is like a squirrel that farts? I had no clue! Your skunk loving friend will get a kick out of this shirt!
Skunks may not be a very popular animal because of what they do when they are scared or feel threatened, but chances are that there are quite a few skunk lovers out there in the world and they would appreciate a thoughtful gift such as one of these mentioned above.