Disclosure of Material Connection: Some of the links in this post may be "affiliate links." This means if you click on the link and purchase an item, I will receive an affiliate commission. Disclosure in accordance with the Federal Trade Commission's 16 CFR, Part 255. This site is a participant in the Amazon Services LLC Associates Program, an affiliate advertising program designed to provide a means for sites to earn advertising fees by advertising and linking to Amazon.
Somehow this managed to turn into one of the most popular musicals of all time. Who knew the $10 founding father's life was so interesting? Here are some gifts for fans of Hamilton, because I know you have someone like that in your life.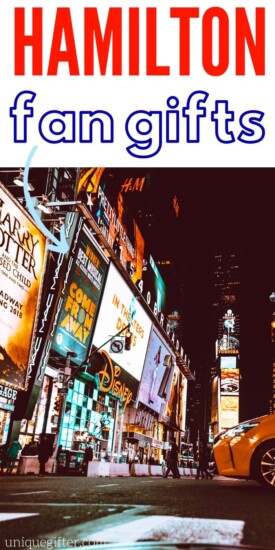 Gifts for Fans of Hamilton
So whether they've seen Hamilton the musical live or they've just listened to the Broadway cast recording of it a million times (like me) these gifts for fans of Hamilton will delight those musical lovers on your list. We also have a gift guide for musical and theatre lovers!
The Hamilton Papers
A little bit of history alongside the musical. Here's the complete set of real documents that are referenced in the Hamilton musical.
Young Scrappy and Hungry Shirt
You really can't get more Hamilton than this. Hamilton fans will love representing the popular line from the musical.
The Hamilton Cookbook
Who doesn't want to cook as people from Alexander Hamilton's time would have? Prepare food the way the founding fathers did in their day.
Rise Up Ring
It's nice to feel inspired every now and then. This simple ring is a great way to give someone a little pick me up and reference Hamilton.
Historians on Hamilton Book
Uh oh, not everything in the musical is accurately representing according to historians. Fans of Hamilton can see what's true and what might not be with this book.
Alexander Hamilton Scented Candle
If you want to imagine what Alexander Hamilton might have smelled like this candle won't give you that. It will, however, fill your home with scents inspired by the Caribbean where Hamilton is from.
Hamilton Lottery Bracelet
What kind of music would need to host a lottery so you can have a chance to buy tickets to it? Hamilton, that's what. Maybe next time…
You Outshine the Morning Sun Print
Perfect for a nursery or to brighten up the life of any Hamilton fan. These words are taken from the song where Hamilton sings these words to his firstborn son.
Alexander Hamilton Biography
This is one of the best gifts for fans of Hamilton – his biography! The very same one that inspired Hamilton the musical.
Talk Less, Smile More Shirt
The line Burr says to Hamilton as advice, which he does not follow. You also are getting them a shirt with Hamilton's face on it which in itself is pretty awesome.
Burr Presidential Mug
What candidate are you supporting in the election of 1800? Jefferson or Burr? That's what I thought.
My Dear Hamilton Book
Think of this book as a dramatization. It tells the story of Eliza using actual letters and information available in her life. A must-read for Hamilton fans who want to see more about his amazing wife Eliza.
Deal or Dual Card Game
Yes, Alexander Hamilton even has his very own card game. There's only one goal: Get all the money or die trying.
Lafayette Art Print
Unsung by American history but well sung in the Hamilton musical, Lafayette played a key role in helping Hamilton during the war. This art print has lyrics from the musical in a stylish way, perfect for Lafayette and Hamilton fans alike.
How Lucky We Are Shirt
If you're a fan of the women in the Hamiton musical this one has Angelica's popular quote on it.
King Georgy Birthday Card
If you're giving birthday gifts for fans of Hamilton this might be the best card ever. Great gift idea for long-distance Hamilton lovers!
Cast Recording Vinyl (or CDs)
Sure there's plenty of online places to listen to the cast recording of Hamiton but a hard copy is one of the most perfect gifts for fans of Hamilton. If they're fans of records you can also get a copy on vinyl.
Hamilton: The Revolution
Co-written by Lin-Manuel Miranda himself, this book gives some insight into the creation of the musical.
Hard to believe Hamilton had such a big impact on the world despite dying at 47 years old! Oh, and I should add here that gifts for fans of Hamilton wouldn't be complete without saying: Hamilton tickets! But good luck getting them.