Disclosure of Material Connection: Some of the links in this post may be "affiliate links." This means if you click on the link and purchase an item, I will receive an affiliate commission. Disclosure in accordance with the Federal Trade Commission's 16 CFR, Part 255. This site is a participant in the Amazon Services LLC Associates Program, an affiliate advertising program designed to provide a means for sites to earn advertising fees by advertising and linking to Amazon.
Once fall hits, it's Hocus Pocus season! Many people make it a fall tradition to deck out their homes for Halloween, drink apple cider, and spend their evenings with the Sanderson Sisters. While this may not have been an initial Disney hit, the fandom around Hocus Pocus is huge. With a fun cast (like Bette Midler, Sarah Jessica Parker, and Kathy Najimy), some catchy tunes, and the silliness of a Black Flame Candle, it's always entertaining during ANY time of year!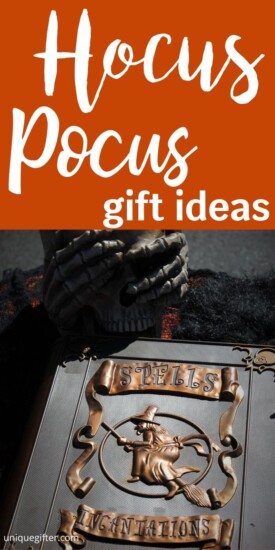 20 Gifts for Fans of Hocus Pocus
Maybe it's their favorite film or maybe you're helping them prepare their home for fall festivities – don't worry! We've got 20 ideas that any fan of the film will enjoy!
It's Just A Bunch of Hocus Pocus Wine Tumbler
The Hocus Pocus fan in your life will love sipping out of their new tumbler! It's adorable and great for all occasions.
Sanderson Sisters Squad Cute T Shirt
What's more awesome than this Squad T-shirt? Whoever you give it to is sure to be happy!
Thorn & Moon Black Flame Candle – Hocus Pocus – Inspired Decorative Large 9″ Pillar Candle
True fans of the film need their own Black Flame Candle! How else will they summon the Sanderson Sisters?!
Funko Sanderson Sisters Hocus Pocus Pop! Movie Moment | Officially Licensed
These characters are ICONIC! Of course, they have Funko Pop figures of the Sanderson Sisters!
Disney Hocus Pocus Journal
This journal with gold-lined pages is great for writing up all of their spells and wishes!
Hocus Pocus Doormat – Welcome My Pretties
This doormat is great for adding to their fall decor or any time of the year!
Hocus Pocus Inspired Coffee Cozy
Coffee or cider, this is an easy way to protect their hands from hot cups and share their Hocus Pocus flair!
Disney Hocus Pocus Tote by Dooney & Bourke
Never underestimate the power of a good tote bag! This bag is perfect for carrying all of their daily items or for carrying all of their Halloween party supplies!
Sanderson Sister Hocus Pocus Inspired Gift Bags – Set of 3
Maybe you've already chosen a different gift, but these bags are a beautiful way to wrap them up!
Hocus Pocus Book of Spells Prop
Do they need some spooky decor? This prop book would make a great centerpiece!
KINDLE BOOK: Hocus Pocus in Focus: The Thinking Fan's Guide to Disney's Halloween Classic
Fun facts, trivia, and more await the readers of this ultimate fan guide.
Hocus Pocus – The Sanderson Sisters Art Print
Bette Midler's signature song as Winifred Sanderson is the background for this witchy print!
Hocus Pocus Personalized Luggage Tags w/ Leather Straps
Let them carry their own "boooooooooook" with them wherever they may travel.
Ladies Hocus Pocus Wallet
A simple wallet is an easy way for fans to show off just how much they love the film!
Hocus Pocus Vinyl Sticker
A fan-favorite of quotes from the film, this sticker is perfect for fans! The same Etsy shop even has one that says "Amuck, Amuck, Amuck!"
Hocus Pocus Inspired Starbucks Cold Cup
Regular Starbucks logo on one side and a cutout of the Sanderson Sisters on the other!
"I Lit The Black Flame Candle" Bracelet
If they lit the black flame candle and brought the sisters back, they should wear this bracelet with pride!
Hocus Pocus Wall Decor
This piece of decor is great for seasonal decorating but simple enough that you could hang it year-round! This hand-painted piece of woodwork is sure to make them smile!
Thackery Binx Hocus Pocus Sweatshirt
Chilly fall evenings are the right opportunity to show off their brand new Thackery Binx sweatshirt! Pretty much everyone who loves the movie loves that talking cat!
DVD: Hocus Pocus
If they don't already have their own copy, this is a no brainer! If it's around the holidays, it'll fit perfectly in a stocking or as part of another gift bundle.
Hocus Pocus brings out the fall & Halloween spirit in everyone! Gifts like these would definitely get someone excited! Do you love Hocus Pocus? Which Sanderson Sister surprise would you like to receive?