Disclosure of Material Connection: Some of the links in this post may be "affiliate links." This means if you click on the link and purchase an item, I will receive an affiliate commission. Disclosure in accordance with the Federal Trade Commission's 16 CFR, Part 255. This site is a participant in the Amazon Services LLC Associates Program, an affiliate advertising program designed to provide a means for sites to earn advertising fees by advertising and linking to Amazon.
40 Gift Ideas For a Skyrim Fanatic
Have a Skyrim fan in your life and not sure what to get them for a gift? I'd imagine so since that's why you're here! It can be difficult to sift through the pages and pages of stuff to find something of good quality that's also unique, and that's why we're here! We've done all the work for you. These gift ideas for Skyrim fans are sure to delight all players!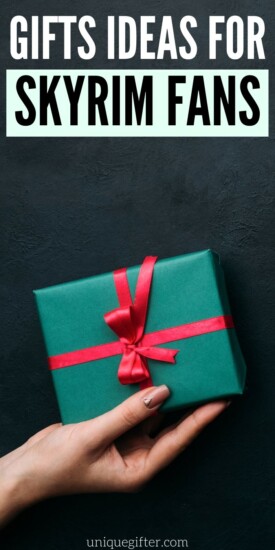 40 Skyrim Gift Ideas For Your Favorite Dragonborn Fan
Hold onto your helmets and pack your bags full of cheese wheels, we're going in!
Destruction Spell Tome iPad Case
This replica is stunning and will protect one of their most prized possessions!
Daedric Armor Figure
This gorgeous little statue is 3D printed and looks exactly like some of the coolest armor in the game!
Skyrim Logo Necklace
Every fan needs one in their collection. Definitely grab this if they don't already have one, you can't go wrong!
Dragon Priest Mask
This exact replica is wearable for cosplay or would look great hanging on the wall!
Become Dragonborn – Vintage Travel Poster
This unique poster design is based off the 1930's National Park Service posters and offers a different view of why you should come to Skyrim!
Horned Helmet Replica
Nothing will make a person feel more like a badass than owning one of these helmets. It will not disappoint any receiver!
Essence of Elsweyr Looseleaf Tea
This tea is beautifully packaged and tastes like magic! Perfect for any tea/Skyrim fan!
Alduin Wall Bust
Let your fan immortalize the World Eater with this amazing trophy for their wall!
Dwemer Puzzle Cube Artifact
The Dwemer are some of the most ancient beings that left behind tons of beautiful puzzles and artifacts for us to find. Amaze and confuse your friend with this intricate piece of history!
Khajiit Warrior Figurine
Khajiit has wares if you have coin. They'll get it and love it, trust us.
Skyrim Cities Cookie Cutters
The tastiest way to fast travel. These are perfect for a themed party!
Arrow in the Knee Men's T-Shirt
Almost everyone has heard this joke reference at some point. Spend 20 minutes in this game and you, too, will understand.
Dragonborn Helmet Ring
This ring has been crafted in honor of the most iconic helmet in Elder Scrolls history.
Sweet Roll Scented Candle
This scent will make them feel like they're actually in a tavern eating the most delicious dessert invented.
Riften Pendant
Everyone that's familiar with this game is familiar with this sigil. Because why would you choose to be anything but a sneakthief?!
Fortify Magicka Botany Art
This beautiful watercolor print is inspired by vintage botanical drawings. A must have for any alchemist!
Cities of Skyrim Crochet Blanket
Wow your Dragonborn with this one-of-a-kind handmade blanket of the major city sigils in their favorite game!
Skyrim Dragon Bottle Opener
Sometimes there's gonna be trouble when opening a fresh bottle of mead. Let 'em do it in style with this tough-as-scales bottle opener!
Winterhold College Sports T-Shirt
Let 'em show off their school spirit in vintage style with this awesome t-shirt!
Solitude Street Sign
This world is huge and it's easy to get lost. Help your adventurer out a little with a street sign to show them the way!
Skyrim Logo Etched Pint Glass
This simple glass is a classy way for them to show off their Skyrim pride!
Levitating Stone of Barenziah Jewelry Box
This piece of art is stunning. Equipped with magnets to make it float in the box, any fan will absolutely adore this gift!
Alduin Funko Pop
Aww, isn't he so prec- OH MY GOD WHY IS MY FACE MELTING OFF?!
Skyrim Crew Socks
Keep your Dragonborn's feet warm in the cold climates with these socks!
Skyrim Provinces Shower Curtain
This shower curtain design is beautiful and is perfect for any Dragonborn's bathroom!
Framed Skyrim Poster
The art on this poster is stunning and it's already mounted and framed for them to hang up with haste!
The Skyrim Library – Volumes 1, 2, & 3
The world of Skyrim has a vast number of books about history, monsters, plants, and everything in between that they can read to learn more about their surroundings. This collection takes the searching out of the equation and allows them to read at their own pace!
Official Elder Scrolls Cookbook
Give your fan the ability to level up their cooking in real life with this official cookbook that teaches them how to cook all their favorite dishes from their favorite game!
Whether they're a mage or a sneaky archer, this list has tons of ideas to wow the Skyrim fanatic in your life. There's plenty of unique items, so the toughest choice for you is going to be which one! If you grab something off our list, give us a shoutout on Twitter (@ugifter) or Instagram (@uniquegifter) and let us know what you got! We'd love to hear from you!