Disclosure of Material Connection: Some of the links in this post may be "affiliate links." This means if you click on the link and purchase an item, I will receive an affiliate commission. Disclosure in accordance with the Federal Trade Commission's 16 CFR, Part 255. This site is a participant in the Amazon Services LLC Associates Program, an affiliate advertising program designed to provide a means for sites to earn advertising fees by advertising and linking to Amazon.
You have to see these gifts for Sandman Fans! In 1989, DC Comics published Neil Gaiman's Sandman series under the Vertigo imprint and a cult classic was born. It ran for 75 issues, and 7 years, and remains immensely popular even today, having spawned reprint after reprint, and collection after collection. It's still so popular that recently as 2015, Gaiman returned to the world of The Endless to fill in the backstory of just how Morpheus came to be imprisoned in the first place, which is where we find him in the opening pages of Preludes & Nocturnes.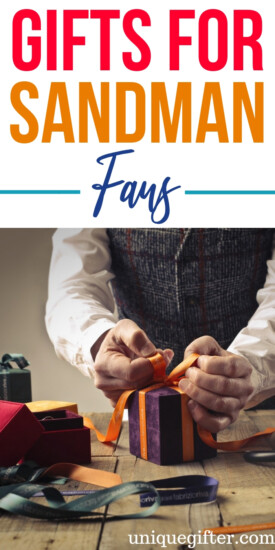 Creative Gifts For Sandman Fans
These would be awesome presents for any Sandman fanatic!
Endless Skirt
First and most importantly, this skirt has pockets! That's almost all you need except for the fact that this print displays each of the Endless's sigils and is therefore doubly awesome.
Paper Dolls
An articulated paper doll of Dream stands 11 inches tall. The paper doll is printed on high-quality premium plus pearl photo paper, cut carefully with scissors and assembled with black brads.
Pendant
This pendant can be a necklace or key ring with custom finishes, featuring a quote from Neil Gaiman's Sandman: "It is sometimes a mistake to climb; it is always a mistake never even to make the attempt. If you do not climb, you will not fall. This is true. But is it that bad to fail, that hard to fall?"
Black Wool Wrap
Designed by the incomparable Kambriel, this incredible wool wrap cape was first presented to Neil Gaiman, creator of the Endless.
Morpheus Book Thing
Morpheus will hold your page in your Absolute Sandman from inside a black bezel frame with glass cabochon charm, hung on a black double chain, and set with a small faceted black crystal and silver beads.
Notecards
The Endless pantheon reimagined once more, as kittens!
Death acrylic keychain
Hang your very own jaunty acrylic Death on your keychain.
Jill Thompson's The Little Endless Storybook
The Chibi Endless try to keep up with their sibling, Delirium when she loses her puppy.
The Absolute Sandman, Vol. 1
This set of Absolutes used to be a much bigger splurge (originally priced at $100 each). If you have the shelf space, this set of Absolutes is an amazing gift.
Ankh Necklace
This ankh comes on a 30-inch black cord with a lobster clasp closure. Add some makeup and go to your Halloween party as the personification of Death.
Death Cosplay Wig
Pair the ankh with this wig and black boots to get that distinctive Sandman Death look.
Morpheus Helm
This thick cast latex mask is made to order and is sure to stun when you show up as Sandman's Morpheus.
Delirium Wig
This heat resistant long and curly wig can be styled however you imagine Delirium's hairstyle should be this day. And knowing Delirium, it's different every day.
Destruction's sword
Wield this foam injected sword for your Destruction cosplay or Halloween costume.
Preludes & Nocturnes
If you're looking to hook a new fan, the massive books aren't the way to you. You want to start with the first volume of the graphic novels, just giving a taste of the amazing writing and art to come.
Sandman Omnibus
If massive thousand page tomes bound with that personal library with winding staircases are the preferred style, the omnibus is a sure fire way to please that collector.
The Sandman: Overture
Definitely a collector's edition, Overture is a deluxe compilation that finally answers the question: How DID Morpheus get imprisoned?
Annotated Sandman Vol. 1
The first 20 volumes of Sandman are included in this set complete with annotations.
Death Repaint
A fully styled Death doll to remind you of the fairness of life – we each get one life.
Silver Pendant Ankh
This beautiful ankh is suitable for a high-end cosplay or for everyday wear.
We can't wait to hear what you think of these gifts for Sandman fans!