Disclosure of Material Connection: Some of the links in this post may be "affiliate links." This means if you click on the link and purchase an item, I will receive an affiliate commission. Disclosure in accordance with the Federal Trade Commission's 16 CFR, Part 255. This site is a participant in the Amazon Services LLC Associates Program, an affiliate advertising program designed to provide a means for sites to earn advertising fees by advertising and linking to Amazon.
Do you have a board gaming group of friends? Do you want to start one? Potluck game nights seem to be the Thing these days, and why not? It seems like a whole lot of fun with the right mix of people, and games to play! In order of age appropriateness, check out this plethora of games that will keep you in stitches.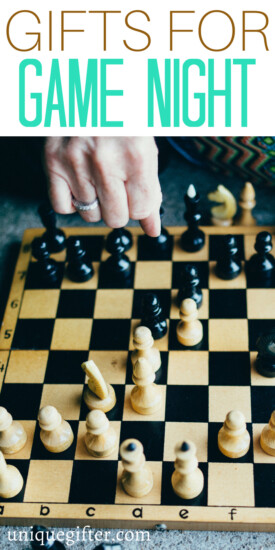 Epic Gifts for Game Night
Crocodile and Friends Animal Memory Game
Goal: Remember where the matching cards were on the board. 1+ players, ages 3-5
Feed the Woozle
Goal: Work together to feed the hungry Woozle. 2-5 players, ages 3-6
Spot It! Jr. Animals
Goal: Be the first to spot two matching cards. 2 to 6 players, ages 4+
Outfoxed!
Goal: Work with the team to figure out whodunit. 2-4 players, ages 5+
Perfection
Goal: Beat the clock before the pieces pop. 1+ players, ages 5+
Trouble Game: Retro Series 1986 Edition
Goal: Reach the finish line first while trying to send your opponents back to Start. 2-4 players, ages 5+
Sorry! 2013
Goal: See how far you get to move one of your pawns on the board without getting bumped back to the Start! 2-4 players, ages 6+
Operation
Goal: Remove all the pieces from the hapless patient without setting off the buzzer. 1+ players, ages 6+
Slamwich
Goal: Race to slap the pile and claim all of the cards in the pile. 2 to 6 players, ages 6+
Uno
Goal: Match cards to the deck, get rid of all your cards first. 2-10 players, ages 7+
Bananagrams
Goal: Race to build crossword grids. 1-8 players, ages 7+.
Exploding Kittens
Goal: Draw cards until someone draws an Exploding Kitten – use other cards to move, mitigate, or avoid the Exploding Kittens. 2-5 players, ages 7+
Sleeping Queens Card Game
Goal: Wake up the most queens using strategy and quick thinking. 2-5 players, ages 8+.
King of Tokyo: New Edition
Goal: You are mutant monsters – help or pummel the others to be the last monster standing! 2-6 players, ages 8+
Ticket To Ride
Goal: Travel by rail to the most cities in North America in just seven days. 2-5 players, ages 8+
Catan
Goal: Tame the isle of Catan by using and trading for resources. 3-4 players, ages 8-15.
Splendor
Goal: Collect raw gems, then find the means to transport them, artisans to shape them, and last, sell the final polished jewels. 2 to 4 players, ages 10+
Apples to Apples
Goal: Pick the card that is best described by a card played by the judge. 4-8 players, ages 12+
Monopoly Empire
Goal: Be the first to fill your tower. 2-4 players, ages 12+
Pandemic
Goal: Work together to eradicate the diseases before they overwhelm the world. 2-4 players, ages 13-15.
Do you prefer competitive or collaborative games? Share your favorites!