Disclosure of Material Connection: Some of the links in this post may be "affiliate links." This means if you click on the link and purchase an item, I will receive an affiliate commission. Disclosure in accordance with the Federal Trade Commission's 16 CFR, Part 255. This site is a participant in the Amazon Services LLC Associates Program, an affiliate advertising program designed to provide a means for sites to earn advertising fees by advertising and linking to Amazon.
I'm a millennial and 90s kid through and through. Our generation, born in a time of rapidly changing technology, is weirdly nostalgic at an early age. These gifts will help them remember a simpler time of Nickelodeon slime and Pokemon.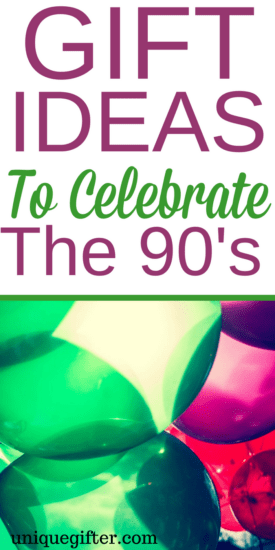 Sweatshirt
You actually can get this classic 90s pattern on pretty much anything but really, what is more 90s than a sweatshirt?
CAH 90s Pack
If they play Cards Against Humanity this pack makes a great gift (trust me, I own it). This pack is full of references that only 90s kids will get.
Splat Colouring Book
This adult colouring book is so 90s it hurts. They can relax while reminiscing about their well-spent afternoons watching Nickelodeon cartoons.
Lip Smackers
Lip Smackers hasn't exactly gone away since the 90s but this pack is re-release of the flavours and style millennials are nostalgic for.
Scrunchies
Remember scrunchies? Every girl (and some of the boys) in the 90s had them and they were absolutely perfect. Gift them some amazing fashion that, surprisingly, hasn't entirely gone out of style.
D.A.R.E. Mug
Every 90s kid remembers going through the D.A.R.E. program at school. We all got t-shirts. We all got nostalgia.
Reptar Cereal
Everyone who grew up in the 90s watched Rugrats and I'm sure I'm not the only one who wanted all the Reptar-themed products on the show. Give them this cereal and it will definitely be an amazing, and unexpected, gift.
Nostalgia Food Charms
These little charms are perfect replicas of their favourite childhood snacks. What's great about this gift is you can get different styles of jewelry, like earrings or a necklace, so you can make it unique to the person you're giving to.
Trolls Glass Set
These little guys were the hot toy of the early 90s, everyone had one. The new movie kind of made them come back but nothing beats that classic design. Now that your 90s kid is grown up, though, get them something they can actually use: this set is perfect.
Tamagotchi Cross Stitch
There's so much 90s going on in this gift that will help make the "adulting" just a bit more bearable.
Nightmare Board Game
Do I think about my regret for getting rid of my copy of this fantastic board game? Yes, daily.
90s Shower Curtain
Here's the thing: most of us are old enough to have our own houses, or at least apartments. Why not give the gift of 90s decor?
Heartthrob Pencils
*sigh* 90s heartthrobs. Girls (and gay boys *cough*) will remember their hours spent obsessing over their childhood crushes will this pencil set.
Kool Aid Man Art Print
Oh yeah! This print blends what looks like tasteful art with an amazing 90s reference.
Back to the 90s Sticker Pack
Can't decide what to get? This sticker pack is full of 90s goodness for them to reminisce about.
1990s Candy Pack
Candy is always a perfect gift idea. Giving them the candies of their childhood? Even better.
Book Fair Nostalgia Pack
Some schools still do the Scholastic book fairs but this pack is the exact memories they have of their 90s purchases. Vintage Gosebumps book, tacky bookmarks, and all those little accessories we did with the leftover money after buying a book.
Tamagotchi
They still sell these!
Things 90s Kids Realize
This book looks back on 90s pop culture as an adult and goes through things that you just didn't realize from when you were a kid. Perfect for nostalgia and mind blowing.
Slap Bracelets
Slap bracelets were all the rage in the 90s and now they can be that again among you and your friends with this pack.
Yesterday at work a 17 year old told me they didn't want to grow up because being an adult is hard. Millennials are already grown-up so a 90s gift isn't just a gift, it's a little piece of their childhood back.