Disclosure of Material Connection: Some of the links in this post may be "affiliate links." This means if you click on the link and purchase an item, I will receive an affiliate commission. Disclosure in accordance with the Federal Trade Commission's 16 CFR, Part 255. This site is a participant in the Amazon Services LLC Associates Program, an affiliate advertising program designed to provide a means for sites to earn advertising fees by advertising and linking to Amazon.
If your dad has been away for a while, for whatever reason, getting him a gift to welcome him home only seems natural. However, sometimes dads are hard to buy for. That's why this list will come in really handy as you pick a gift that is just right for him.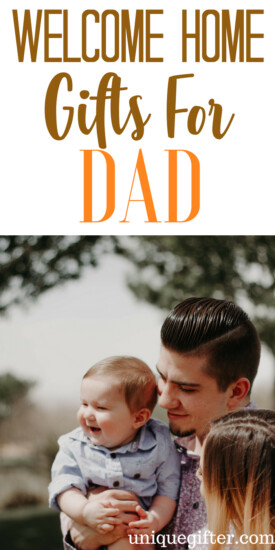 Father's Day is Just Around the Corner!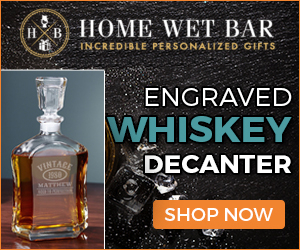 Welcome Home Gifts for Dad To Make Him Feel Special
"Coffee makes me poop" Mug
Your dad is bound to find this mug hilarious and everyone can have a good laugh every time he uses it to drink his coffee.
Personalized Wooden Photo Sign
A personalized wooden photo sign is a good way to make him feel cherished and give him something to keep as a memento as well.
"Dad's ice cream scoop" Ice Cream Scoop
Every dad needs his very own ice cream scoop, right?
"I turned 25 twice" Shirt
If your dad is turning 50 soon, or recently turned 50, this shirt is perfect for him. Instead of being 50, he has actually turned 25 twice!
Personalized "Dad's extremely good ideas" Journal
Help your dad keep track of all of his amazing ideas in this personalized journal.
"I don't snore. I dream I'm a motorcycle." Socks
If your dad is a notorious snorer, as most dads are, these socks were made just for him! And hey, you never know, he just might be dreaming he is a motorcycle!
"Dad est." Leather Keychain
Memorialize the year your dad became a dad with a "Dad est." leather keychain to keep his keys on.
Superdad Tumbler
Your dad is a superdad to you and your siblings, let him know how much he is with this "Superdad" tumbler.
"Welcome. Beware of wife. Kids and pets are also shady. Husband is cool." Welcome Mat
He is the coolest part of the family, of course! Let everyone know when they come to your house.
"I will fart on you" Shirt
Your dad farts a lot, it's no secret!
Monogrammed Whiskey Glass
A monogrammed whiskey glass is a nice gift if your dad drinks whiskey, or some other beverage, from a whiskey glass on a regular basis. It will be his most cherished glass too.
"Dad is (grill) KING" Keychain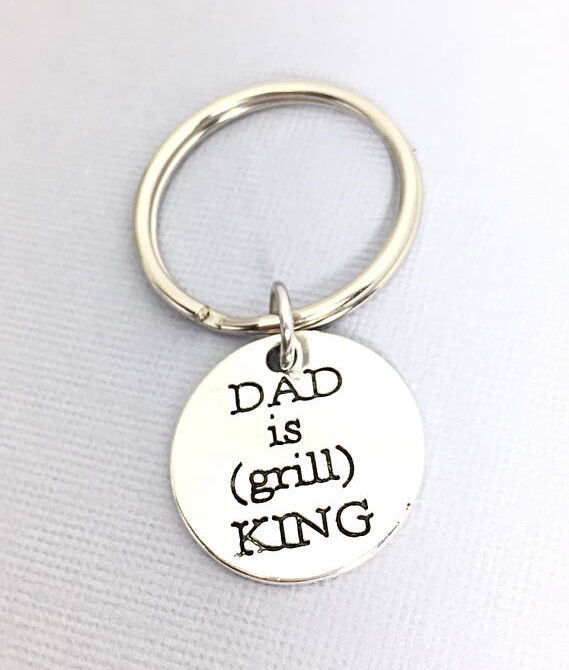 For the dad who grills like a boss, remind him that he is the king of the grill with a nice keychain.
"Daddy's little angel" Picture Frame
You are daddy's little angel, after all. This picture frame will be something he can keep close to him wherever he goes.
Master USA Spring Assisted Tactical Folding Pocket Knife
Every dad needs a great tactical folding pocket knife for fishing, camping, crafts, and building things.
"How to be an awesome dad. Step 1: watch me. Step 2: Do what I do." Shirt
Your dad knows how to be an awesome dad, so he should be letting everyone else know how to do so too, right?
"I might look like I'm listening but in my head I'm fishing" Coffee Mug
If he does a lot of daydreaming that he's fishing or camping, this coffee mug is perfect for him.
"I love you" Guitar Pick
Remind your dad how much you love him with this special guitar pick. It is an especially nice gift if he loves to play guitar, and even if he doesn't, he can keep it in his wallet or pocket.
Personalized Wooden Tablet Stand
He can keep his tablet propped up with a wooden tablet stand that is personalized with his name or initials.
"Only a biker knows why a dog sticks its head out the car window" Motorcycle and Paw Print Decal
Only the dad who is a biker would know why the family dog sticks its head out the car window while it's driving.
Wallet Personalized With Football and Initials
For the football-loving dad, a wallet personalized with a football and initials will help him keep easier tabs on his wallet.
Dad will love any of these gifts because you chose it from the heart and they are all awesome gifts too!