Disclosure of Material Connection: Some of the links in this post may be "affiliate links." This means if you click on the link and purchase an item, I will receive an affiliate commission. Disclosure in accordance with the Federal Trade Commission's 16 CFR, Part 255. This site is a participant in the Amazon Services LLC Associates Program, an affiliate advertising program designed to provide a means for sites to earn advertising fees by advertising and linking to Amazon.
There's something about many baby shower gifts that screams "this is a mommy gift" which is rather unfortunate. That vibe does not help you pick out a rockin' gift for your best friend who is a new dad, but let's find some things that do have that daddy vibe.  Coming up with gifts for new dads took some effort, and one size does not fit all, so find the ideas that will work for your son, friend, brother or coworker, really any dude in your life who has taken on the challenge of raising a little munchkin.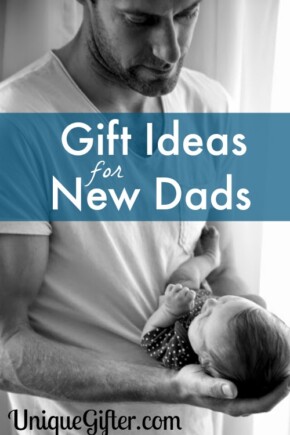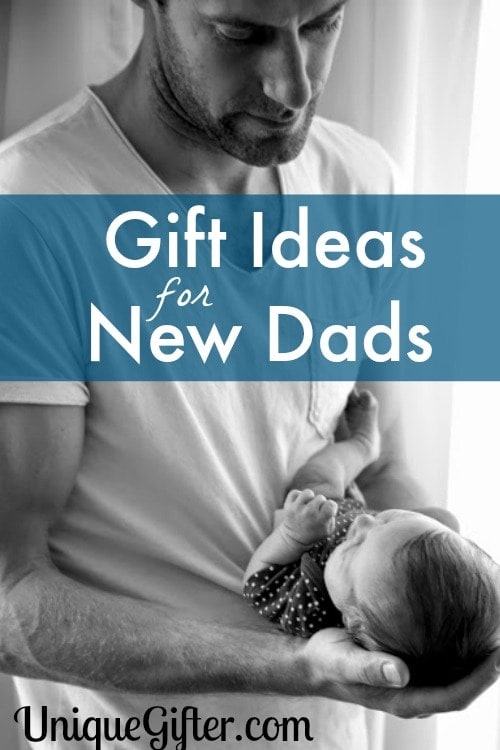 Gifts for New Dads
You could also consider these push present ideas for dads, because a congratulations is in order for them, as well.  They didn't have to push, but it's really a congratulations on bringing a new life into the world, and they have had their own work to do for the past several months, with much more to come.
It takes two to tango, so here goes with a giant list of gifts for new dads.  Enjoy!*(Most of these are affiliate links)
1 – Hiking Carrier

Is this new dad a "get up and go" type fellow?  Get a great baby carrier, so he can get out and about in comfort with the new baby in tow.  There are all sorts of styles, shapes, colours and sizes available.
2 – Housekeeping
Very few people enjoy housekeeping, at the best of times.  Most people downright loathe it when they are shy on sleep and otherwise overwhelmed.  Check out Bid my Cleaning for a price on some housekeeping services, or arrange to come over and take care of things yourself.  Gifts of your time are well-received and easy on the pocket book.
3 – Take Out Gift Certificates

Just like with housekeeping, cooking and cleaning up the dishes can fall by the wayside when there's a newborn in the house.  Parents need their energy to keep up, so give them an easy option to fuel up by picking up a restaurant gift card, for somewhere that offers take out, of course.  You can also stuff some cash in an envelope with a few take out menus, for a personalized touch that should earn you lots of praise and grateful looks.  As a bonus, these are easy to ship from anywhere on earth, as many are digitally delivered.
4 – Diaper Bag


"My what a lovely purse you're carrying."  Not quite… but many diaper bags are on the rather feminine side.  Pick up something that Dad can stylishly carry, while remaining practical.  There are actually a lot of great choices available these days.  Here are a few more that we enjoy:
1. OiOi Satchel Diaper Bag
| 2. Batman Messenger Diaper Bag
| 3. Canvas Messenger Diaper Bag
| 4. Cape Cod Leather Oversize
5 – Books on Parenting


Not everything comes with a manual, but there are many books on parenting to be found. Here's a great selection:

1. The New Dad's Survival Guide
|2. The Baby Owner's Manual
| 3. Dad's Playbook: Wisdom for Fathers from the Greatest Coaches of All Time
| 4. First-Time Dad
6 – Books for the Baby


Story time is an integral part of growing up.  A great thing about books is that they can last for years and years.  You can read them to your infant, let a toddler enjoy the pictures, and eventually, kids can learn to read the books for themselves.  As someone who will be reading the same (simple) books over and over for years, Dad will appreciate a healthy selection on a variety of topics. (Also, Go the F**k to Sleep
is obviously an amazing gift choice.)
7 – Camera

Facebook doesn't cover itself in pictures.  Someone has to take them, and if you haven't noticed yet, babies are prime photography subjects.  Help the new dad out with a gift of a camera, pick anything from a waterproof
(recommended!) point and shoot to a slick DSLR makes a great choice.
8 – Picture Printer


Pictures for wallets.  Pictures for friends.  Pictures for family.  Pictures for office desks.  Pictures for refrigerators.  There are a lot of places to put cute snaps of kids.  Dad can print them out with a handy picture printer.
9 – External Hard Drive


What's it for?  For all those pictures, of course.  It's also for all of the videos.  Store photos and videos on an external hard drive and back them up in the cloud, to stay safe.
10 – Babysitter Coupon
When babies are brand-new, parents usually want and need to spend time with them, however, after a little bit they will be itching to have some downtime as a couple.  Offer up a babysitter coupon, for your own time or for someone qualified.  Here's the catch, though.  You will want to remind them of it after a few months have passed.  They may have forgotten about it in the new-parenting-haze phase.
If the couple already has older children, offering to watch them or take them is an awesome gift.
11 – Sports Apparel

It doesn't matter which team Dad cheers for, there is something made for infants, for that team.  You can buy the team that Dad cheers for, or maybe the team that you cheer for, to rile Dad up.  That's up to you.  There is everything from onesies
to booties
to soothers
and more.

12 – Freezer Meals

Easy-to-make meals are a life saver when it comes to kids.  You can make freezer meals and take them to your friend, or you can hook him up with this great cookbook.
13 – Organize a Meal Train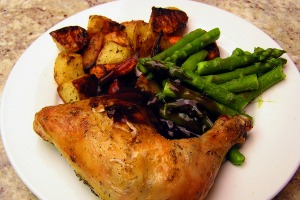 A Meal Train is an organized way for friends and family to take meals to a recipient.  Here are tips and an easy how-to for organizing a meal train, which can be done for free using a website.  Knowing that a delicious, hot meal is on its way that no one had to cook is a huge relief for new parents.
14 – Newborn Photos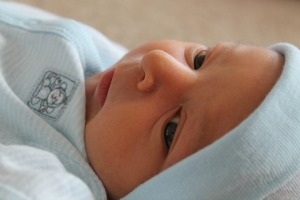 Cute newborn pictures are brag worthy… but come with a price tag.  Hook your friend up with a professional newborn photographer package, so they can capture the cuteness of their newly larger family.
15 – Picture Frame for the Office

Even without a professional newborn photography package, after about a week, your friend is going to have dozens and dozens of pictures of their baby.  Pick out a classy picture frame that will fit right into their office.
16 – Chariot Stroller Attachments
There are a great number of high quality strollers out there, but the Chariot is by far the most popular where I live due to all of the fantastic stroller attachments available that allow for a ton of sports activities.  For example, the bike trailer, fenders, cross country skiing, jogging brakes and a bunch of add-ons to keep the kiddos and the big kid behind the wheel happy.

1. Thule Bicycle Trailer Kit
| 2.Chariot Fender Kit
| 3.Chariot Jogging Brake Kit
| 4.Thule Strolling Kit
| 5.Chariot Rain Cover
| 6.Thule Baby Supporter
17 – Guys Night Out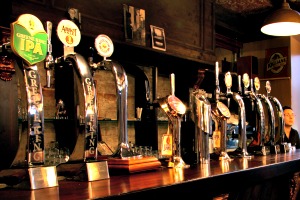 Guilt-free nights out are a rarity with a new born in the house, so give your friend the gift of a guys night out, on the house.  You can opt to give him this new dad gift idea before the baby comes, or after.  If you opt for after, you'll need to coordinate with his partner to make sure that he can be spared!
18 – Coffee Cup Holder for Stroller

There are several options available for coffee mug holders, or stroller handle organizers.  If you opt for a coffee cup holder, consider picking up two, so that both parents (or a friend) can go for a walk and have the option of putting down their cup.  It can be extremely handy to have both hands available, even with two people present.
1. Baby Jogger Parent Console
19 – Dirty Diaper Survival Kit

Diapers can be pretty gross.  Get your friend a portable changing kit, to help them survive the process.
20 – Baby Baseball Toy

Find a child's toy that lines up with the interests of your friend.  This baseball toy adapts as the child grows, from push toy into toddler-sized t-ball set!
21 – Midnight Snack Foods

Babies are up at all hours of the night and take adults along for the sleepless ride.  Sometimes adults are up so long that they need snacks.  Put together a selection of healthy snacks that aren't messy on the fingers, for your friend to grab during midnight baby-calming and changing runs.
22 – Tylenol or Advil

There will be crying.  There will be a lack of sleep.  These things can add up to headaches.  Get your friend a big-ol-bottle of Tylenol or Advil to cut them off at the pass.
23 – Coffee

How do many people get themselves through the day when they are tired?  Coffee!!  Stock your friend up with delicious, high quality coffee.
24 – Energy Drink

If your friend isn't into drinking coffee, energy drinks might be more his style.  I have a coworker who was once sponsored by an energy drink company and it clearly stuck, he still drinks a crazy number of them, especially when he had a second baby!
25 – Ear Plugs

There might be times when it's daddy's night off and it's still difficult to sleep.  Pick up some ear plugs to help out for those nights he needs to sleep.  
26 – Febreze


Laundry can be rather overwhelming, with kids getting assorted bodily fluids over anything within a six foot radius.  Baby puke needs to be cleaned off, but those jeans that haven't made it into the wash in a few days? They might survive with just some Febreze.
27 – Soother (Pacifier, in American-speak)

From sports teams to giraffes to little mustaches, there are all sorts of delightful pacifiers.  Babies grow out of them every few months, as they get larger, so you can find a collection of sizes and themes as a new dad gift.
28 – Baby Bullet Blender

From the folks behind the magic bullet comes the baby bullet.  It has tiny sized cups and a storage container, so you can blend up peas and carrots galore and have an affordable and healthy supply of baby food on hand.
29 – T shirt and Onesie Set
There are quite a few sets of Daddy and Baby onesies out there, from the cute to the humorous.  There are even whole family sets, if you would like.

1. Like Father Like Son
| 2. Papa & Baby Bear
| 3. Daddysaurus & Babysaurus
30 – White Noise Machine

Help your friend sooth the baby to sleep without having to leave their phone behind with the app playing.  These are more and more common and many parents swear by them.
31 – Cigars

A classic throw back baby gift is the cigar.  Pick up a set of mini-ones to celebrate with friends.
32 – Back Seat Mirror

Do you remember the TV car commercial where the kid is throwing things out the window?  Kids eventually get to that point.  Even before then, it is reassuring to be able to check up on them without doing a dangerous whole body spin.
33 – Multivitamins

Fast food can be the main source of sustenance for new parents. Unfortunately, it's not so great for the body.  Grab some multivitamins and add a humorous card, suggesting that this shouldn't be the only source of nutrients they get, but just in case, you've got their back.  Feel free to throw in some fast food gift cards to make the joke complete.
34 – Magazines for the Hospital

Some people can only pace, but for those who end up spending hours upon hours in the hospital, put together a grab bag of goodies to keep them occupied and fed while they are waiting for the baby to arrive.
35 – Book for the Hospital

Just like a magazine, but more for the new dads who can focus, rather than flip pages!  Most hospitals also have a gift shop that sells books, if you're swooping in at the last minute.
36 – Audiobook for the Hospital

Audiobooks are a lot better for pacing!  Plus, you can space out and in and know that you can always revisit the book easily.
37 – Sweatpants

For comfy lounging, non-scratchy cuddle time with the new kiddie.
38 – The Kiccup – Seriously, Buy Them This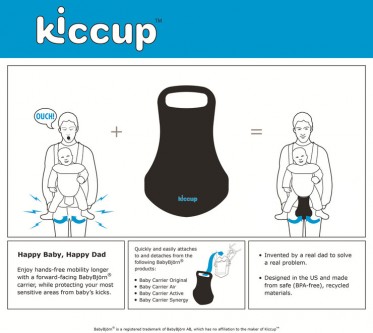 This hilarious and awesome device is basically a jock strap to protect against a flailing baby.  DEFINITELY worth looking into!
39 – Swear Jar
Dad might want to try to change his language, with a mini me around that is learning to emulate him.
40 – Amazon Prime Membership
Oh, oops, uhh, Amazon went with mom-based branding for their baby-goods subscription service.  They say it's open to everyone, though, so just roll with that.

Things that magically appear at your front door are VERY welcome when there are babies in the picture.  They need constant feeding, and "nipping out to the store" is nearly impossible when you have 40 minute windows at best.
41 – Contribution to an RESP or 529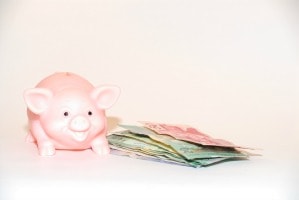 Help the new Dad set junior on the path to paid-for-college, university or whatever is the best choice for them, 18 years from now, by contributing cash to a savings account for the kiddo.
42 – Power Screwdriver (for furniture assembly)

Babies frequently come with a lot of furniture.  If your friend doesn't have any power tools, get them a small and easy to use power screwdriver to help out.
43 – T-Handle Allan Key Set
For the friend that does have tools, get them an awesome set of t-handle allan keys.  They are SO much easier to use than the ones that come with IKEA furniture.
44 – Allan Key Screwdriver Set
This is the super-fast version of furniture assembly, and a very affordable new dad gift, at that.
45 – Current-year Bottle of Something, to Stow Away until their Legal Birthday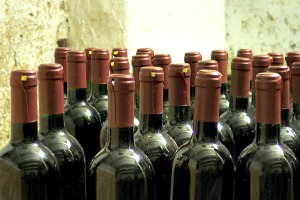 Make sure you visit a higher end wine shop that can help you select something which will actually taste good two decades later!
46 – Car Cleaning Kit

Cheerios mushed into the back seat, anyone?  Prep the new dad for heavy-duty-car-cleaning with a car cleaning kit that focuses on the interior.
47 – Digital Photo Frame

We've covered the photos theme, but digital frames are a fantastic way to display the million and one upcoming photos, without taking up too much space or costing too much.
48 – Stroller Phone Carrier

.amazon-adsystem.com/e/ir?t=newdad0d-20&l=as2&o=1&a=B005SPZG6K" alt="" width="1″ hidden="" height="1″ border="0″>



Go hands-free while stroller walking.  It makes life pretty good.  It's also good for urban-GPS usage.  There are many new shops and activities to find with a baby in tow.  Pub-friendly babies are not.
49 – One Handed Bottle Opener

Fix a bottle for one and a bottle for the other.  Awesome innovation.
50 – Mixie Baby Bottle

The mixie is a bottle designed for being on the road, or ready to grab.  It keeps the formula and water separate until it is time to mix them up for feeding.
51 – Baby Monitor

Technology is pretty nifty and most baby monitors can now be hooked up to cell phone apps, as well as come with night vision, two-way communication and
52 – Robe for Late Nights

There are late night feedings and calmings to do.  Things can get cold, ya know?
53 – Slippers – Ditto

54 – Babymoon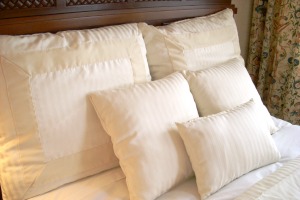 What on earth is a baby moon, you ask?  It's a mini-vacation, in advance of the arrival of the baby.  A last memory together as a childless-couple, with an opportunity for the couple to focus on their relationship and each other, before a demand new leader enters the scene.
55 – Child Proofing Kit

One day, the babies will start sticking their fingers in things. Things like electrical sockets.  Parents don't generally like that.  Make sure they are on top of their game by giving them a baby safety kit, so they're ready for that shocking day.
56 – 30 Minute Meals Cookbook

Quick and ready to go meals.  There are lots and lots of cookbook options in this genre!
57 – Meal Subscription Service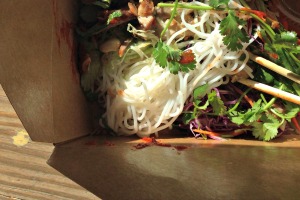 There are several meal subscription services that send a box of groceries and a recipe, to make a meal (or several) in a week.  See if one services your new dad's area!
58 – Budgeting Book

Having children means tweaking spending and budgets, and also means that some parents are compelled to change their spending habits.  Help your friend out with a book on family budgeting.
59 – Tivo/Netflix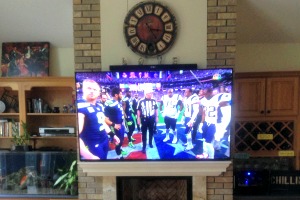 Because babies don't stick to schedules very well.
Binge watching television takes on a whole new meaning when you are up in the middle of the night with an infant!
60 – Strollometer
Fit bits and the like are not fantastic at picking up arm motion when your arms are busy pushing junior.  This fancy toy converts your stroller miles into human steps for you.
61 – Travel Crib

Help your friends go on trips, or even head to a friend's place (like yours!) for an evening, with a workable way for the baby to come along.
62 – Convertible Crib to Bed

Many cribs these days are designed to be both a crib and a toddler bed.  They change as the child ages, right from an infant to a running around kiddo.  They are also one of the biggest ticket items.  Your friends would very much appreciate a gift that goes toward the crib that they want.
63 – Swaddle Cloths

Pick up some nice neutral swaddle cloths.
64 – Diaper Changing Pad

Another baby staple item that Dad is going to need anyway.
65 – Foldable High Chair

From camping, to folds up in the kitchen, there are a HUGE variety of high chairs on the market.
66 – Bouncy Seat

These are an easy way to rock a baby to sleep, or keep them entertained for hours.
67 – Sleep Sacks

Some babies love to sleep in these.
68 – Diapers

Diapers are a major, major cost for babies.  Plus, you can wish your friend luck with all of the poopy diapers.
69 – Mattress Pads

Bladder control is a developed skill.
70 – Sophie the Giraffe

Sophie the Giraffe is an extremely popular teething toy.
71 – Crying Baby Analyzer
This device claims to take the guessing out of deciphering baby cries.  Reviews are slightly mixed, but it is bang on for some babies!
72 – Travel Bottle Warmer

Warm up bottles on the go, in any location that works for you.
73 – Lean Cuisine

Quick meals.  Store bought.  Easy.
74 – Construction Toy Kid's Utensils

These are tons of fun and I have purchased them for friends before!
75 – Grocery Delivery Service
We're back on the "Do I really have to leave the house?" theme again.  Grocery delivery service means no, you don't!
76 – Fatherhood Magnetic Poetry

Magnetic poetry always creates entertainment, especially with a lot of rather relevant word choices.
77 – Noise Cancelling Headphones

This idea is courtesy of a friend of a friend and it makes 100% sense!
There you have it, dozens and dozens of gift ideas for new dads!  What would you add to the list?