Disclosure of Material Connection: Some of the links in this post may be "affiliate links." This means if you click on the link and purchase an item, I will receive an affiliate commission. Disclosure in accordance with the Federal Trade Commission's 16 CFR, Part 255. This site is a participant in the Amazon Services LLC Associates Program, an affiliate advertising program designed to provide a means for sites to earn advertising fees by advertising and linking to Amazon.
Baby showers are kind of patriarchal in themselves, but they're also a fun way to celebrate having a baby. If you've been invited to a feminist baby shower, or you happen to be throwing one for someone in your life, then you're definitely going to need feminist baby shower cards to go with it. Actually, these cards are great for any baby shower!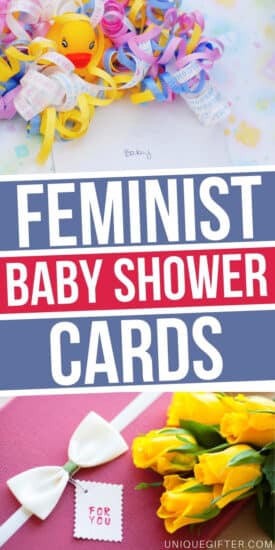 Feminist baby shower cards
Giving feminist baby shower cards is not just a small way to help smash the patriarchy. They're also usually supportive of women and pretty empowering. So much more practical than just 'congratulations'!
The Future is Female
The future is female, and it's best this baby learns that young. This would be a great baby shower card if you know they're having a girl… Or if you want their baby boy to get the message early on.
More Women Like You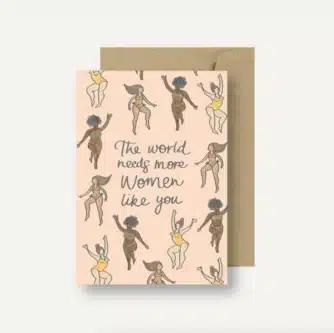 I like this one because it's empowering to the mother rather than being focused on the baby or pregnancy. Write an encouraging message inside to make it even more inspiring.
Body Positive Card
Bodies come in all shapes and sizes, especially after childbirth. A big part of feminism is body positivity and you can help encourage that with a feminist baby shower card like this one.
First Educators of Mankind
Motherhood is one of the most important jobs in the world. Probably the most important job. Help remind a new mom (or mom to be) of how vital, and important, she is.
Congrats On The New Boobs Card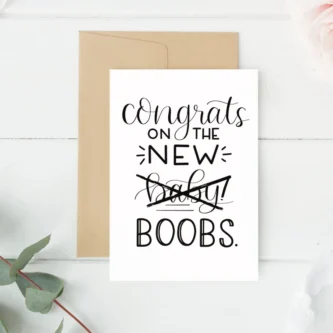 Great for a feminist mom to be with a sense of humor! Don't just celebrate the little bundle of joy, celebrate the bonus bigger boobs you get.
Rosie the Riveter Card
A feminist icon, Rosie the Riveter is perfect for encouraging your feminist friends with their baby crafting. It's a good way to sneak a little feminism while keeping things light, too.
Growing To Be Card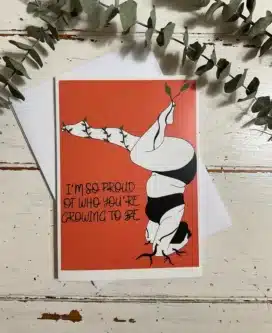 This is an excellent card to show how proud you are of the feminist in your life. Watching them grow a baby is truly amazing.
Brave, Fierce, & Strong Card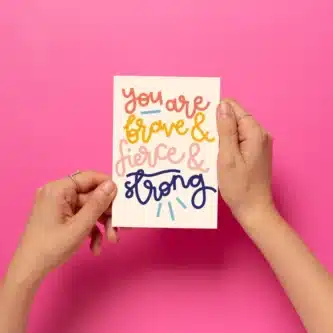 The perfect card for a brave, fierce, and strong woman in your life. Is there anyone stronger than a mom? It would also make a great gift for someone who's close to their due date to help encourage her as she goes into labor.
Blow up my Newsfeed Card
Sometimes you have to give a realistic baby shower card. This one is funny because it's true; and you just know this baby is going to blow up your newsfeed in adorable ways.
Boob Power Card
This is especially great if you're giving it to a feminist mom to be who plans to breastfeed. No matter what they look like boobs = power.
Soul Sister Card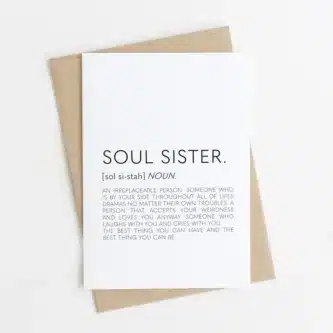 Although not explicitly for a baby shower, this friendship card is perfect for the feminist moms in your life. Show them you support them not just as mothers, but as sisters too.
Mother Definition Card
Being a mother means a lot of things, but this card describes it perfectly. Feminist baby shower cards don't have to be trendy or funny, they can be simple too.
Cheerleading Card
This card is an amazing baby shower card idea, especially if you're not able to attend the feminist baby shower in person. It's encouraging, positive, and uplifting all at once.
Awesome People Make Awesome Babies
The perfect baby shower card for awesome people to celebrate their awesome baby. After all, if the next generation is being raised by awesome feminists then things are going to be just fine.
Here's To Strong Women Card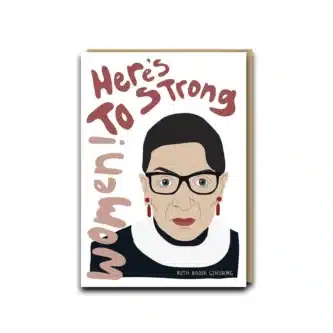 Few people are more badass than Ruth Bader Ginsburg. She might not be a traditional feminist icon, but she definitely earns her place when it comes to inspirational female role models. And the mom you're celebrating with is going to need all the strength they can muster to raise that tiny human.
You've Got This Girl Card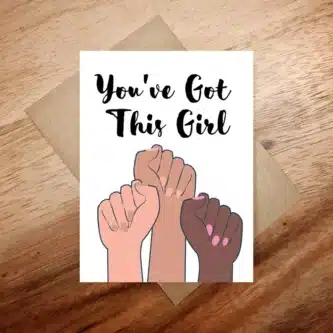 Everybody needs some encouragement before a major life changing moment, like giving birth. This card is simple but has a strong message behind it. You've got this girl!
Praise Be Card
The Handmaid's Tale is well appreciated by feminists everywhere. This card is ironic, but any fans of the show or book will get the humor (and statement) in this feminist baby shower card.
Fabulous Card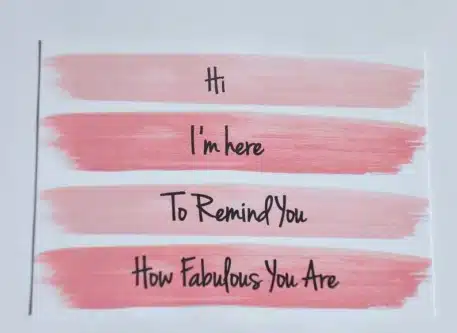 Every female should be reminded how fabulous they are, especially when they are about to bring a baby into the world!
You're My Shero Card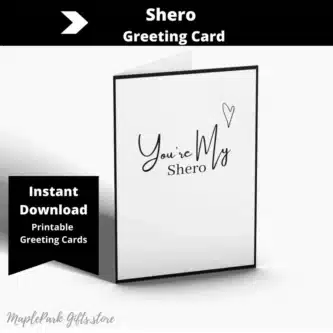 This instant downloadable card is the perfect way to tell your feminist friend how much you look up to them.
You Are A Force Card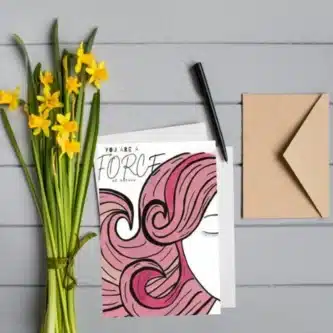 Every women needs a reminder about what a force they are, especially when they just had a baby or are about to have a baby.
Strong Women Print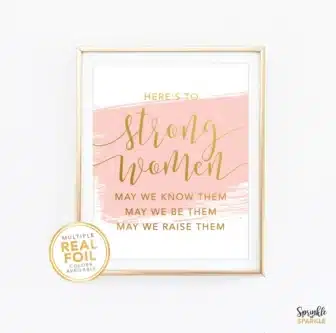 This beautiful pink and gold strong women saying can be instantly printed and framed or made into the perfect baby shower card.
All of these feminist baby shower cards are perfect ways to celebrate the mothers bringing the next generation of feminists into the world. It might not happen in our lifetime, but with each generation we grow closer to true equality for women.