Disclosure of Material Connection: Some of the links in this post may be "affiliate links." This means if you click on the link and purchase an item, I will receive an affiliate commission. Disclosure in accordance with the Federal Trade Commission's 16 CFR, Part 255. This site is a participant in the Amazon Services LLC Associates Program, an affiliate advertising program designed to provide a means for sites to earn advertising fees by advertising and linking to Amazon.
Those that follow me on twitter may have seen that someone in my community died in an accident on Sunday. This prompted me to ask for ideas for a meal train, which was met with a lot of "What is a meal train?" questions. A meal train is just a more formalized way of taking meals to grieving and celebrating families that can use them, where people sign up for different days.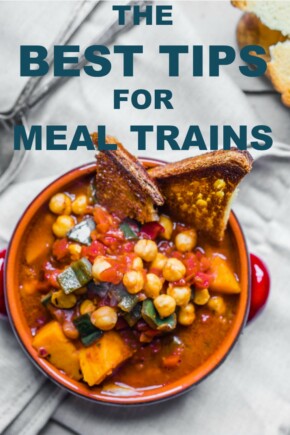 Taking Meals to Grieving and Celebrating Families
Common times to use them are when a family has had a new baby, someone has had surgery, there is a funeral, job loss, moving into a new house/city, or another major life event. They are not just to take meals to grieving families, they're for happy but tiring occasions too! They have been around for a long, long time, I remember my parents making things to take to other people when I was a little kid. However, thanks to ye-olde-internet, they are much easier to organize now!
What can I use to start a meal train?
For a year or two, I have known about MealTrain.com and used it several times. Basically, it helps avoid the "40 lasagnas" problem, by having a calendar with meal dates, ie 1 week worth of meals or Monday, Wednesday, Friday for two weeks, or once per month on a certain day, etc. There is also a section to put favourite meals and a section for allergies, plus you can see what others will be taking. Once you set it up, you can send invites to participants via email, or posting to Facebook friends, or giving people the direct link. Here is a screen shot of an example Meal Train:
It is free to use, and I definitely recommend checking it out if you have an occasion to do so. I have written about giving food as a gift many times in the past, most recently I wrote about giving a family a prepared meal for a new baby. There are other websites that do this as well, but I haven't used them yet myself.
When I asked for meal ideas on twitter, I got some great ones from The Asian Pear, Kara Cooks and Budget for Health. In particular, the Asian Pear made several good points. I'm going to combine the tips that came via twitter with mine for this list of meal train tips.
Tips for Taking Meals to Families
Pick healthy, comfort foods.
Take snack type foods, like veggie and fruit trays, chips and salsa, appetizers, hummus, crackers and spreads, granola bars, fruit leathers. Again, healthy and really easy to grab are key. Stress eating is bad, especially when it's unhealthy food.
Take drinks to make it a complete meal.
One dish wonders are the best. Choose something with protein, veggies and carbs. Then there's a single dish for the family to deal with.
Croc pot style meals are also fantastic, as they can stay warm for a long time without overcooking.
Pick things that can be easily frozen. They may be inundated with food at the beginning, but it will taper out over time.
Simplify the need for serving utensils, prep work and clean up. If you can, use empty yogurt containers and things that can be easily recycled. While not great for the environment, tin take out baking pans and ziplock bags are great for this.
Clearly label things with directions and again, make it simple. Things like "Bake at 350 for 45 minutes" with a bag of buns and a veggie tray are perfect.
Label things with their ingredients. While you may know the allergies and preferences of the immediate family, what if someone stops by and ends up staying for a meal?
If you take things you need back, label them with your name and a phone number or email address. The Meal Train Etiquette page also suggests taking a large paper bag with your name on it, for storing your things to return to you.
If you don't need your ziplock containers back, say so in a written note, so no one stresses to return them to you.
Take out works too!! Make sure you have tips and delivery time organized in advance. You can also give frozen grocery store meals like lasagna, or pick up a deli rotisserie chicken + sides.
Don't expect a thank you note. It is likely the last thing on people's minds and well it should be. Be happy knowing that you were able to help out.
Consider including some staple groceries, such as a jug of milk, bananas, apples, applesauce, or super-easy prep food like a box of pasta and jar of sauce.
If you can, ask what the family would like to eat, or what kids would like to eat. This is especially good for teenagers, who may be feeling left out or lost. An awesome idea that I spotted in a comment was to send an "order menu" with a few meal options that you could make and let them pick.
Include a kitchen or outdoor garbage bag or two, so clean up is even easier and in case they run out but aren't up for shopping.
Other things to consider including: boxes of ziplock bags, tinfoil, lightbulbs (rooms and lights are being used much more than normal!), toilet paper, paper towel, kleenex, air fresheners, kitchen garbage bags, masking tape + a marker (to help them label anything that needs to be returned), bottled water, dish soap.
Other Things You Can Do To Help Friends
Many people will decline if you ask, but will be extremely grateful if you just go ahead and do them. (With direction when needed, of course.)
Mow the lawn
Take out the trash for garbage day
Walk and/or feed the pets. Go out and buy more pet food if it is needed.
Water the garden
Fill their vehicle up with gas
Buy groceries or anything they may need (see the toilet paper reference above!)
Clean the bathroom, kitchen or vacuum/sweep
Shovel the driveway
Check the mail. If you are really close to them, you could consider sorting the mail and ensuring that they pay their bills on time. Late fees are an extra kick in the face when you're already overwhelmed!
Babysit
Do the laundry
_____________ (your idea here)
Thank you to Simple Bites for some tip suggestions as well, they have a great article I'd recommend you read.
Stay tuned next week for some more meal suggestions!