Disclosure of Material Connection: Some of the links in this post may be "affiliate links." This means if you click on the link and purchase an item, I will receive an affiliate commission. Disclosure in accordance with the Federal Trade Commission's 16 CFR, Part 255. This site is a participant in the Amazon Services LLC Associates Program, an affiliate advertising program designed to provide a means for sites to earn advertising fees by advertising and linking to Amazon.
One of the most notable figures in American history, Abraham Lincoln gives people more than a few reasons to celebrate. The 16th president preserved the Union, issued emancipation, and left a lasting legacy on an entire nation. This gift guide gives you everything you need to celebrate the birthday of Honest Abe!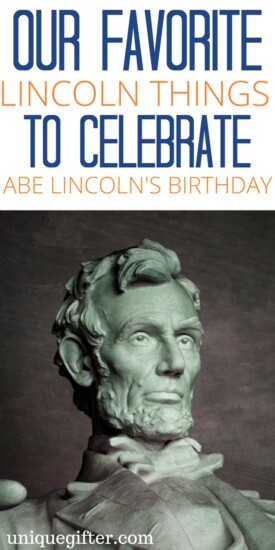 "Emancipation Proclamation" Folk Art Print
Adorn your empty wall space with Lady Liberty riding atop the glorious chariot of emancipation in this classic folk art piece commemorating Abraham Lincoln's prolific Emancipation Proclamation.
Abraham Lincoln Life-Sized Standee
Who better to celebrate the nation's most esteemed president than the man himself? This life sized cardboard cutout of Abraham Lincoln, (America's tallest president), is sure to be the life of the party.
Lincoln Silhouette Cookie Cutter
Party tip: Honest Abe's side profile makes for a great cookie cutter! Wow your annual Lincoln Birthday celebration guests with some iconic cookies.
Abraham Lincoln: Vampire Hunter Blu-Ray
There are Christmas, Halloween, Thanksgiving and even Easter films, but nothing to watch on the 16th President's birthday celebration. Worry not, Abraham Lincoln: Vampire Hunter is the perfect way to kick back and enjoy (arguably) the greatest Lincoln film ever!
Lincoln 1860 T-Shirt
Transport yourself back to the election of 1860, and let all of your friends and family know who you're backing with this fashionable 'Lincoln 1860' campaign T-shirt!
The Autobiography of Abraham Lincoln
Don't know where to start when preparing for the upcoming Lincoln quiz night? Look no further, this reprinted copy of Abe's autobiography is sure to give presidential historians and casual readers alike everything they need to know.
Abe Lincoln Scented Candle
The ideal gift for your favorite Lincoln loving friend or loved one, this Abe Lincoln (…scented?) candle is perfect for a relaxing quiet night in.
"Four Score and Seven Beers Ago" Shot Glass
Let's face it, everyone these days has a shot glass collection. Whether it's for your upcoming Honest Abe birthday celebration or for gifting, this humorous ceramic shot glass is sure to get a few laughs!
Vintage Abraham Lincoln Teddy Bear
The perfect gift idea for any Abe Lincoln fan is something to add to their collection, and this special edition vintage teddy bear is sure to do the trick.
Lincoln "Stovepipe" Top Hat
You're not going to want to miss the boat on this piece for your Abe Lincoln birthday celebration. This iconic 'stovepipe' hat is one of the most recognizable features of the 16th President of the United States.
Abe Lincoln Novelty Socks
Everyone needs a lucky pair of socks, why not ones adorned with Honest Abe? Check out this pair of novelty crew socks and strut with confidence and who knows, maybe they'll make you look as tall as Lincoln himself!
Lincoln Gettysburg Address Wall Hanging
What's your living room missing just in time for the 16th President's birthday? That's right, a wood engraved silhouette with the Gettysburg Address. Impress your guests with this hand crafted decorative wall hanging commemorating one of Abe Lincoln's greatest speeches.
Abraham Lincoln Bobble Head
Great for the car, bookshelf, office or last minute gift idea, this Honest Abe bobble head figure is a funny way to show others your appreciation of President Abraham Lincoln. Besides, what better way to start off your presidential bobblehead collection?
1945 'One Cent' Lincoln Penny Cufflinks
These steel 1945 'one cent' penny cufflinks make for a dapper Abraham Lincoln themed gift. Show off your favorite president in style with this impressive addition to your wardrobe.
Abraham Lincoln Party Costume
Trying to get the perfect Abe Lincoln costume together in time for the 16th President's birthday party celebration? Look no further, this polyester Honest Abe costume has everything you need to fit the part!
Lincoln Memorial Statue Figurine
Everyone's been there; the books on your desk just keep falling over and you can't find a solution based on your favorite 19th century president to hold them up. This metal figurine of the well-known Washington D.C. Abraham Lincoln Memorial Statue that hallmarks the National Mall in the nation's capital is the way to go.
"Abolish Sleevery" Tank Top
This men's tank top featuring a hilarious Abraham Lincoln pun is sure to turn some heads. After all, you don't need sleeves to celebrate Honest Abe's birthday.
Lincoln Logs Toy
One of the most iconic and collectable American toys, Lincoln Logs are a great themed gift for any Abe Lincoln lover young and old. Having been born in a log cabin himself, Abraham Lincoln couldn't have come up with a better gift idea himself!
Presidential Coin Stamps Feat. Lincoln Penny
Leave your mark with these awesome vintage rubber stamps featuring the Lincoln penny, Kennedy half-dollar, and the Liberty quarter. These stamps are great ideas for Lincoln themed crafts and parties, not to mention gifts.
Abraham Lincoln Chia Planter
The ubiquitous Chia planter is perhaps the coolest way to commemorate the 16th President of the United States. In the style of an Abraham Lincoln bust, this Chia planter makes for a comical desk ornament.
Lincoln Penny Charm Bracelet
This Lincoln penny charm bracelet is a gorgeous way to show off your love for Honest Abe. Featuring three copper charms affixed to a fashionable bracelet, this piece is sure to make a stunning gift for anyone on your list.
Abraham Lincoln's birthday celebration calls for a great gift, hopefully you've found something to mark the occasion!