Disclosure of Material Connection: Some of the links in this post may be "affiliate links." This means if you click on the link and purchase an item, I will receive an affiliate commission. Disclosure in accordance with the Federal Trade Commission's 16 CFR, Part 255. This site is a participant in the Amazon Services LLC Associates Program, an affiliate advertising program designed to provide a means for sites to earn advertising fees by advertising and linking to Amazon.
"Honey? Where's my super suit?" From its original release in 2004 to the sequel in 2018, The Incredibles has been a part of our lives for a long time. Though oddly enough, they haven't aged a bit. Anyways, this great movie inspires some even better gifts! See below for some unique gift ideas.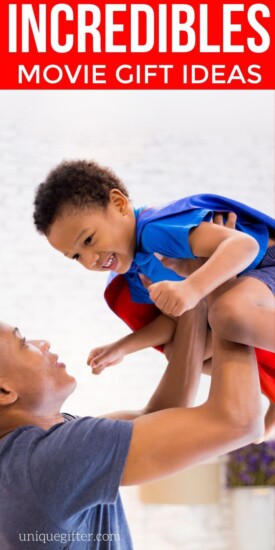 Incredibles Gift Ideas
If you know someone who can't get enough of the movie The Incredibles, then this is perfect for you!
Incredibles Logo Cookie Cutter
What better gift for someone who loves the movie and baking? Not much else, unless you make the cookies yourself!
"Red Makes A Statement" Edna Mode Shirt
Edna Mode knows fashion, and this is it. A perfect way to show some love for your favorite character!
Incredibles Knotted Headband
This gorgeous design is a perfect addition to any outfit. Great for the parks or any day wear.
Incredibles Silver Pocket Watch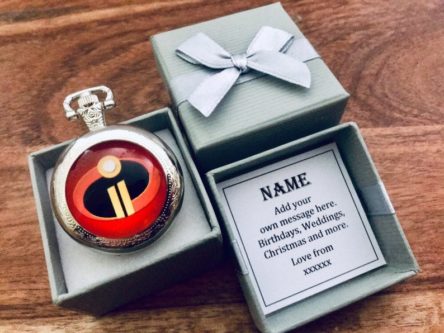 An incredible gift for dad or a boyfriend. No excuses for being late now!
"No Matching Shirts" Edna Mode Button
If you've ever been to a Disney park, you know matching shirts are a tidal wave. This is Edna Mode's take on it.
Incredible Mickey Ears

You can never have too many ears. Great for a ride on the Incredicoaster, but make sure you hold onto them!
"No Capes" Raglan Tee
If you take anything from the movies, it is that capes are NOT in style. But this shirt is!
The Incredible Family Hoodies
These are kind of adorable, right? Stay comfy and close to your amazing family!
Incredible SuperHero Lanyard
Great for keeping your ID and keys in one place. And it has the whole family on it!
Jack Jack Inspired Necklace
Jack Jack was the best character in the second movie, for sure. Show him some love with this cute necklace.
Incredibles Reversible Dog Bandana
Pets are a part of the family, so why not the Parr family? A cute gift for your even cuter dog.
Jack Jack Incredibles Pin
A perfect pin to add to any collection! Make sure you don't trade this one away by accident, you might make Jack Jack mad.
Incredibles Clip-on Bow Tie
An accessory for the guys that don't disappoint. Great for having fun when dressing up!
Snowflake Incredibles Ornament
A classy way to display your love for the movie. These "snowflakes" work with any tree and could be used as Christmas decor!
Incredibles Superhero Socks
Getting socks as a kid was a disappointment, but not with these! Great for all ages.
Coffee Mug
Enjoy a hot cup of coffee in this Incredibles Mug!
Incredibles Family Car Decal
A much better alternative to stick figure families. And way more super.
Incredibles ID Holder
Perfect for work! This makes you like Elastagirl, right?
Frozone Disneyland AP Magnet
A magnet for the coolest character. Great for your car or the fridge!
Incredibles Pillow Set
Cute pillows to spice up your decor. Action-packed dreams not included.
I hope these things can make every day a little more super! From Jack Jack to Mrs. Incredible, these are presents for everyone in your life. Over a decade of moments to love from the Incredibles make for amazing gifts. "Oh, ho ho! You sly dog! You got me monologuing!"- excuse me while I go rewatch the original movie and its sequel.