Disclosure of Material Connection: Some of the links in this post may be "affiliate links." This means if you click on the link and purchase an item, I will receive an affiliate commission. Disclosure in accordance with the Federal Trade Commission's 16 CFR, Part 255. This site is a participant in the Amazon Services LLC Associates Program, an affiliate advertising program designed to provide a means for sites to earn advertising fees by advertising and linking to Amazon.
Does your life sometimes seem a bit too relatable to an episode of Kitchen Nightmares? Put down your chef's knife, take off your apron and put your feet up with this Gordon Ramsay themed gift guide. Find the perfect present for your culinarily inclined friends and loved ones with some top-notch finds.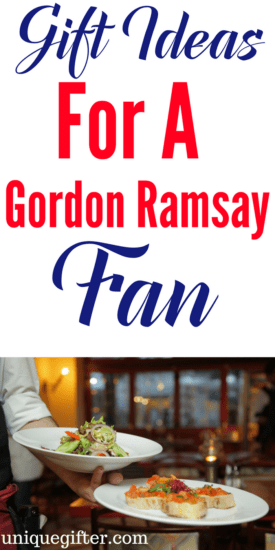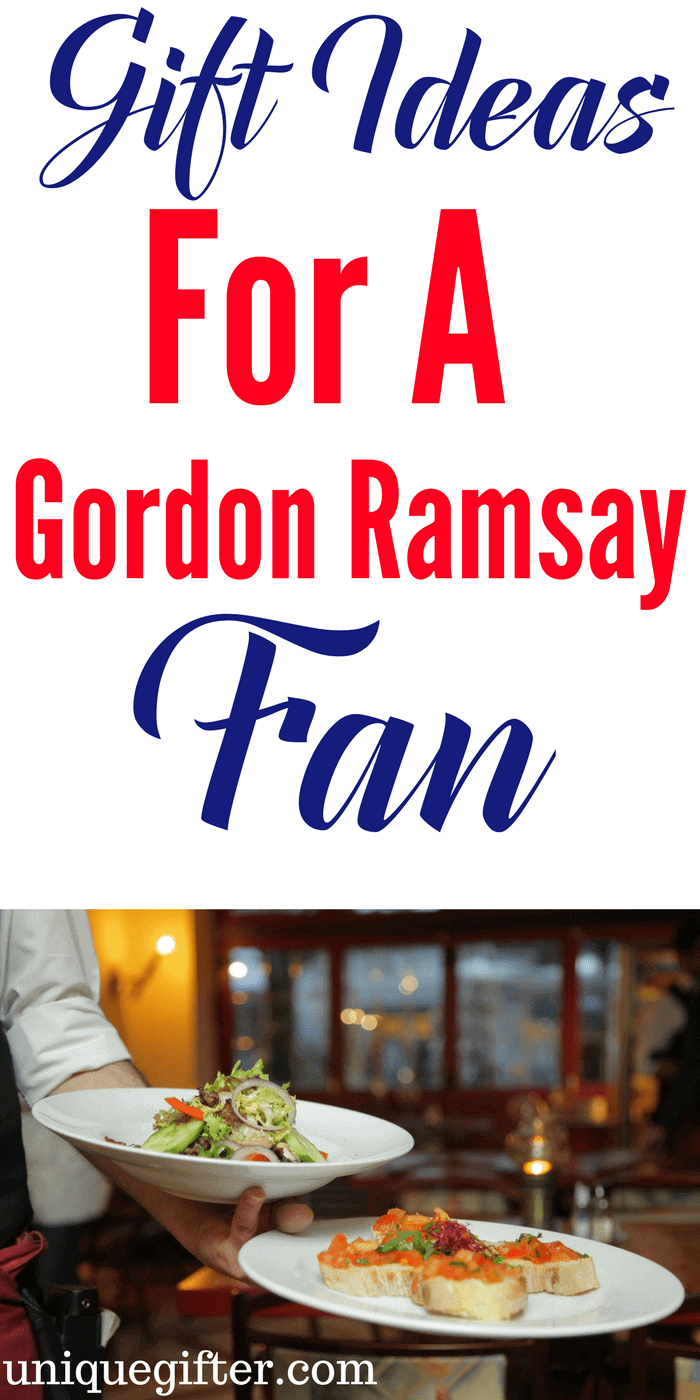 Life Sized Gordon Ramsay Cutout
Always wanted to meet one of TV's most recognizable chef extraordinaires but never had the opportunity? This life sized cutout of Gordon Ramsay is so realistic, you'll find your cooking will improve just having him in the kitchen with you!
Gordon Ramsay Coloring Book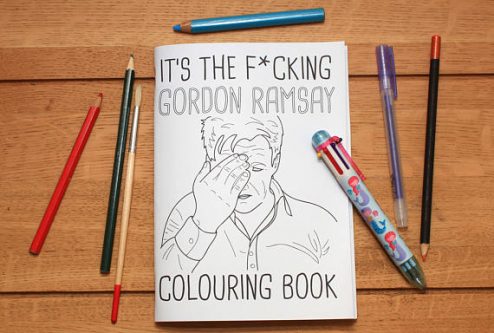 Coloring books are all the rage with hapless millennials right now. If you need a break from your Hell's Kitchen training regimens kick back with this hilariously profane Gordon Ramsay coloring book.
Gordon Ramsay Face Mask
Ever wanted to walk into a restaurant pretending you're in an episode of Kitchen Nightmares? This eerily photorealistic Gordon Ramsay face mask is just the ticket! If not, it would make for a great gag gift idea for any professional chefs in your life!
"It's Raw!" Mug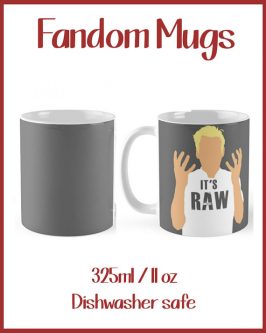 Show off your Gordon Ramsey love with one of his favorite quotes, "It's Raw!", at the office with this ceramic mug!
Digital Cooking Thermometer
Don't get kicked off the line during your Hell's Kitchen debut with this trusty digital cooking thermometer. With no need to calibrate, this thermometer will ensure your roast hits the right internal temperature any time. (It will also keep you from being insulted on live national television!).
Humble Pie Autobiography
There's a lot more to the chef on TV that you might have thought. Hear it through his own words in Gordon Ramsay's autobiography, Humble Pie. This gift idea is sure to be a hit with any fan of the TV legend.
Gods of the Kitchen Framed Picture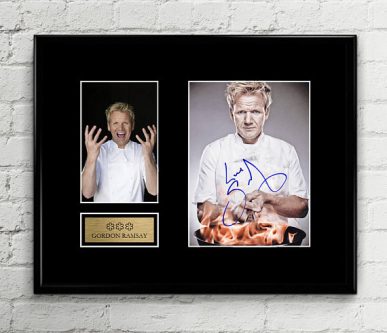 This framed picture will appeal to any of your friends or family in the cooking business. An illustration of Gordon Ramsay, Paul Hollywood, Nigella Lawson, Jamie Oliver, Heston Blumenthal and Gregg Wallace is sure to contain some of their favorite celebrity chefs.
14-Piece Gordon Ramsay Knife Block Set
Featuring 14 stainless steel Royal Doulton knives, this professional grade knife set makes for an impressive and practical gift for any Gordon Ramsay fan.
Gordon Ramsay Christmas Card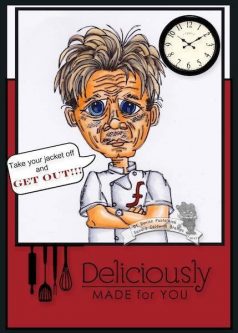 "Why did the turkey cross the road? Because you didn't F**king cook it!" This illustrated Christmas card is the best way to show your holiday cheer for that one special cook in your life!
Hell's Kitchen Nintendo DS Game
I bet you never knew there was a Gordon Ramsay videogame, neither did I! This Nintendo DS game is the perfect way to occupy your Gordon Ramsay obsessed friend on their flight to their Hell's Kitchen audition.
Gordon Ramsay Socks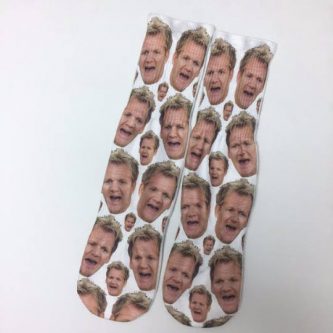 Everyone needs a lucky pair of socks. This pair of socks adorned with Gordon Ramsay's face make for a funny gift for any of your Kitchen Nightmare loving friends. (If you're buying these for yourself, I won't tell!)
Bread Street Kitchen Hardcover Cookbook
This cookbook developed by Gordon and the team from the legendary modern European cuisine restaurant the Bread Street Kitchen. It features a variety of recipes sure to please any of the culinary minded people in your life!
Gordon Ramsay Cross Stitch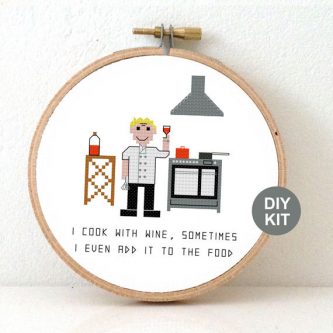 This cross stitch DIY kit is the perfect craft gift idea for any Gordon Ramsay fan. It features chef Ramsay and the humorous quote, "I cook with wine, sometimes I even add it to the food!"
Gordon Ramsay Cookalong Live DVD Set
This DVD box set features Gordon Ramsay's Cookalong Live series, an instructional cooking series designed to introduce the viewer to new recipes and cooking methodology. The episodes are produced in real-time so the viewer can cook along without pausing.
Hell's Kitchen Logo Apron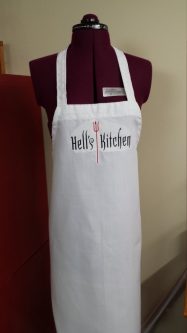 If you want to cut it in the world of culinary arts you've got to dress the part. This Hell's Kitchen apron is a great gift idea for that aspiring chef in your life!
Gordon Ramsay Kitchen Fryer
Eating too healthy lately? Need to shake up your meal plan a bit? Gordon Ramsay fan? Perfect, this Gordon Ramsay brand deep fat fryer is the perfect gift to get your recipes sizzling.
Gordon Ramsay LEGO Minifig
Based on Gordon Ramsay's show F Word, this LEGO minifigure makes for a truly unique collectable gift idea. Custom printed and specially made, you can't find this anywhere else.
Gordon Ramsay 16-Piece Dinner Set
This 16-piece stoneware dish set makes for a great wedding gift idea, if not the next addition to your Gordon Ramsay inspired kitchen setup! From Royal Doulton Gordon Ramsay line, this set is sure to impress any lover of the famous TV chef!
The Hell's Kitchen Cookbook
Any fan of the hit TV series Hell's Kitchen could definitely use this set of recipes in their collection! The Hell's Kitchen Cookbook: Recipes from the Kitchen allows fans of the show to recreate over a hundred recipes featured in various episodes.
Chef Designs White Chef Coat
This line of professional chef's coats are ideal for the aspiring celebrity television chef. This is the perfect gift to surprise any of the culinarians in your lives. After all, they've got to dress the part!
Rouxbe Online Cooking Course
If the end goal here is to be able to cook like Gordon Ramsay, then a Rouxbe Professional Cook certification is just the thing you need. These online courses are fun to do and comprehensive. There are even specialty courses available, like Essential Vegan Desserts. Mmmmmm. Click here to read a full review of Rouxbe.
Get cooking with this collection of Gordon Ramsay themed gift ideas. Whether it's a present for a friend (or a well earned one for yourself), you're sure to find something to suit any occasion!