Disclosure of Material Connection: Some of the links in this post may be "affiliate links." This means if you click on the link and purchase an item, I will receive an affiliate commission. Disclosure in accordance with the Federal Trade Commission's 16 CFR, Part 255. This site is a participant in the Amazon Services LLC Associates Program, an affiliate advertising program designed to provide a means for sites to earn advertising fees by advertising and linking to Amazon.
5th grade students are kind of harder to shop for than their previous years. These rambunctious kids are starting to enter the tween years, but still not so old they don't want Valentine's Day treats. If you can't find enough great Valentine's Day gifts here check out our gift ideas for other grades here.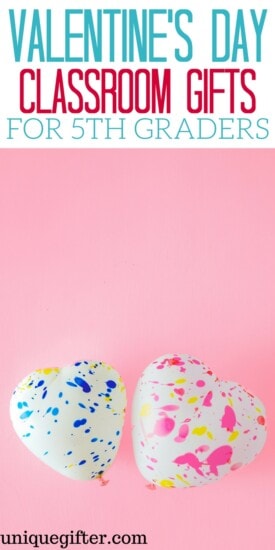 Valentine's Day Classroom Gifts for 5th Grade Students
Silicone Bracelets
Silicone bracelets are are inexpensive, fun addition to loot bags or just to hand out to classmates.
Pencil Toppers
Don't miss your mark! Make pencil gift giving a lot more fun by picking up these arrow felt toppers.
Fun Chocolates
Give out something cute to the class like these Kit-Kat bars with cute Valentine's Day cats on them.
Heart Bath Bombs
They may be more of the showering age but that doesn't stop 5th graders from taking a bath just to use their bath bombs in it.
XO Cookie Cutter
This is a great addition to DIY cards or just as a fun gift to hand out to students. They can go home and make their own Valentine's Day cookies.
Activity Set
Instead of just simple paper cards for the class, give these instead. The card is an activity sheet and it comes with pencils to give out too.
Stickers
Don't think 5th grade students have outgrown stickers. Just make sure you choose something that's not super childish like these dog stickers.
Candy Hearts Pins
You can't eat them but these candy heart pins still have sweet messages. 5th grade students will enjoy attaching them to their backpacks or wearing them on Valentine's Day.
Zombie Bookmark Cards
Fight the zombie outbreak by reading! These fun cards have zombie bookmarks that pop out of each card so the can have more braaaaaaiiiinssssss.
Hair Ties
Instead of toys or candy, maybe give something they can use again and again for your next Valentine's Day classroom exchange. These handmade hair ties are a cute choice.
Heart Sunglasses
These would be a great item to stick onto your Valentine's Day cards for a little bit extra fun. Bonus points if you make something with a good pun, such as "You're so bright".
Pixel Hearts
Is your 5th grader, like most, obsessed with Minecraft? They're going to love this.
Fancy Treats
5th grade students are old enough to appreciate good quality treats. Get them something extra fancy so they feel special on Valentine's Day.
Cotton Candy
Sure, it's still a treat, but it's a really unique one! These bags come pre-filled with cotton candy and labelled so you'll be all ready to go.
Conversation Magnets
Instead of candy hearts why not give out little magnets that get the messages across instead?
Flower Soap
They'll be happy to wash their hands after receiving these cute flower shaped soaps as a Valentine's Day gift. The little heart in the middle makes these really special.
Valentine's Day Mug
If you really want to go all out fill a mug with conversation hearts, chocolates, or marshmallows for a fun treat.
Slap Bracelets
Remember getting these as a kid and loving it? Yeah, kids still love them.
Pusheen
If your kid's 5th grade class is small it would be pretty cool to give out something popular among the kids, like this stuffed Pusheen toy.
Did you know 141 million cards are exchanged each year for Valentine's Day NOT including classroom exchanges? Now you do. Instead of cards choose a fun gift by using our best gift ideas for classrooms.