Disclosure of Material Connection: Some of the links in this post may be "affiliate links." This means if you click on the link and purchase an item, I will receive an affiliate commission. Disclosure in accordance with the Federal Trade Commission's 16 CFR, Part 255. This site is a participant in the Amazon Services LLC Associates Program, an affiliate advertising program designed to provide a means for sites to earn advertising fees by advertising and linking to Amazon.
Graduation season is fast approaching, and if you have a grad in your life you are most likely starting to plan a party to celebrate their accomplishments. Whether they are graduating from kindergarten or University they deserve to be celebrated! Check out our list of fun Graduation Themed Recipes below.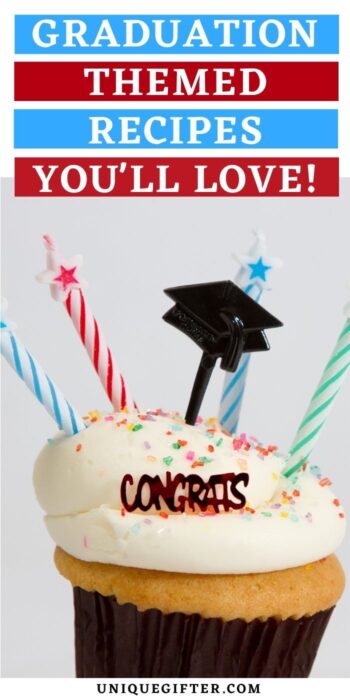 Recipes and Entertaining Ideas for a Graduation
Cakes, cupcakes, cookies, and even some easy to do crafts! This list has something for everyone. The best part is all of these recipes and DIY projects can easily be personalised to match your grads school colors, their name, or even what they are graduating from. Endless possibilities on how you can make it your own.
Don't be afraid to get creative and make these recipes your own! We know whatever you choose your Grad will be happy and grateful for all your hard work and thoughtfulness.
Planning Your Themed Menu
When it comes to planning your menu, think about your Grad you are celebrating and what they enjoy. Are they a cookie or cupcake fan? Do they prefer Vanilla over Chocolate and so on. Make sure you give some thought before deciding on your final menu! Have a few tasty treats to offer as well at your party.
DIY crafts are always a very nice personalized touch, it's why we decided to include some! You can incorporate them into your menu as well, paper Grad hats work as a great foundation for your food items, printable personalized gift tags work to label what the items are and just add a nice touch. Use your imagination! DIY items are also a great way to cut costs in the end, party stores have great décor but they also come with a large price tag! Have fun planning and decorating your party!
Capture Those Memories
Although graduation is a joyous time it can also be a very emotional time! Make sure you have your camera and Kleenex handy on their big day and during their party! Try your best to soak it all in while also capturing those precious memories you can look back on! Don't forget to take pictures of your creations you make too! It's often forgotten and often regretted later on!
Graduation Themed Recipes
Know someone whose graduating soon? This list of Graduation Themed Recipes and printables is the ultimate collection of ideas to help plan the PERFECT menu to celebrate the Grad in your life!