Disclosure of Material Connection: Some of the links in this post may be "affiliate links." This means if you click on the link and purchase an item, I will receive an affiliate commission. Disclosure in accordance with the Federal Trade Commission's 16 CFR, Part 255. This site is a participant in the Amazon Services LLC Associates Program, an affiliate advertising program designed to provide a means for sites to earn advertising fees by advertising and linking to Amazon.
Looking for a bloody good dessert this Halloween season? Check out these chocolate bloody skull cupcakes! These disgustingly bloody treats are packed full of chocolate flavor and are sure to be a huge hit this halloween! Every party needs a chocolate cupcake! Check out our full ingredients and instructions for our Bloody skull cupcakes recipe below.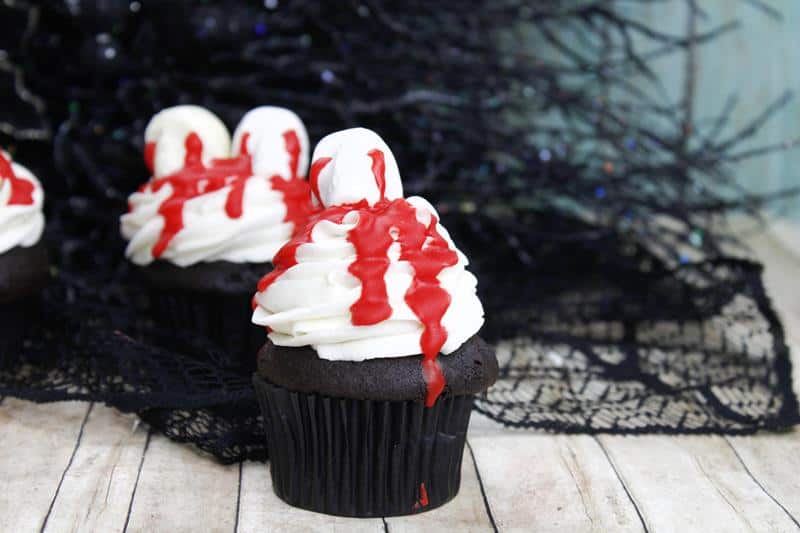 Bloody Skull Cupcake Recipe for Halloween
Want to enjoy a sweet treat while keeping with the uniquely creepy atmosphere of Halloween? Look no further than these delightfully 'bloody' cupcakes that you can easily whip up in an afternoon! (Or evening, for our vampire friends out there). Below you'll find some detailed instructions as well as all of the ingredients you'll need to create these hauntingly delicious cupcakes for yourself!
Tips for Making This Skull Cupcake Recipe

For best results for icing cupcakes we highly suggest using a large piping bag fitted with a star tip. Once you have iced all your cupcakes add a sugar skull on top of your cupcakes followed by using your two tubes of red cookie icing to create the bloody look! Don't be afraid to make them extra bloody from maximum spooky-factor!


How to Personalize These Halloween Cupcakes

If you aren't able to track down candy skulls never fear, you can use any type of Halloween themed candy on top or simply omit it all together. Your cupcakes will still look bloody disgusting..but delicious with just the red icing flowing down it.
Makes 14 cupcakes
Prep : 15 minutes
Bake : 20 minutes
Cool : 10 minutes
Frosting : 10 minutes
Decorating
White chocolate skulls
2 8 oz bag wilton white candy melts
Directions
Follow the directions on the candy melt bag to learn how to melt the candy melts
Follow the directions on the mold to learn how to create the skulls, you will need about 30 small
white candy melt skulls
Once you have your skulls made, set them aside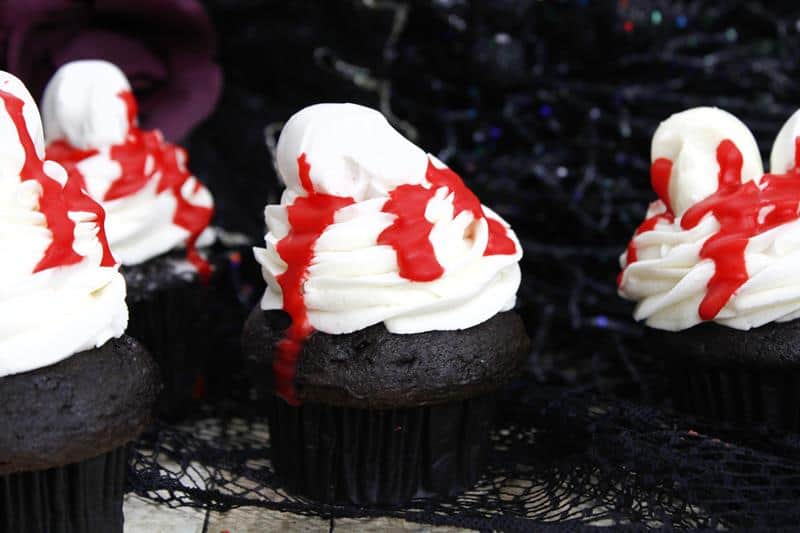 Ingredients
1 – triple chocolate cake mix
3 large eggs
½ unsalted sweet cream butter, softened
1 ¼ C whole milk
Vanilla frosting
1 ½ C unsalted sweet cream butter, softened
5 ½ C powdered sugar
3 tsp pure vanilla extract
4 tbsp heavy whipping cream
1 large piping bag fitted with star tip
2 tubes of red cookie icing
Directions
Preheat oven to 350 degrees and place cupcake liners into cupcake pan
Using a standing mixer or hand beater, combine all cupcake ingredients and beat until
combined and smooth
Fill the cupcake liners ¾ way full with batter
Bake in the oven for 20 – 22 minutes or until the tops bounce back when touched
Allow to cool completely
Using a standing mixer, beat the butter, powdered sugar, vanilla and heavy whipping cream with
paddle attachment until combined, creamy and stiff
Scoop the frosting into the piping bag and pipe a thick dollop of frosting on top of the cupcake
Place two skulls onto the frosting
Using the red icing, pipe blood details on the skulls to create a bleeding effect
Enjoy!
Bloody Skull Cupcake Recipe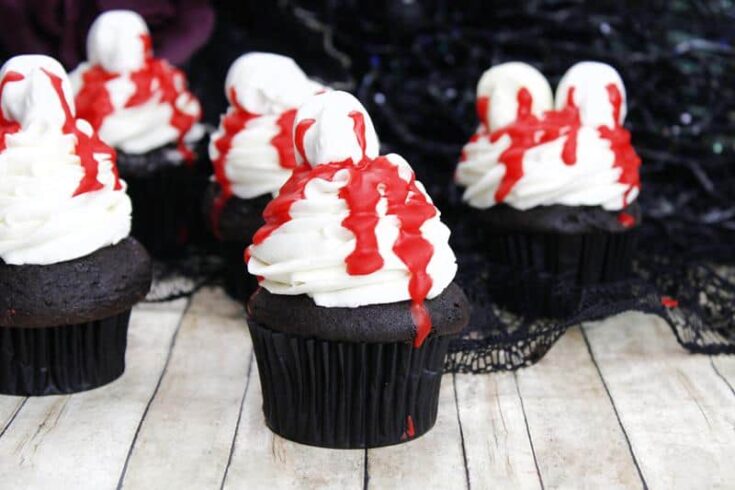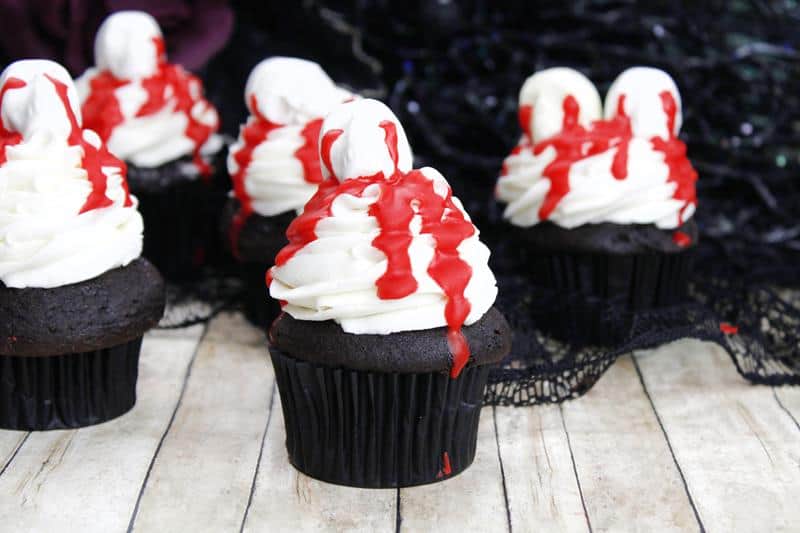 Additional Time
10 minutes
Deprecated
: Use of option key MVCP_site_id is deprecated. Use mcp_site_id instead. in
/home/nginx/domains/uniquegifter.com/public/wp-content/plugins/mediavine-control-panel/lib/class-mv-migration.php
on line
187
Ingredients
White chocolate skulls
2 8 oz bag wilton white candy melts
Chocolate skull molds - Amazon
Follow the directions on the candy melt bag to learn how to melt the candy melts
Follow the directions on the mold to learn how to create the skulls, you will need about 30 small
white candy melt skulls
Once you have your skulls made, set them aside
Ingredients
1 - triple chocolate cake mix
3 large eggs
½ unsalted sweet cream butter, softened
1 ¼ C whole milk
Vanilla frosting
1 ½ C unsalted sweet cream butter, softened
5 ½ C powdered sugar
3 tsp pure vanilla extract
4 tbsp heavy whipping cream
1 large piping bag fitted with star tip
2 tubes of red cookie icing
Instructions
Preheat oven to 350 degrees and place cupcake liners into cupcake pan
Using a standing mixer or hand beater, combine all cupcake ingredients and beat until
combined and smooth
Fill the cupcake liners ¾ way full with batter
Bake in the oven for 20 - 22 minutes or until the tops bounce back when touched
Allow to cool completely
Using a standing mixer, beat the butter, powdered sugar, vanilla and heavy whipping cream with paddle attachment until combined, creamy and stiff Scoop the frosting into the piping bag and pipe a thick dollop of frosting on top of the cupcake
Place two skulls onto the frosting
Using the red icing, pipe blood details on the skulls to create a bleeding effect
Enjoy