Disclosure of Material Connection: Some of the links in this post may be "affiliate links." This means if you click on the link and purchase an item, I will receive an affiliate commission. Disclosure in accordance with the Federal Trade Commission's 16 CFR, Part 255. This site is a participant in the Amazon Services LLC Associates Program, an affiliate advertising program designed to provide a means for sites to earn advertising fees by advertising and linking to Amazon.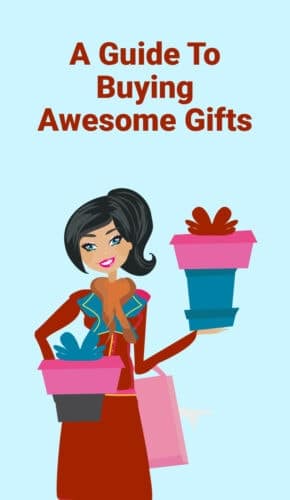 Introduction

You enthusiastically rip the paper off a Christmas gift from a loved one, only to reveal … a pair of socks?! Really? You give a weak smile, an even weaker "thanks", and pop them to one side.
Come on – we've all been there and it's super awkward! No one wants to be the giver or receiver of a terrible gift, but buying the perfect present isn't as easy as it sounds – it's somewhat of an art form, and the truth is that some people are better at it than others.
When buying something for a loved one you want it to be special and you want it to wow them. And you secretly want your gift to be better than the others they receive, am I right?!
But, there is SO much to consider and the whole gift-buying process can easily lose its lustre and become downright overwhelming – especially during the festive season when you're shopping for multiple people.
If you need some help thinking outside of the (beautifully-wrapped) box, then you've come to the right place! Here, we will help you put your days of buying half-hearted gifts for friends and family behind you. Read on to find out how you can become the Giver of Awesome Gifts.
How To Pick The Perfect Gifts

So how do you buy the right gift? It will obviously depend on the person that you are buying for, their likes, dislikes, hobbies and quirks, but we have some top tips and suggestions to guide you in the right direction no matter who the recipient is:
Gift People What They've Asked For
When it comes to buying for loved ones, we want to make sure that the gift says 'I saw this and thought of you', we want it to be an item the recipient never forgets and, most of the time, something they would never think to treat themselves to. While giving a unique surprise has its merits, there's a lot to be said for simply asking someone what they would like.
Yes, we know, you've probably tried that with some people, and you've probably been met with a shrug or an 'I dunno'. But if you can get them to rattle their brains and think about what they'd really like, it can make all the difference.
In fact, studies have even suggested that people find gifts that they asked for more thoughtful than those out of left field (need we say anymore about socks?)

Find out if your loved one has an Amazon wish list – this will give you loads of ideas and you can rest assured you'll be getting something they'll love.
If they aren't telling you what they want, and you don't want to pester them any further, it's time to challenge your inner international super spy and do some digging. Rope in their other loved ones to keep their ears pricked up during conversations – does the recipient mention something they've had their eye on? Excellent – there's your problem solved!
It's also worth finding out what others are buying them – you could chip in or buy them something that would complement someone else's gift nicely.
Now, not to generalize, but … men, we're mostly talking to you here! The woman in your life may not outright tell you what she would like, but you can bet your bottom dollar she will leave you some hints! Have you noticed your partner staring lovingly at a particular pair of shoes at the mall? Have you found a turned down page in your mom's homeware catalogue? Perhaps your significant other has told you about something a friend has and how much she likes it? Guys, here's your clue! Switch on those spidey senses and be alert to the subtle hints your wife, girlfriend, best friend, mom or daughter are leaving you because, trust us, they want you to notice.
It's Time For a Brainstorm
It's time to put your brainstorming skills to the test!
Write the name of your loved one in a bubble in the middle of a piece of paper, then draw bubbles coming from it filled with everything this person loves, their hobbies, and even the little things that remind you of them. This should set the creative juices flowing! You can use this technique to find something that is truly 'them' and you'll be on to a winner.
Does your friend love 80s metal bands? See if you can hunt down a signed copy of one of their albums. Does your brainstorm remind you that your mom was obsessed with lions growing up? How cute would it be to adopt her one?
The thing to remember here is that you don't need to spend a fortune on a gift – you can often just put extra thought into something and it will mean the world to your loved one.
Give Helpful Gifts
When you were a child, you may have scoffed at the idea of getting something practical as a gift – after all, no child really gets excited about opening slippers on Christmas day! However, as we get older, our outlook changes and we cherish the creature comforts and items that make life easier. If you can think of a life-hack-style gift, or something that will take care of a need, then this might be greatly received.
You don't need to worry about it being overly fancy, and complete with bells and whistles either. Ultimately, this kind of gift should solve a problem. For instance, a knife sharpening kit for your foodie friend will ensure that their days of dull knives and hacking at vegetables in frustration are long gone. Or maybe you could get them a recipe book for a cuisine they sampled on a recent holiday, or for a place they plan on visiting in the future

And what about your mom, who ALWAYS feels the cold when she's at her laptop – get her a cute USB foot warmer.
Or grandad, whose knees are getting tired when he weeds the garden? A stool or a personalized knee pad would be so perfect.
If you've got a loved one who is super keen to learn a new skill, then maybe get them a guide book for it or book them into classes.
Plants Make a Better Gift Than Flowers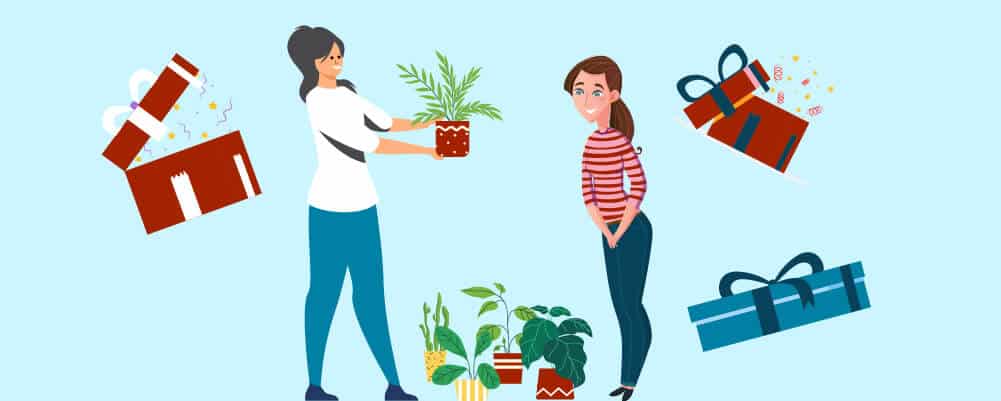 Ah, the sweet romance of presenting your special girl with a bunch of roses. Or that smile on your mom's face when you hand her some gorgeous lilies. There are many Hallmark films with this exact scene. And while lots of people love receiving flowers as gifts, the time to enjoy this particular gift is limited.
A beautiful bouquet will start to wilt and look a little sad after about a week, but, if you give your loved one a plant instead, it should last a lot longer (as long as they don't have a poor track record with plants, that is!)
There are a lot of benefits to giving plants as a gift too. For starters, plants are really great for your health, both physically and mentally, they can help to improve the aesthetic of a room, and they're also a more sustainable gift for the eco-warrior in your life.
Did you know that plants can also be symbolic? Cacti can represent endurance, toughness and tenacity; they can help to keep any misfortunes and negative energy away. And Bonsais emanate wisdom and harmony. Find a plant with a meaning that will resonate with your loved one and you can explain the symbolism to them.
Give Meaningful Gifts
It's worth trying to look for a gift that has some hidden meaning to you and your recipient. Do they have a favorite quote from a book that they like? Do you have an item that reminds you both of a childhood memory? Get out the glitter and the glue and pour your heart into making them something that they can cherish or look back on when they need a little boost.
Have you ever written someone a letter full of all the reasons they're special to you? That would look so beautiful in a frame and just think how uplifting it will be for your loved one to re-read. Or perhaps you could frame a photo of their beloved pet or some super cute candid shots you have of their children?

Remember that simple yet sentimental gifts often mean the most. While we don't encourage you to try and make your loved one cry, if your gift does bring a tear to their eye, you'll know you've done something right.
Gifts that Keep On Giving
While single use gifts can be fun there is far more value in getting your loved one something with long term value. Get them something they can come back to or use time and time again.
What about a wellness journal? Everytime they write in it they can be reminded of you. Or an engraved piece of jewelry to put a smile on their face each time they wear it?
If your loved one adores nothing more than a good TV binge, then treat them to a Netflix subscription. Have they set themselves a Goodreads goal that they're struggling to hit? Sign them up for Audible.
Personalized Gifts From the Heart
Do you remember the thrill of finding a keychain with your name on in a gift shop as a kid? How fun was that?! We all like things that are personal to us. Items that show off our individuality. We don't tend to change a lot in that respect – personalized gifts are still all the rage.
Now, we're not recommending you buy a keychain and, luckily, the personalized gift market has exploded so there's a wonderful plethora of options. Night sky prints are a great personalized gift idea; they can depict the stars on special occasions, such as when they got married or when their first child was born.
You could get them a necklace with an engraving of their dog's paw print on it, so they can keep their furry friend close to their heart for the rest of their life.
Maybe you could get a caricature of the two of you together? It will certainly give them a giggle and bring back happy memories.
Treat Them to an Experience
According to some studies, some people prefer experiences over material items. And giving someone an experience also gives them a lasting memory – and memories are absolutely priceless!
Does your loved one LIVE for music? Treat them to gig tickets.
If you've got a friend with a wild side, then maybe they'd enjoy whizzing around a race track or a theme park trip. Have you got a busy mom in your life? Indulge her in some real 'me' time with a spa day.
If you want to make your experience gift even more special, why not go along with them? And remember to take lots of pictures together!
Avoid Giving Gifts That Are A Hassle
When buying a gift, think about what the recipient has to do to enjoy it. Will they have to go to some trouble for it? Maybe choose something else if that's the case.
Unless your loved one REALLY loves building things, it's usually best to avoid giving them something they're going to have to assemble themselves – no one needs an IKEA moment on their bday!
And unless you're sure that your loved one will LOVE being gifted some classes, don't do it. There's nothing worse than dragging yourself along to something you're not really passionate about, just to show gratitude and keep up appearances.
It's Time to Get Creative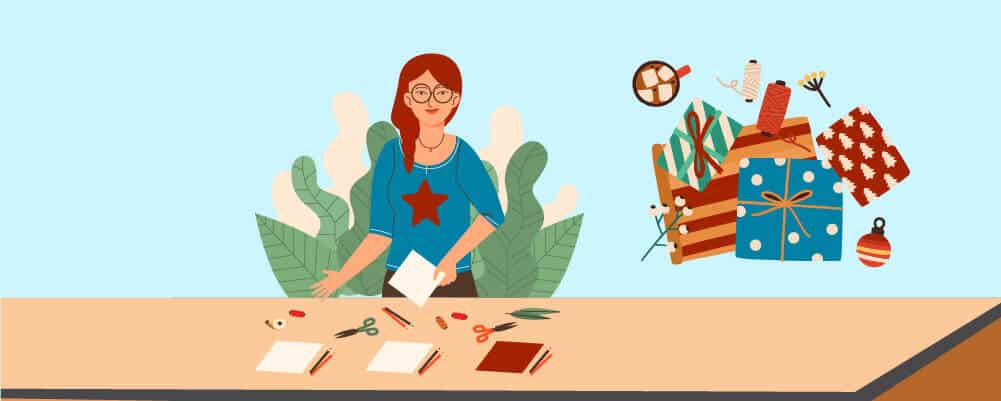 As we have already mentioned, it isn't necessary to spend a small fortune on a gift for someone. Sometimes the most thoughtful gifts are the ones that are made with love and nimble fingers.
DIY gifts can take some time to make but they are worth it. Bonus points here if you are able to recycle or repurpose materials you already have lying around, as sustainability is key!
Now, what you make will obviously depend on your skill set. Don't throw yourself into a Thomas Keller moment if you're terrible in the kitchen! Stick to what you know – the last thing you want is to turn this into something that's going to stress you out as you'll quickly lose interest.
Here's a cool idea for you: Grab a plain old mirror and put washi tape around the sides in order to make a unique, colorful mirror.
Keeping with the colorful theme, try your hand at making bright coasters out of little bits of pallet wood or popsicle sticks.
Or get stuck in with some resin (which is all the rage right now) and make them something truly unique.
If you are looking for some DIY inspiration then head over to Pinterest or YouTube.
Gift Ideas Guaranteed to Please

We're sure you're already brimming with ideas, but we're about to hit you with some more! Here are gift ideas that are bound to please:
Kitchen Gadgets
Your recipient doesn't need to be a culinary master to appreciate some new gear for their kitchen. And while kitchen appliances are often an obvious choice for weddings or housewarmings, they're also great for other occasions.
Machines are a good place to start with kitchen gifts. An air fryer makes a great gift for a health-conscious couple just starting out, but it's also a godsend for a busy family.
If your loved one is somewhat of a coffee snob, treat them to a new coffee machine or an aeropress for the office – their caffeine addiction will thank you!
So we may all have thrown ourselves into breadmaking during the pandemic, but do you have a loved one with a real passion for baking? Get them a bread machine or an automatic mixer to make their hobby easier.
If you don't have a big budget then you don't have to opt for fancy appliances. You could get them a lovely wine glass set or some crockery to match their newly decorated kitchen.
DIY Gift Baskets and Luxury Hampers
Now, we don't know about you, but we LOVE a gift basket and it can be the perfect gift, no matter who you are. Not only that, but a gift basket can be tailored to fit the occasion too. Whether it's Easter, Christmas, a birthday or a get well soon gift, you can create a gift basket that will work in pretty much any context.
It's possible to buy pre-assembled gift baskets and food hampers, of course, but where's the fun in that? Making it yourself allows you to personalize it to perfectly fit your recipient. Got a friend who loves chocolate? Fill a basket with all their favorite treats to satisfy their sweet tooth (perhaps they'll even share with you?…)
So how do you make a DIY gift basket? Well, it's ultimately down to your own creativity. First you're going to need to pick a theme and get hold of a basket – wicker is usually the best choice – fill it with goodies and wrap with cellophane and bows.
Here are some of our top picks for DIY gift baskets and hampers:
Afternoon tea:

Buy some good quality Earl Grey or Oolong Tea, a cute little cup and saucer, a tea strainer and some delicious, dunkable biscuits. You could even add some tasty little cakes.

Coffee lovers:

Pop in a percolator, some ground coffee and some scrumptious syrup to keep them caffeinated.

Cheese and wine:

Name a better combo … we'll wait. Fill this basket with a selection of cheeses in different strengths, a cheese board and knife, and some mini bottles of Pinot Noir, Sauvignon Blanc or Cabernet Sauvignon. Oh, and don't forget the crackers!

Pamper hamper:

Everyone needs some pampering from time to time, so help your loved one take some time out by filling a basket with toner, cleanser, face masks, candles and chocolates.

Basket of fun:

Baskets can be a great gift for little ones too; fill it with sweets, a cuddly toy, a book and a new outfit. They'll love diving in to discover what's inside.

Childhood Candy:

Do you find yourselves talking about the candy you enjoyed as kids? Why not fill a hamper with all the goodies you can find to satisfy your loved one's sweet tooth?

New baby basket:

Baskets are a lovely idea for new parents and their bundle of joy. Fill it with diapers, lotions, baby grows and some cute cuddly toys.

Zen basket:

Just like the pamper hamper, a zen basket can help your loved one take a load off. Pop some candles, some incense and some fluffy slippers into this one – maybe add a meditation guide and an affirmation jar.

Green fingers:

If your loved one adores the great outdoors and growing their own food, then treat them to a gardening hamper. Add some seeds or plugs, and a personalized hand tools set.
Gift Vouchers
Gift vouchers might feel like a cop out, but they're actually a super popular gift. And remember how we talked about helpful gifts? Well gift cards are pretty helpful!
They give your recipient the freedom to buy whatever they would like. All you need to do is to pay for a gift voucher and then hand it over to the recipient. You don't even need to wrap it either, which is another bonus – a hassle-free gift for the both of you! But what kind of gift card should you get?
Well, a universal gift card that will work in a wide range of different stores is a fantastic idea, and will usually work online too. And, let's face it, Amazon has pretty much everything covered nowadays, so you won't go far wrong with an Amazon gift card.
Of course, you can always get gift vouchers that are more specific. You could give them a Spotify or Apple Music gift card so that they can get their fill of the latest tunes. If you've got a loved one dying for some new ink, get a voucher for their favorite tattoo studio. Or maybe they've got caffeine running through their veins? Try a Starbucks gift card.
Subscription Box
The popularity of subscription boxes has skyrocketed, especially as the options have expanded. If you can think of a niche, we're pretty sure you'll be able to scout out a suitable subscription box.
And what's so great about giving someone a subscription box? Well, instead of buying the recipient just one gift, they'll get something each month, for however long you've signed up for. And, let's be honest, we all love receiving something cool in the mail and with a subscription box, your loved one can look forward to this every month. Also, remember we mentioned how great gifts that keep on giving are? Well this, here, is a perfect example!
You need to have a little think about the type of box you want to get for your loved one. Do you want something super useful or one that is just pure fun?
If they don't enjoy meal planning but they enjoy cooking, you can get them a subscription to a food box like HelloFresh. With this, they will get ingredients every week and recipes that they can use.
A book based subscription is the ideal option if they are avid readers. If they love makeup and skincare, then there are plenty of boxes to pick from. And if you've got a gamer in your life, then you'll really be spoilt for choice for a subscription box.
A Meaningful Framed Poster
Do you want to give a gift that your recipient can keep in pride of place on their wall? A framed poster with some meaning to them can be a great choice. This could be a poster of their favorite movie or video game. If you're lucky, you might even be able to find a signed version.
Alternatively you can hunt on a site like Etsy for a poster or print that's a little more unique, which is perfect if their tastes are more obscure.
Afternoon Tea or a Fancy Meal Out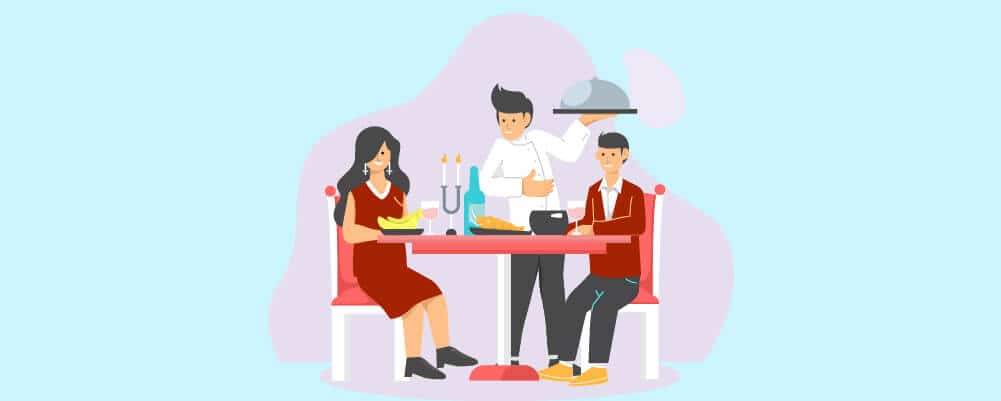 Remember when we said earlier that gifting experiences is one of the best things to do to leave a real impact? Well, why not treat your loved one to afternoon tea or a meal out with friends and family? It's something they're probably not going to indulge in for themselves, so treating them will be well received. Plus, who doesn't enjoy a little bit of food and drink to celebrate a big occasion? And spending it with their favorite people will leave them with some lovely memories.
Look for somewhere with good reviews and find a venue that's going to set the right vibe for your day or evening out.
Nostalgic Gifts
Our memories are what make us. That's why nostalgic and sentimental gifts are so popular. These kinds of gifts don't need to be overly complicated, either. For instance, does your girlfriend have a perfume that reminds her of her grandmother who's no longer around? Imagine how much she would appreciate being bought a bottle of that perfume.
Perhaps your father used to always read a certain book as a child – see if you can find him a copy. Do you have a friend who loved a particular board game as a kid? Buy it for them and play it together.
If you're up to the challenge, you could create a DIY nostalgic gift. Are you a dab hand at editing videos? If you can find old videos of you when you were a child, you could compile a bunch of them together and put them onto a DVD to give to your parents. Or maybe you can bring your grandparents' big day to life by editing their wedding pictures into a showreel with their special song playing over the top? How beautiful would that be?
A scrapbook filled with special memories
Scrapbooking is a great way to keep track of your favorite memories, and this is why it's such a great gift idea. You can do it on the computer or use a website to do all the work for you. Or, if you want that handmade vibe, just buy a pretty book and plenty of glue!
Is your friend due to have a child soon? Start a scrapbook ready for the birth to share all the pregnancy and early years milestones – your friend can carry it on and share it with their little one when they grow up.
How about a scrapbook of your relationship with your partner as an anniversary gift? That's a real tear jerker!
Photos aren't the only thing you can put in a scrapbook either. You can take notes to describe what happened, you can write down dates, stick in tickets from holidays or adventures and so much more.
Home-baked Goods
Some people are just spectacular in the kitchen. Why not put that talent to use and give your family and friends baked goods as a gift?
A homemade birthday cake wins against a store-bought cake every.single.time – so get out your icing bags and make them something beautiful.
Cookies and brownies make awesome little gifts too. Choose a few different flavors and make them a little goody bag as a cheeky treat. Or perhaps you could make them some gorgeous pastries to share over coffee on their birthday?
If bakes aren't your bag, why not make your loved one some jelly or chutney?
Summary

Phew – do you feel that? You now know EVERYTHING you need to know to buy truly awesome gifts.
Just remember to hone in on what your friend or family members love and go from there. And don't feel pressured to break the bank – a homemade gift will go down just as well as a store-bought one if the thought is there. Put your head and your heart into buying gifts for your loved ones and you won't go far wrong.
Go forth and give great gifts! You've got this.