Disclosure of Material Connection: Some of the links in this post may be "affiliate links." This means if you click on the link and purchase an item, I will receive an affiliate commission. Disclosure in accordance with the Federal Trade Commission's 16 CFR, Part 255. This site is a participant in the Amazon Services LLC Associates Program, an affiliate advertising program designed to provide a means for sites to earn advertising fees by advertising and linking to Amazon.
Love or hate him, Donald Trump is an infinite source of hilarity and memes. Give these as a gift or treat yourself to one of these interesting items. Yes, they actually exist.

Hilarious Donald Trump Products
Donald Trump Bobble Head
These fun little novelty items have really come out of fashion lately so it's time we made bobble heads great again with this tiny Trump.
Tiny Hand Back Scratcher
Have a YUGE itch? This tiny hand totally has your back when you need it most.
Fuzzy Trump Socks
What's better than socks with Donald Trump's face on the sides? Socks that have real fuzzy hair.
Adult Coloring Book
If you're not a fan of Trump this is the perfect coloring book for you. Tackle your Trump related stress by filling in each and every one of these therapeutic pages.
Pin the Toupee Party Game
This is the perfect party game for your next president-themed party. It's just like pin the tale on the donkey except Trump is the donkey and his toupee is the tail.
Melting Trump Toy
Unlike the real Donald Trump this one will melt away again and again for your entertainment.
Rubber Duckie
Have you ever been taking bath and been like "You know what? This bath is lacking a Donald Trump rubber duckie". Now your problems are solved.
FNN Shirt
Show your support for Trump's favourite news station: FNN. Fake News Network. The logo is remarkably similar to CNN…
Water Bottle and Lunch Tote
You'll be the talk of the class or office when you show up with this set. Carry your lunch in style with this Donald Trump tote and make sure to get your 8 glasses a day using the matching water bottle tote.
Cookie Cutter Set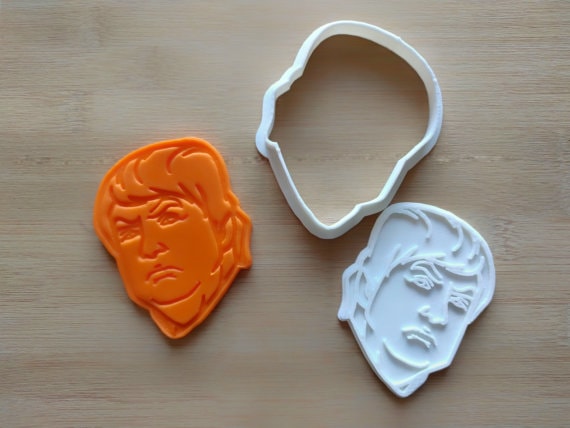 Bake your very own Trump cookies with this fantastic cookie cutter and stamp set. Yum!
Donald Trump Troll
Remember Troll dolls? Well now you can get one that looks like your favourite president. He even comes with realistic Trump hair!
Chia Pet
Tired of Trump's bad toupee? Now you can grow your very own Trump hair and style it however you'd like with this Donald Trump Chia pet.
Talking Trump Figure
The ultimate action figure, this Trump toy says 17 different phrases in the president's very own voice!
Trump's the Art of the Deal
OK, this may not be hilarious, but no Trump list would be complete without the man's all time favourite book.
Epic Shirt
You don't own a shirt this epic… Yet.
Donald Trump Mug
Each morning you can endeavour to help support your country. That's right, it's time to make coffee great again.
Cardboard Standee
What could be a better Trump gift than the man himself? Treat yourself or dazzle your friends by ordering this life-sized cardboard cutout of the president.
Fidget Spinner
No need to stress, this all-American fidget spinner will take your worries away in a totally legit and not a fad at all kind of way.
Card Game
This set of Trump Hates Humanity cards works with Cards Against Humanity or other similar card games.
You're Fired Button
One of Trump's most iconic phrases ever, this button says "you're fired" with every press. Pretend you're on the Apprentice or make your staff really apprehensive.
Why not get some of these Trump products for your friends and families as gifts? They'll thank you yuge.