Disclosure of Material Connection: Some of the links in this post may be "affiliate links." This means if you click on the link and purchase an item, I will receive an affiliate commission. Disclosure in accordance with the Federal Trade Commission's 16 CFR, Part 255. This site is a participant in the Amazon Services LLC Associates Program, an affiliate advertising program designed to provide a means for sites to earn advertising fees by advertising and linking to Amazon.
Dental Assistants play a very important role in the dental world. They work hard to help keep the place running and ensure everyone leaves with a sparkly smile. So when it comes time to find them a gift you know it has to be really good, check out these Gift ideas for dental assistants below to find the perfect gift today.
If you weren't aware the first full week of March every year is dedicated to Dental assistants so make sure you grab a gift for that special Dental assistant in your life. Of course you don't have to wait until March to show you appreciate them. You may be looking for a gift to celebrate them graduating, getting a new job, or just because. This list has a great selection.
Ultimate Gift Ideas For Dental Assistants
From socks to tooth shaped drinkware…that's right tooth shaped drinkware! Check it out, we have a filling you will find some awesome gifts.
Funny Sock Set
Every Dental assistant needs this toothy sock set! Not only are they hilarious but they are pretty darn stylish!
Dental Assistant Coloring Book
Read the cover of this coloring book and try not to laugh? How funny is that. This hilarious dental assistant themed coloring book would make an excellent gift.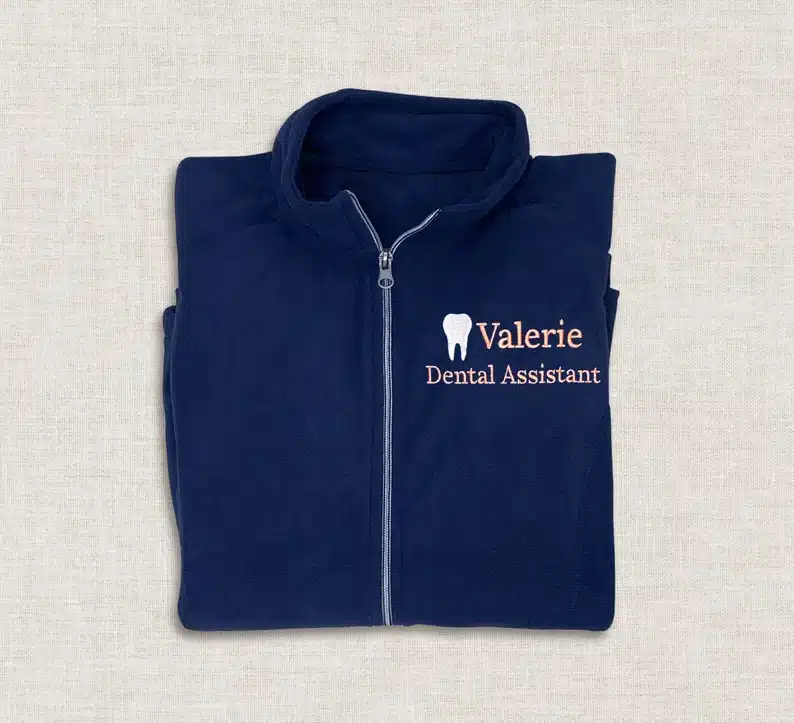 Custom Embroidered Dental Assistant Jacket
How perfect is this jacket? Not only does it look very professional but it can be customized to not only spot their job title but also their name.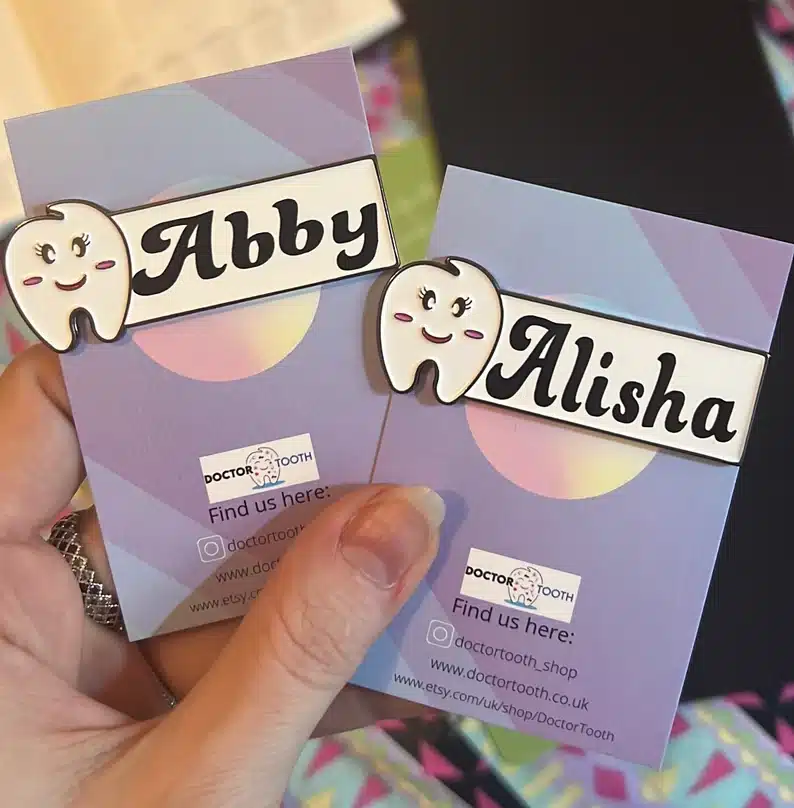 Personalized Name Tag
Every dental professional needs a name tag, so why not get a cute one that everyone will love! These adorable personalized name tags have a smiling tooth beside their name.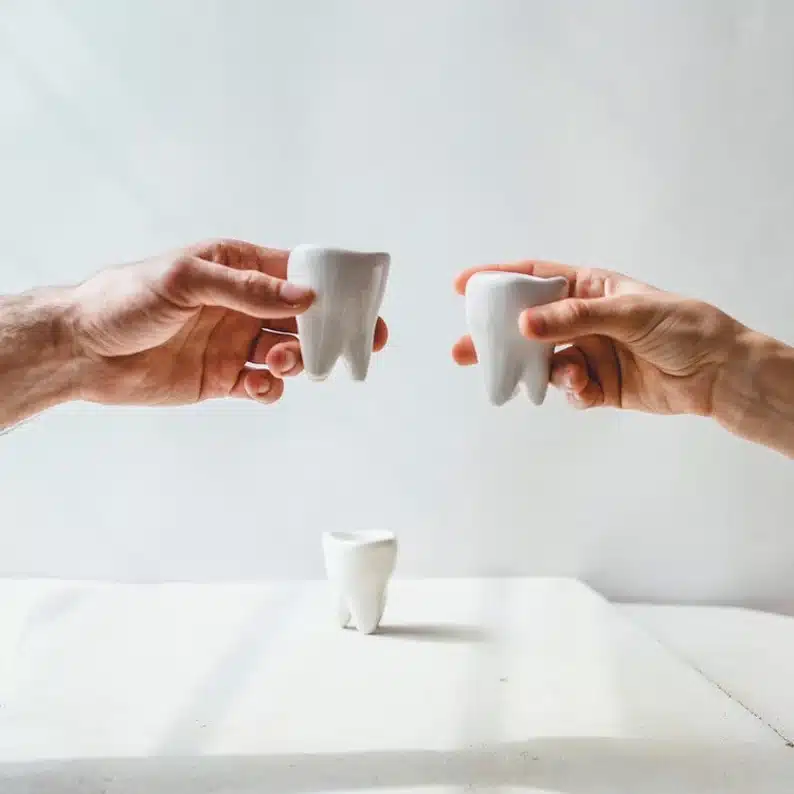 Tooth Shaped Shot Glasses
Who doesn't want to drink from a tiny tooth! These unique tooth shaped shot glasses make a funny gift that are sure to be a huge hit.
Insulated Stainless Steel Tumbler
Perfect for water, coffee, or tea! This 20oz Insulated Stainless Steel Tumbler sports the saying Dental Assistant Life so they can let the world know what they do for a living.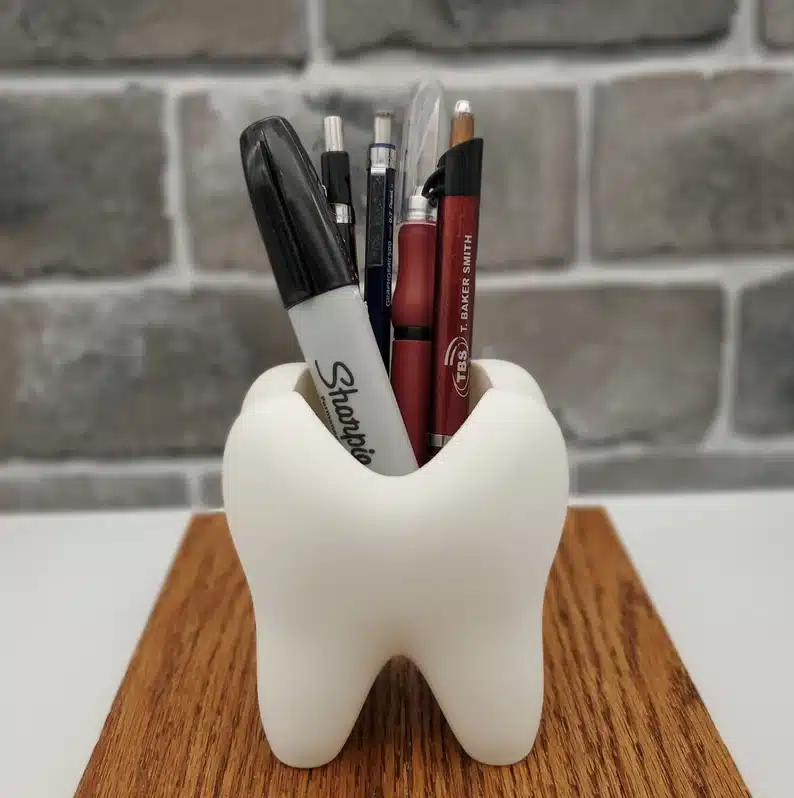 Tooth Pen Holder
How great would this look on a Dental Assistants desk? (It also can be used to hold toothbrushes). Its funny but practical, everyone needs a pen holder after all.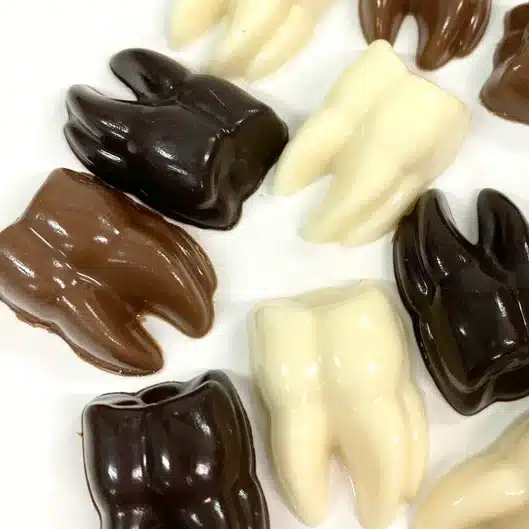 Chocolate Teeth
Know a Dental Assistant with a sweet tooth? Well these chocolate teeth are PERFECT for them. Comes in Milk chocolate, dark chocolate, and white chocolate. Or go crazy and get a mix package.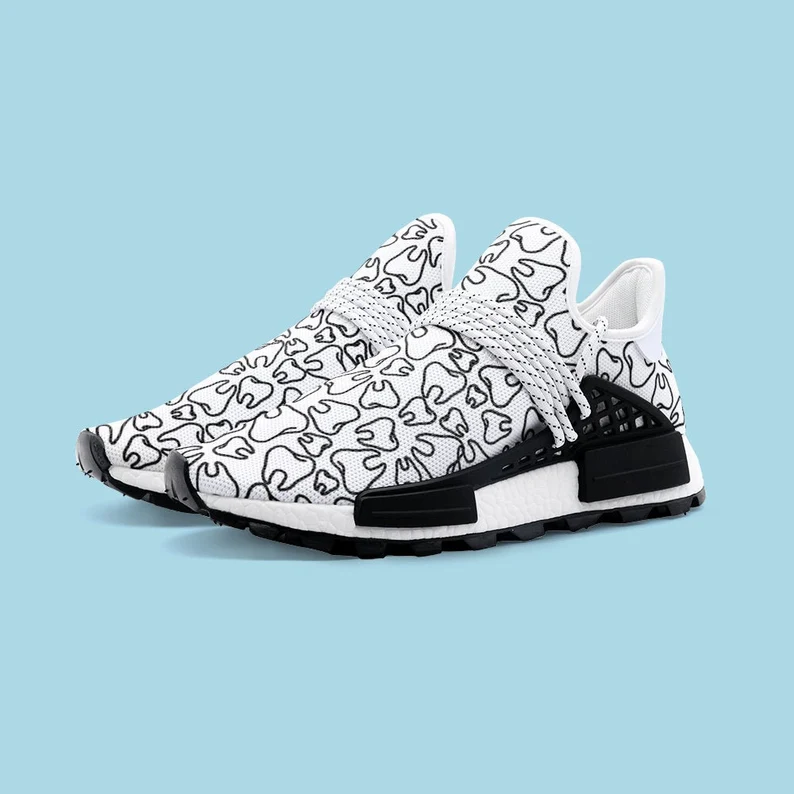 Tooth Patterned Shoes
The coolest shoes around! Pretty sure every co-worker will be jealous and want pair when they rock these at work. So get ready to be titled the best gift giver when you buy these.
Squishy Stress Tooth
Working in the dental world can be stressful! So why not get them this adorable squishy stress tooth! Not only is it cute but it works really well. It comes in blue and pink striped.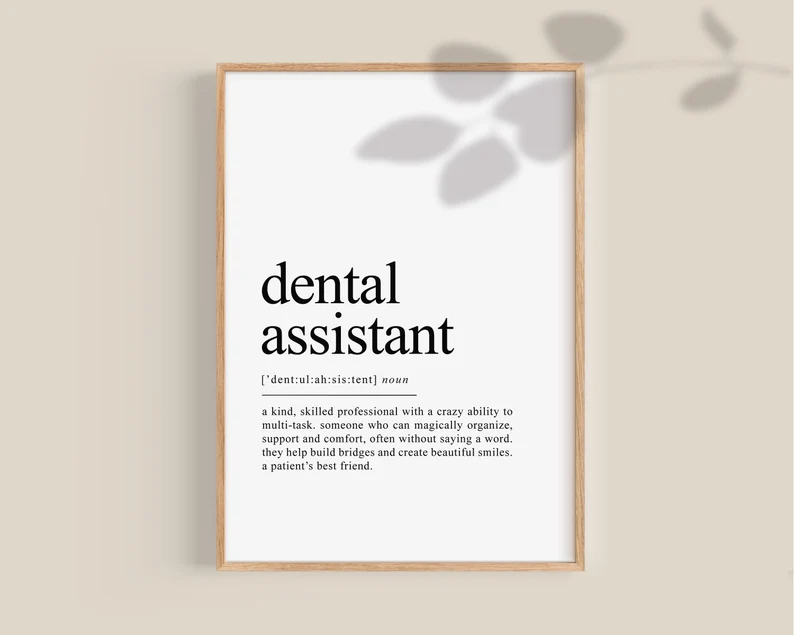 Dental Assistant Definition Print
This printable Dental Assistant definition print would look good on anyone's wall. Grab a nice frame and throw it in a gift bag and you are ready to go.
Notebook
Honestly who doesn't need a good notebook. This classic black notebook not only will come in handy while at work but it also has a nice saying on the front to remind them how awesome they are.
Wine Glass
Wine glasses are always an appreciated gift! This ones etched to say Dental assistant making it more personal. You can throw in a bottle of wine if you want to be their favorite person.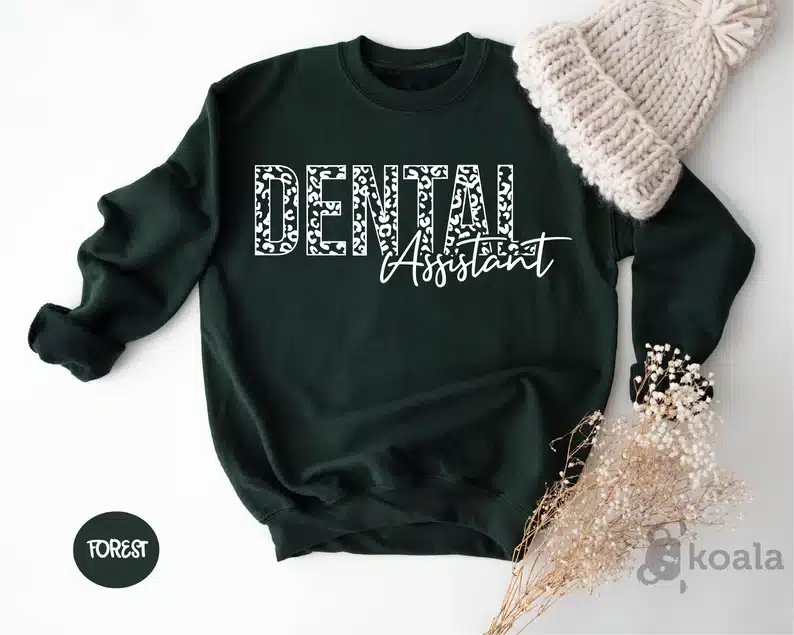 Dental Assistant Sweatshirt
Who doesn't love a cozy sweatshirt! This one has Dental assistant boldly on the front letting the world know the important job they have. The best part? It has five color options to choose from!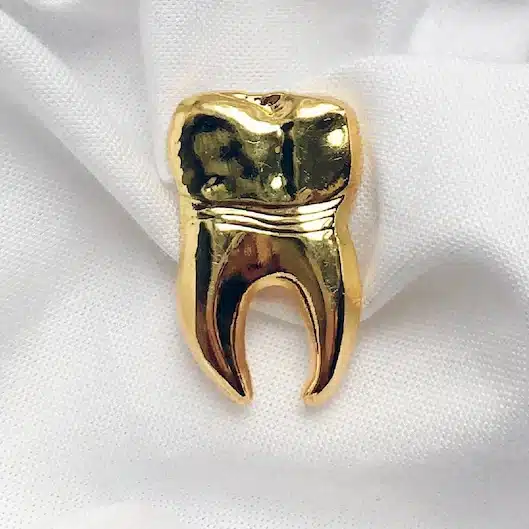 Golden Tooth Enamel Pin
Majority of dental jobs won't allow the worker to wear much jewelry, so why not get them this little gold tooth they can pin onto their scrubs or work outfit. Fashionable but also stays within the recommended dress code.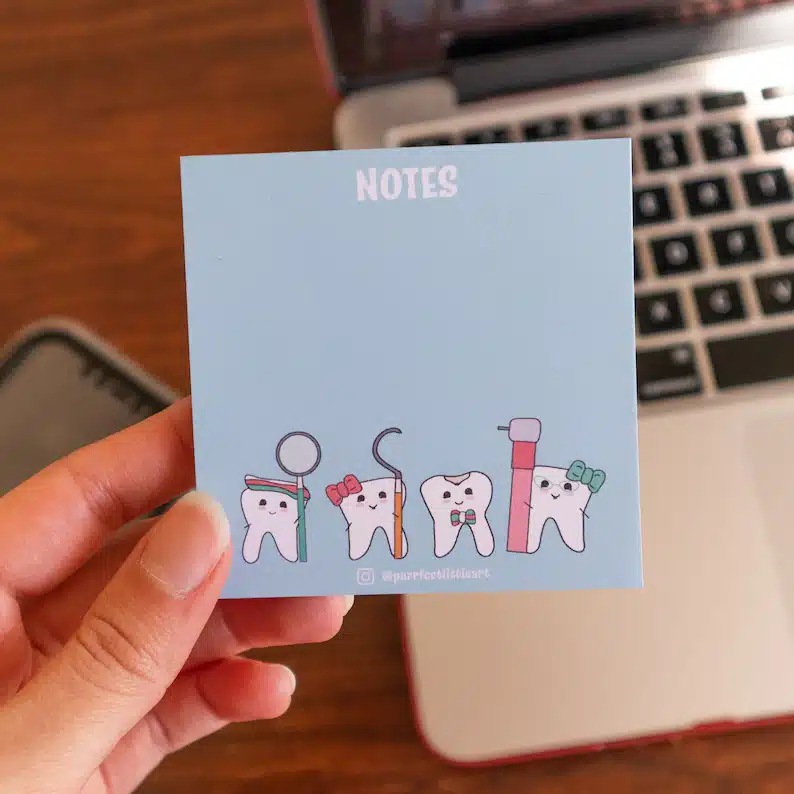 Dental Notepad
Dental Assistants will do their fair share of taking down notes, so why not give them a fun little notepad! Who could look at this notepad and not smile after all?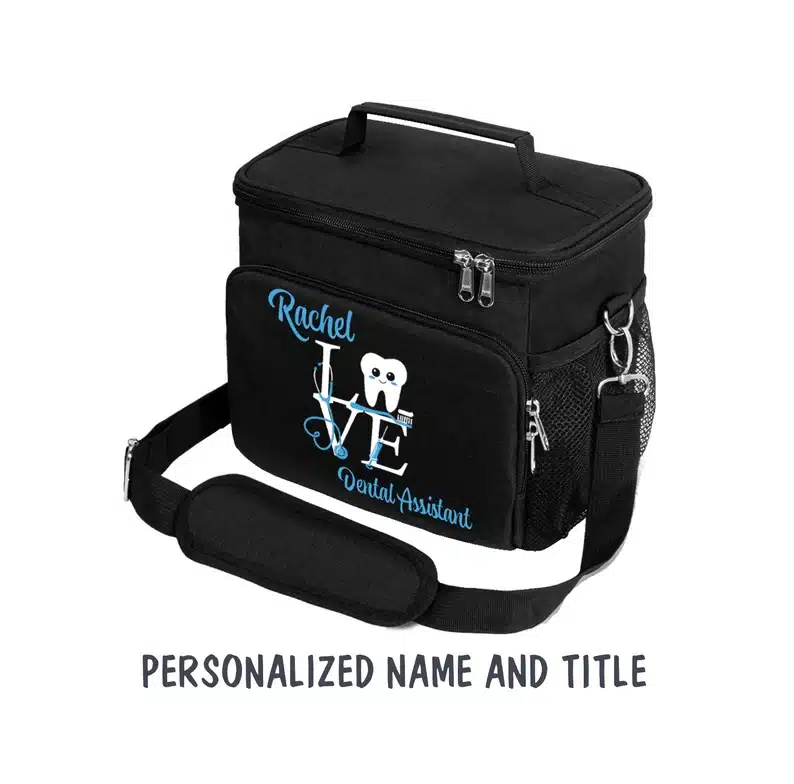 Personalized Lunch Bag
Practical and Personalized! This lunch bag would make a perfect gift for any dental assistant in you life. Comes in black or Grey and many color options for Name and job title.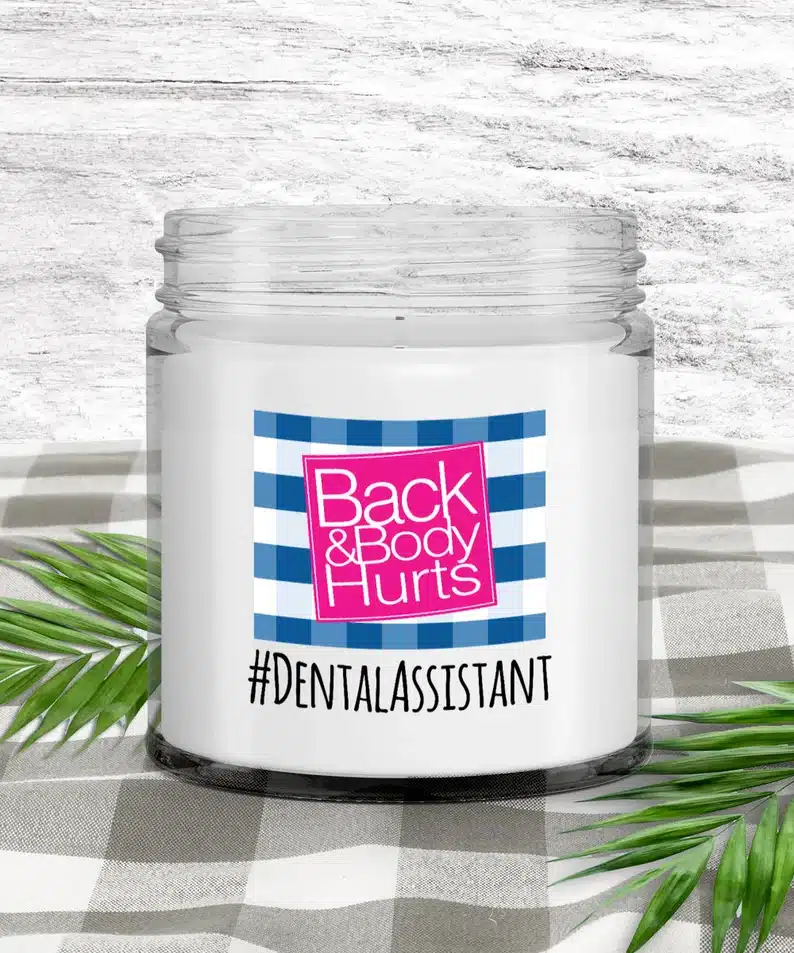 Back & Body Hurts Candle
A funny play on Bath & Body Works this Bath & Body Hurts candle is a funny gift idea that is sure to bring a little chuckle to everyone that sees it. #BestGiftEver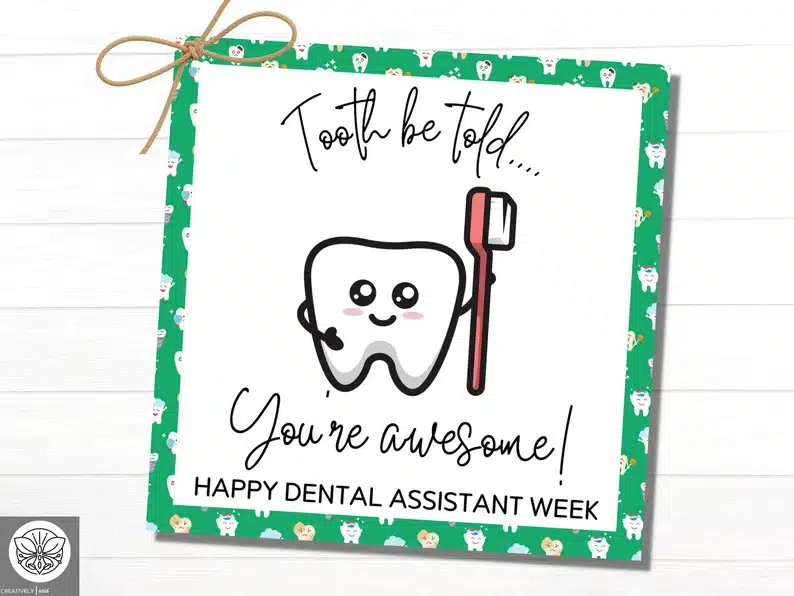 Card
A nice card is always a welcome gift, you can add it to a gift or toss in a gift card! This ones perfect to give during dental assistant week, which is the first full week in March.
Hilarious Blanket
This list of gift ideas absolutely wouldn't be complete without this hilarious dental assistant blanket! Every square inch of this blanket has a funny saying about being a dental assistant.
That concludes our list of gift ideas for dental assistants! We hope you found something amazing! If you are looking for more ideas for other dental workers check out these gift ideas for dental hygienists and dentists. Happy Shopping!