Disclosure of Material Connection: Some of the links in this post may be "affiliate links." This means if you click on the link and purchase an item, I will receive an affiliate commission. Disclosure in accordance with the Federal Trade Commission's 16 CFR, Part 255. This site is a participant in the Amazon Services LLC Associates Program, an affiliate advertising program designed to provide a means for sites to earn advertising fees by advertising and linking to Amazon.
Once a man turns 50 a lot of things changes. Chances are he's getting close to retirement and might even be able to take advantage of some senior discounts! But he's not that old, and certainly not too old to celebrate. So here are some ideas for a mens' 50th birthday party to make this milestone bash unforgettable.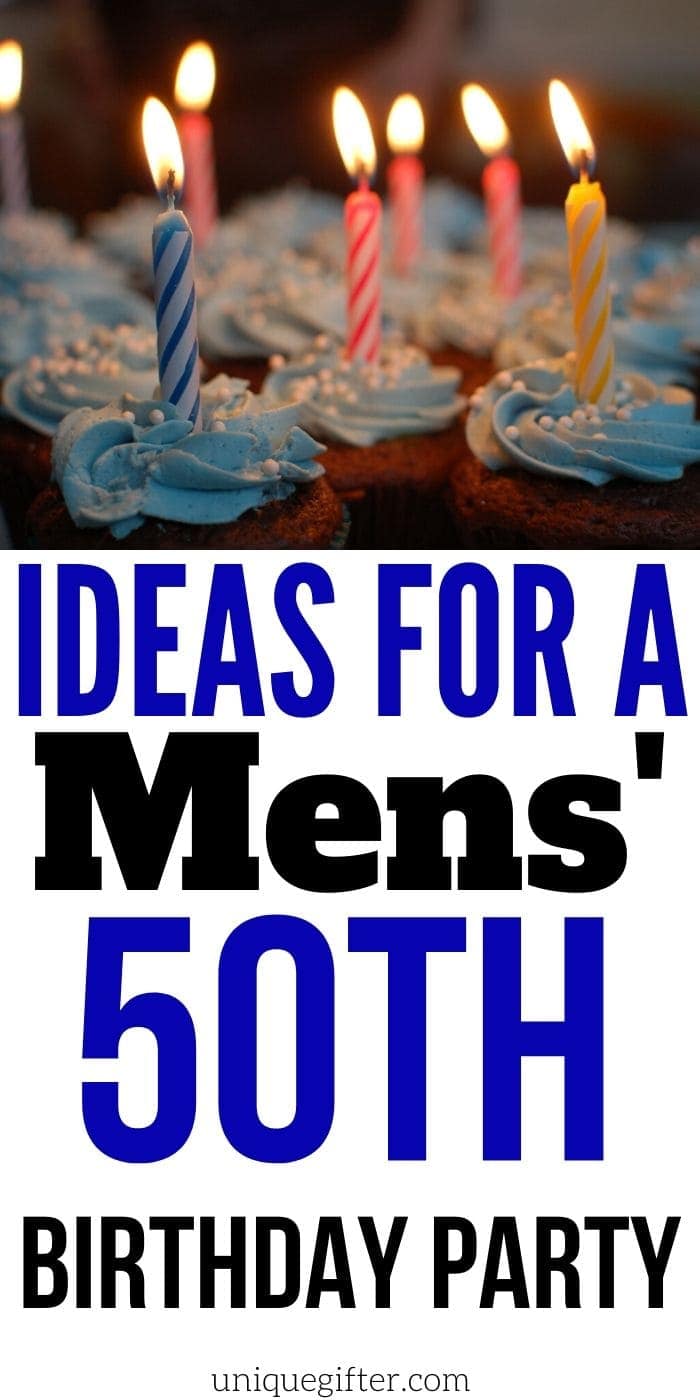 Ideas for a Mens' 50th Birthday Party
Whether it's for your dad, brother, or husband, it's fun to plan a great 50th birthday party. Get together with family and friends and force him to welcome this next chapter of life with a smile on his face. If you need some more ideas, these ideas for a men's 40th birthday are also great.
Cheers to 50 Years
50 is definitely an age worth toasting to! If he's a beer drinker, why not throw him a beer themed birthday party? Start with themed invitations to your home or a local pub.
For decorations, pick up a complete pack of themed ideas or print out some more classy signs, like this one. Then make the birthday boy wear this funny cheers birthday t-shirt for good measure. Themed alcohol bottles makes a great party favor for this one too.
Quiz Night Party Theme
This is something I've personally done for my stepdad's 50th birthday. Throw a quiz night in his honor with all the questions themed from the birthday guy's life, birth year, or personality! Don't forget to invite family and childhood friends to see how much they know. For the game you can make your own questions or use a template to get started
You can also just use notepads and pencils on the guests' tables for a simple alternative to answer sheets.
Old Buzzard Mens' 50th Birthday Party Themes
This is a great one if your man has a sense of humor. Start with some funny old buzzard themed 50th birthday party invitations. Then get him decked out with old buzzard birthday pins or maybe this funny dirty old man patch. The best part? This hilarious old buzzard custom made birthday pinata.
Fill it with candy or things 50 year old men like, you know, like Advil.
Make Him Feel Really Old
What's the fun of having someone turn 50 before you if you can't make them feel old? Give the geezer the party he deserves with these men's 50th birthday party ideas. Get things going with a funny t-shirt like this oldometer or this one that's a little bit too blunt.
Don't forget to get him appropriate gifts like this slightly cruel mug or an "age-appropriate" birthday card. Just make sure he has a good sense of humour before picking this 50th party theme.
Or, Make Him Feel Young
Let's be honest: 50 really isn't that old. Break "tradition" and make him feel good about turning 50! Set a positive tone with the invitations and treat him to gifts that will lighten his spirits or make everyone laugh. With the decorations, include his birth year in the signs so you can party right.
Or just pick up some fun "celebrate 50" kind of decorations to make things fun. Last, add in something like this 50 years young sign to make him feel all warm and fuzzy.
Try a Classy Men's 50th Birthday Party Theme
Glitter, silver, and gold are all ways to make things look classy even for a men's 50th birthday party. When you're choosing an invitation, aim for a simple design or something trendy. The invite is the first impression of the party tone. If you want guests to dress a certain way, don't forget to include that information too!
You can get a lot of classy, nice party decor online. This like gold happy birthday banners always look great. You can also print out bottle covers to make things look a little bit more put together. Instead of a cake, you can always opt for nice cupcake toppers instead that tie into the theme.
Throw a Surprise 50th Birthday
Surprise parties are great because they're kind of a party and gift together! Carefully invite everyone and make sure the invitations are super clear it's a surprise party. Decorations can just be anything 50th birthday themed, or you can just get regular party decorations if you want. But I will give you one great 50th surprise birthday party idea: Stick his face on everything. Trust me; it will be hilarious.
Make it a Golfing (or his Favourite Hobby) Party
Instead of going hard on the 50th birthday theme, pick something that he enjoys instead. Golf is pretty popular amongst 50 year old men, so we'll use that as an example. Get some golfing themed party decor to liven the place up and set up a photo booth complete with golf-themed props for the guests to take some funny pictures.
You can also hand out funny golfing pins to all the guests or use them as party favors. Then make him a golf themed cake or consider some cupcakes.
These golf green fondant cake toppers are an awesome idea. They also make custom golf themed cake toppers if you prefer that.
You might even want to play around before the party or use that as a distraction for a surprise 50th birthday party!
Party Favor Ideas for Mens' 50th Birthday
It's nice to have a little gift for guests at a birthday party, even if the party's for adults. Here's some unique ideas for 50th birthday party favors. Adult beverage accessories like shot glasses, drink coasters, personalized cups, or bottle openers are usually a big hit for these types of events.
Or, since everyone is probably on the older side, you can get them some practical gifts like hand sanitizer, lip balm, or matchbooks. If those don't work, or you want something on the funnier side, pins made from childhood photos, personalized candy bars, or these funny can cozies are perfect options.
Now that you have some ideas for a mens' 50th birthday party, you can get planning the ultimate birthday bash! Don't forget to get him a great 50th birthday gift!