Disclosure of Material Connection: Some of the links in this post may be "affiliate links." This means if you click on the link and purchase an item, I will receive an affiliate commission. Disclosure in accordance with the Federal Trade Commission's 16 CFR, Part 255. This site is a participant in the Amazon Services LLC Associates Program, an affiliate advertising program designed to provide a means for sites to earn advertising fees by advertising and linking to Amazon.
Paw Patrol, Paw Patrol, birthday party on the double. If you just sang those words, chances are you're in need of Paw Patrol party ideas for the little fanatic in your life. Don't worry; we have everything you need for a PAWesome Paw Patrol party.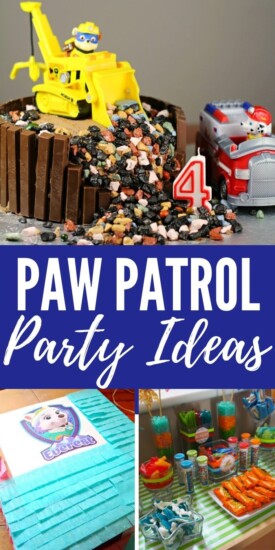 Paw Patrol Party Ideas
Let's be honest, as long as there's Paw Patrol, everything then your little one is going to be happy. That doesn't mean you can't plan a picture-perfect event, though! Here are our best tips for planning the greatest Paw Patrol themed party ever.
Start with the invitations
Invites are essential to set the tone of the party. You can go with something custom that has your kid's picture on it for a really unique invitation idea. Or if you want to go high tech, consider a digital Paw Patrol Party invite that won't get lost at school or daycare. Don't forget to include all your little one's favorite pups on the invite!
Paw Patrol party decorations
There's so much you can do when decorating for a Paw Patrol party, but some birthday decor staples are an excellent place to start. Young kids are especially fond of balloons featuring their favorite characters and party hats. You can also think outside the box and do some unique Paw Patrol inspired decorating to stretch your budget. Or keep things simple with traditional party decor.
Another great tip is to take advantage of vinyl stickers to turn anything into Paw Patrol themed, rather than buying specialty items like cups. If you want to have a more eco-friendly party, consider doing reusable decor like fabric bunting flags. You can use them as bedroom decor or pass them on to someone else.
For the birthday child
Preschoolers love to feel extra special on their birthday! Give them their very own Paw Patrol birthday shirt to wear or deck out the whole family with matching tees. A cute Paw Patrol hat wouldn't go unwanted by the birthday boy or girl, either. Or maybe they'd prefer some bows with the girl power pup squad? You can even get some gorgeous Paw Patrol dresses for your little fan. Either way, make sure you deck out your Paw Patrol obsessed preschooler for their birthday party!
Paw Patrol party activities
What do you do at a Paw Patrol themed party? Here are some excellent Paw Patrol party ideas for activities that will make toddlers and preschoolers happy as a pup with a bone. Arts and crafts are always a big hit, so make sure you have plenty of coloring pages or something creative like scratch-off art.
Costumes and face masks are another way to make the party more fun for little kids. You could also do a DIY craft project with the kids that doubles as a party favor for them to take home. Simple games, like bingo, are usually a hit with the 4-6-year-old crowd. And of course who can forget the pinata!
Another popular Paw Patrol party activity is a pet adoption: everyone can "adopt" their very own pet dog!
Party food ideas for a Paw Patrol party
What are you going to serve at your party? If you're making a meal, hot dogs are always a hit. You can make it more fun with a Paw Patrol pup themed hot dog menu. For the snacks, cute labels will go a long way to making almost anything Paw Patrol themed. When it comes to food with small kids, just labeling it with a Paw Patrol sticker will do a lot. Or just pick up some branded Paw Patrol snacks from the store for a quick food solution.
The Paw Patrol birthday cake
If you don't want to order a custom cake, you can always make one! My family is big on homemade birthday cakes – but that doesn't mean it still can't be PAWsome! If you're not great with fondant pick up a premade edible Paw Patrol logo for the cake. Or grab a set of Paw Patrol cake toppers so you can make the most amazing DIY Paw Patrol cake ever.
With little kids, cupcakes are also a fantastic alternative to a traditional cake. They're easy to serve and don't require utensils. If you're making your own, there's plenty of cute Paw Patrol cupcake toppers out there, and don't forget to use paw print themed baking cups!
Paw Patrol party favor ideas
There's so much out there for Paw Patrol party favors! With how popular it is, chances are your little ones' friends are also obsessed with this cartoon. The best kind of party favors is the type that kids can actually use and won't easily break or end up in a landfill. Cute customized Paw Patrol water bottles are a great idea, for example. You don't have to spend a lot for kids to be happy! Paw Patrol themed surprise eggs are always a big hit with preschoolers, and this Paw Patrol soap might encourage some extra handwashing. Or you can always order some custom labels and make your own.
Other Paw Patrol party ideas
When throwing a Paw Patrol party, it's important to remember who your audience is. Little kids are much more forgiving, so just look for a paw print design for things like paper straws to set the tone. Don't forget to pull out all your kids' Paw Patrol toys for an easy activity. If they don't have any (or enough) print off some cute finger puppets so everyone can play.
Paw Patrol party tips:
When planning any party for young kids, make sure to have lots of activities on hand, and enough for everyone – sharing is tough!

If you throw a themed birthday party, expect gifts related to that theme (meaning your little one will be getting plenty of Paw Patrol swag).

Consider the nap times and schedules of toddlers and even preschoolers when setting a party time; no one likes cranky guests.
Paw Patrol Party Ideas
Need some more ideas? Here's some pawsome Paw Patrol party ideas!
Don't forget to have fun when throwing the perfect Paw Patrol party! Hopefully, Chase, Ryder, and the rest of the Paw Patrol gang will make your little one's party spectacular!